Have an arsenal of nourishing meals with these freezer-friendly soups!
Nothing comforts on a chilly day quite like a big bowl of soup. What's even better? Having the ingredients ready to go to make life more convenient and that hot bowl of soup in your hands sooner. Some soups freeze better than others, and there's even an art to reheating them without losing any important texture or flavor. To get you started, here are seven freezer-friendly soup ideas to last you all week.
First, a note about soup ingredients that don't freeze well. Avoid freezing any soups with Paleo cheeses, as they can get a bit funky and separate when reheated. Instead, add the cheese when you're cooking the soup. Also, seafood-based soups don't freeze well because fish or shrimp can become rubbery when reheated!
How does bone broth fight inflammation AND promote weight loss? Download our Free Bone Broth Guide And Recipes To Find Out Now!
Click here to get your FREE Bone Broth Guide And Recipes Today!
Jennafer Ashley
7 Freeze-Friendly Paleo Soups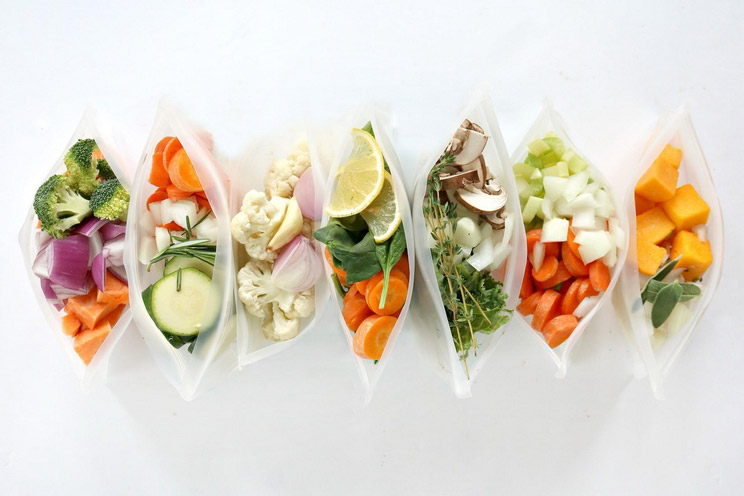 Cook Time:
50 mins
50 minutes
Prep Time:
10 mins
10 minutes
7 Freeze-Friendly Paleo Soups
Have an arsenal of nourishing meals with these freezer-friendly soups.
Tools
Recyclable plastics bags

Large stock pot
Ingredients
Butternut Squash
4 cups cubed squash

½ small, sweet onion

2-4 fresh sage leaves

1 cup full-fat coconut milk

¼ t sea salt
Creamy Cauliflower
3 cups cauliflower florets

1 shallot, chopped

2 cloves garlic

1 T nutritional yeast

1 cup full-fat coconut milk

¼ t sea salt
Chili
½ cup carrots

½ cup celery

⅓ cup white onion

2 cups diced tomatoes

½ cup beef bone broth

1 t cumin

½ t sea salt

8 oz ground beef or turkey (optional)
Thai Curry
1 cup sweet potato, cubed

1 cup broccoli florets

½ cup red onion

2 14-ounce cans full-fat coconut milk

2 T curry paste

8 oz chicken breast, cubed (optional)

Chopped basil or cilantro for serving
Mushroom Herb
2 cups cremini mushrooms

1 cup kale, coarsely chopped

½ cup white onion

2 sprigs fresh thyme

½ t dried oregano

2 cups chicken bone broth
Garlic Lemon
1 cup sliced carrots

2 cups spinach

2-4 lemon slices

2 cups chicken bone broth

1 t dried basil

1 t minced garlic

8 oz chicken breast, thinly sliced (optional)
Tuscan
1 cup zucchini, sliced

1 cup carrots, sliced

½ cup celery, chopped

1.2 cup white onion, chopped

2 sprigs rosemary

1 T tomato paste

2 cups chicken bone broth
Instructions
Prep veggies and dry herbs ahead of time and place in recyclable plastic bags. Seal and store in freezer until ready to prepare. Freeze meat and liquids in separate containers, then thaw 6 hours before cooking.

When ready, cook frozen vegetables and dry herbs in a large stock pot using fat or oil of choice (we love ghee or coconut oil) until they begin to soften, about 10 minutes.

Add meat if using, and continue to cook 10 minutes longer. Pour in liquids (coconut milk, bone broth, canned tomatoes, etc.) and bring to a boil, then reduce heat to simmer. Simmer 30 minutes. Finish with fresh herbs.

Allow soup to cool slightly. Serve and enjoy.

Freeze leftover soup in recyclable containers. Thaw in refrigerator 4-6 hours. Reheat over stove as needed.
Tips to Making Freeze-Friendly Soups:
Ground meat (chili, meatballs, etc.), stew meat or chicken are the best for freeze-friendly soups. Plus, they reheat well, too!
When ready to cook soup, add in meat, seasonings and liquids like bone broth or coconut milk during cooking.
Wait to add veggie noodles like zucchini noodles or cauliflower rice until serving to maintain their texture.
As a rule of thumb, fresh herbs that are on the dry side (think sage, thyme, rosemary, or oregano) can be added during cooking, while more moist herbs, like basil and cilantro, are best added at the end of cooking to preserve their flavor.
Looking for Paleo ingredients? Here are a few we'd recommend:
Coconut milk (Native Forest)
Nutritional yeast (Sari Foods Co)
Beef bone broth (Kettle & Fire)
(You'll Also Love: 8 Freezable Steak Marinades)
Lose weight, fight inflammation, and soothe your digestion with delicious meals like juicy skirt steak with cucumber & radish salad, succulent pulled pork, and more!
FREE Cookbook:
80 Gourmet Paleo Recipes from
a Professional Chef trained at Le
Cordon Bleu in Paris
FREE Cookbook:
80 Gourmet Paleo Recipes
from a Professional Chef
trained at Le Cordon Bleu
in Paris