If you've tried enzymes, probiotics, and other digestive aids to no avail, you might want to consider a little-known option to ease bloating: essential oils.
These special oils offer much more than just a pleasant scent. Here's what essential oils are, and how you can harness their power to ease belly bloat.
What Are Essential Oils?
Essential oils are the liquid and fragrant "essence" of various plants, herbs, or roots, many of which contain compounds that have medicinal qualities. (1)
Do you struggle with bloating, gas, constipation, or other digestive issues? We've created a FREE guide to healing your gut naturally.
Click here to get your FREE copy of our Digestion Guide!
These oils are extracted from plants using various techniques, including distillation with steam or water, or with a mechanical press. Essential oils are used for aromatherapy, as fragrance in perfumes, foods and lotions, and even medicinally in supplements.
How Can Essential Oils Help With Bloating?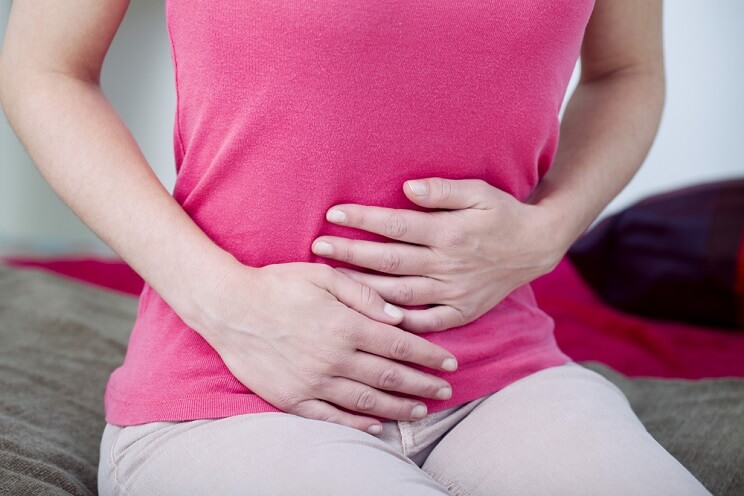 Essential oils have been prized for centuries in traditional medicine as a natural treatment for a wide range of disorders. Modern science is just now beginning to uncover the medicinal properties of these oils and, in particular, their ability to act as digestive aids.
Most of the popular essential oils for digestion get their tummy-trouble relieving powers from the powerful phenolic compounds, flavonoids, and amino acids they contain – which often have anti-inflammatory and antispasmodic effects. (2) By either taking these oils internally or applying them topically, we can receive these effects throughout our digestive tract to help ease irritation and inflammation, which helps to reduce bloating.
Choosing The Right Essential Oils
When selecting the kind of essential oil you want to use, your first decision should be whether you'd like to apply it topically, take it internally, or breathe it in with inhalation steam.
Typically, it's easier to choose food-grade, pure essential oils from the start, since this will allow you to use them for every occasion. However, if you choose to purchase a non-food grade oil, you should be sure not to take it internally and stick to using it topically or breathing it in using a diffuser.
When you're shopping for oils, be sure that you're getting a pure oil – some will come pre-diluted, meaning they're mixed with an oil like Jojoba.
Finally, when it comes to topical oils, you want to make sure you always dilute and mix them with a carrier oil like Jojoba, coconut, olive, or almond oil before applying. This is because essential oils are extremely concentrated and can irritate your skin at full strength. A good rule of thumb for diluting essential oils is 12 drops of essential oil per 30 ml (or about two tablespoons) of carrier oil.
---
The 6 Best Essential Oils To Relieve Bloating
The next time you're suffering from pesky bloating, try applying or ingesting one of these powerful essential oils. Read on to learn how to safely treat yourself using each kind.
1. Chamomile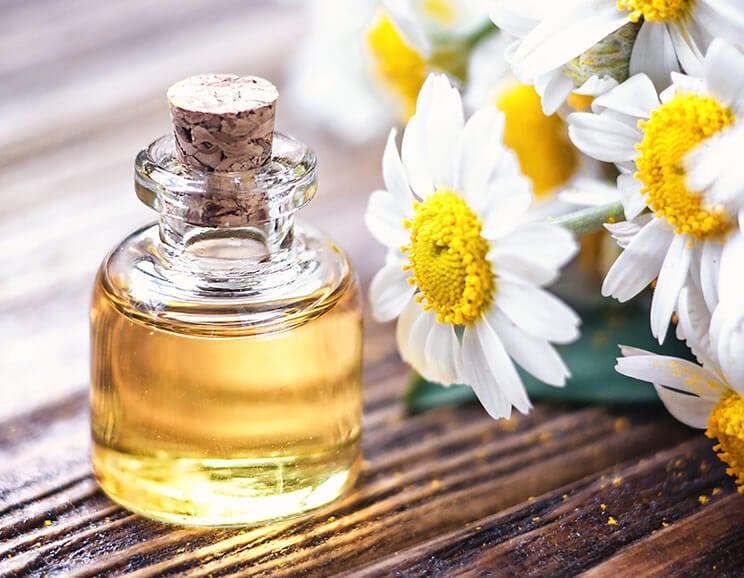 Chamomile is one of the oldest herbs used by mankind to treat everything from inflammation and ulcers, to anxiety and diaper rash. However, chamomile really shines when it comes to improving digestion.
Studies have shown that chamomile is helpful for getting rid of gas, stomach irritation, and helping to relax the muscles lining the intestines so that food can have an easier time passing through. (3) This is because numerous compounds found in chamomile act as an antispasmodic.
To Use: Apply 2 to 4 drops of chamomile diluted with a carrier oil topically to your tummy, rubbing it in a clockwise motion.
2. Peppermint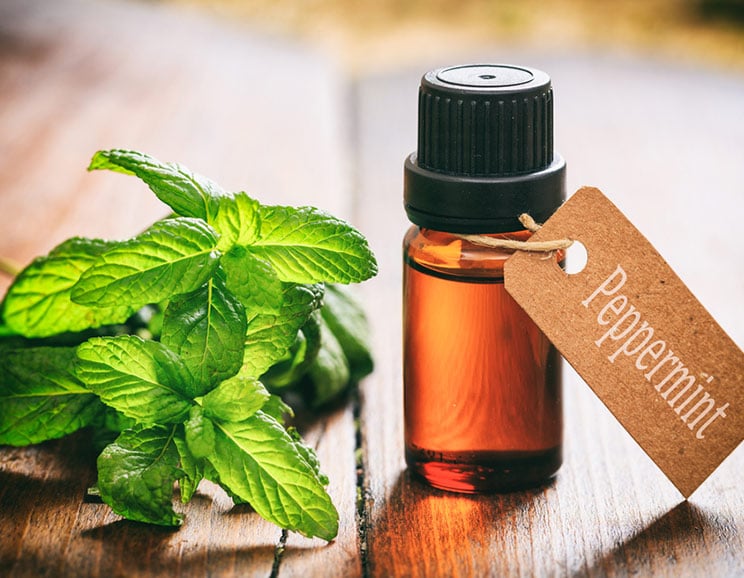 Peppermint oil has been shown to have significant effects on digestion. One study found 75 percent of patients taking peppermint oil experienced a 50 percent reduction in irritable bowel syndrome (IBS) symptoms, which included abdominal bloating, pain or discomfort from gas, diarrhea and constipation. (4)
Peppermint's soothing effects come from its menthol content, which helps reduce inflammation and provide a soothing effect to your intestinal lining. (5)
To Use: Add one drop of peppermint oil to an 8 oz. glass of water before meals.
3. Cardamom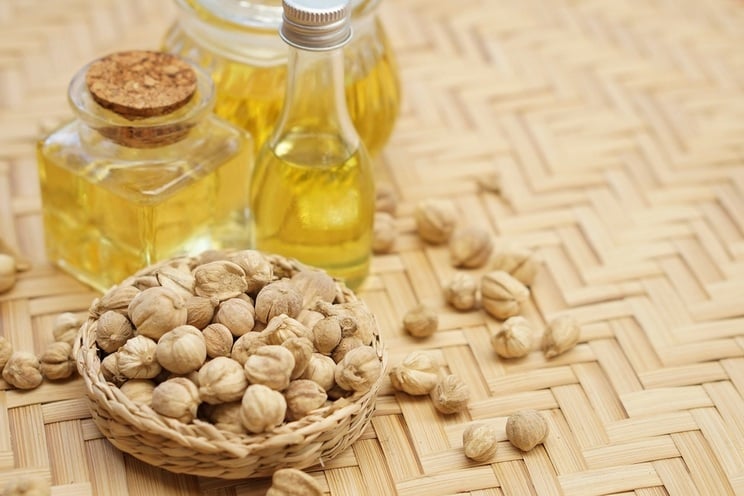 Cardamom contains several compounds that help protect your digestive tract by acting as antibacterials. (6) This is important if you suspect your bloating may be stemming from an overgrowth of bad bacteria.
To Use: Add 1 to 2 drops to a full glass of water to take internally, or add a few drops to a diffuser and inhale. Cardamom, diluted in a carrier oil, can also be applied topically on your belly.
4. Ginger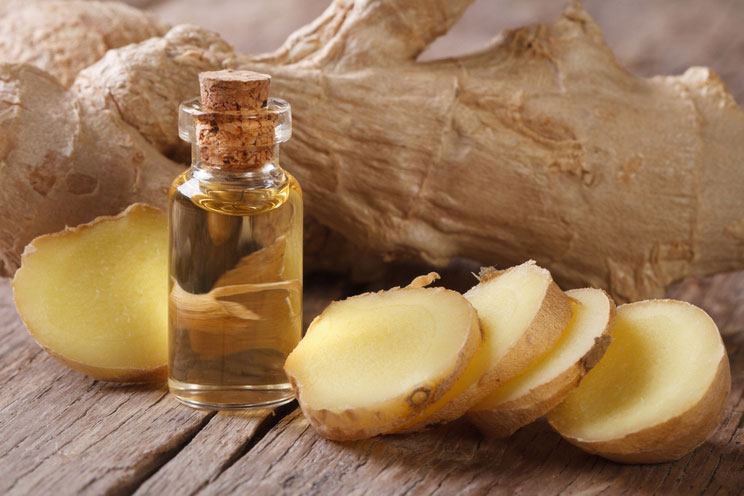 You've probably already heard that ginger tea is an excellent remedy for an upset stomach. Ginger essential oil can be just as effective as it contains significant anti-inflammatory properties that can help ease an irritated stomach. (7) Other studies show that ginger can help increase the rate of gastric emptying (aka, the rate at which food leaves your stomach), which can be particularly helpful if you're bloated due to something specific you ate. (8)
To Use: Add 2 to 3 drops of ginger essential oil to your bath water, or add 1 drop to a glass of water.
5. Fennel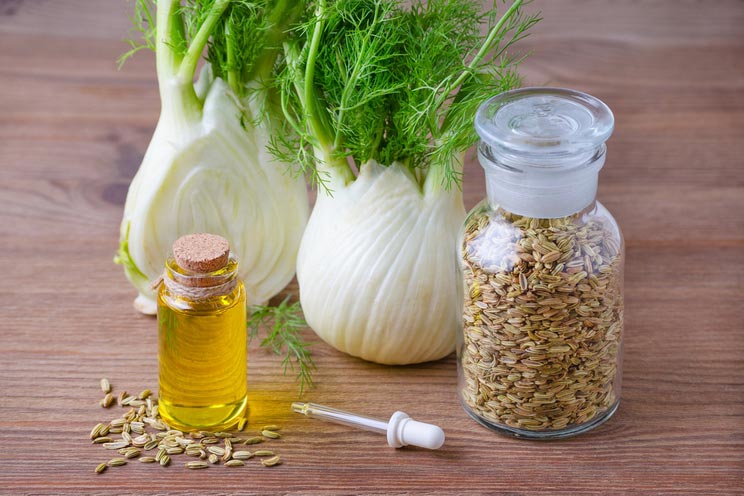 While fennel is delicious to eat, its seeds also contain concentrated properties that can help improve digestion when in essential oil form. Fennel has been shown to have antifungal and antibacterial properties that protect against a wide range of pathogens – making it excellent in the fight against gas caused by bad bacteria. (9) Studies have also shown it is powerful enough to help prevent and treat colic and chronic colitis. (10)
To Use: Add 1 to 2 drops of fennel oil to a glass of water or a cup of tea.
6. Lemongrass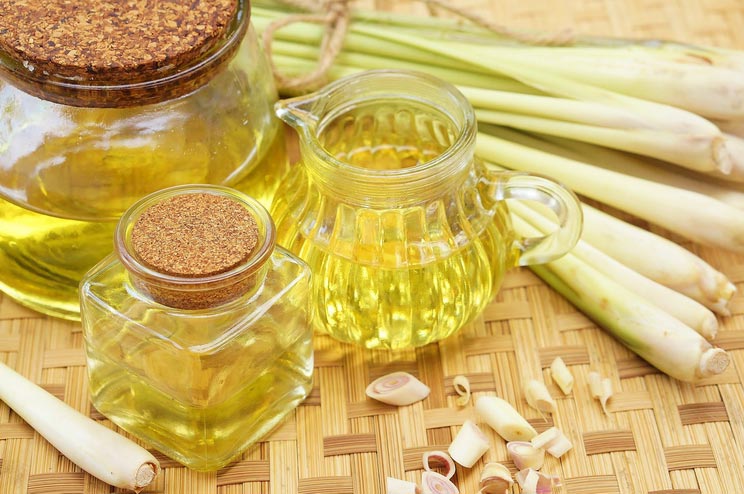 Fragrant lemongrass is used around the world to treat a variety of gastrointestinal disturbances, particularly in Brazil where it is used in folk medicine. Modern research shows lemongrass acts as a gastroprotective; meaning that it helps protect your intestinal tract from things like ulcers and inflammation. (11)
In addition, lemongrass can help relieve bloating caused by bad bacterial overgrowth thanks to its antimicrobial properties. (12)
To Use: Mix 3 drops of lemongrass oil with a tablespoon of carrier oil and rub onto your belly to ease gas and discomfort.
Megan Patiry
Topical Digestive Essential Oil Recipe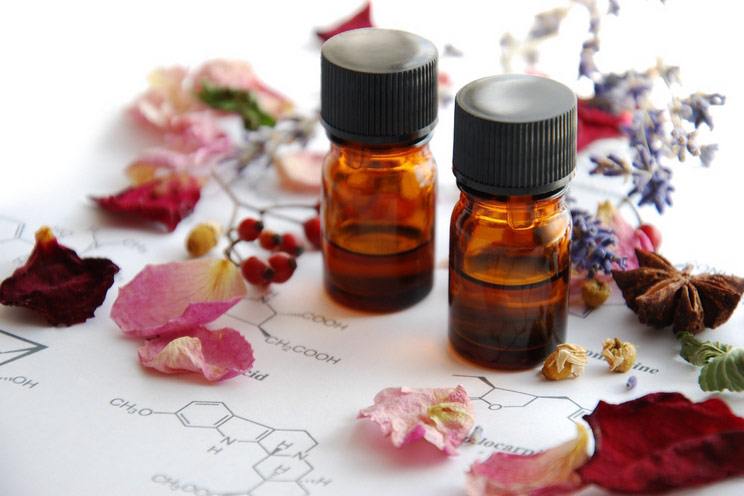 Prep Time:
5 mins
5 minutes
Topical Digestive Essential Oil Recipe
The following topical essential oil blend will help ease bloating and "get things moving," so to speak. Whenever you're feeling digestive discomfort, give your belly a little rub with a few drops.
Tools
Small bottle

Warmed compress (optional)
Ingredients
1 T almond or Jojoba oil

3 drops fennel essential oil

1 drop lemongrass oil

1 drop ginger oil
Instructions
Add all the oils to a small bottle and shake thoroughly to blend.

Do a small patch test before you rub them in to make sure they don't irritate your skin.

Add 10 drops to your palm and begin to massage your belly in clockwise circles. Continue for roughly 20 circles.

Optionally, you can lie down or lean back in a chair and place the warm compress on your belly until it cools.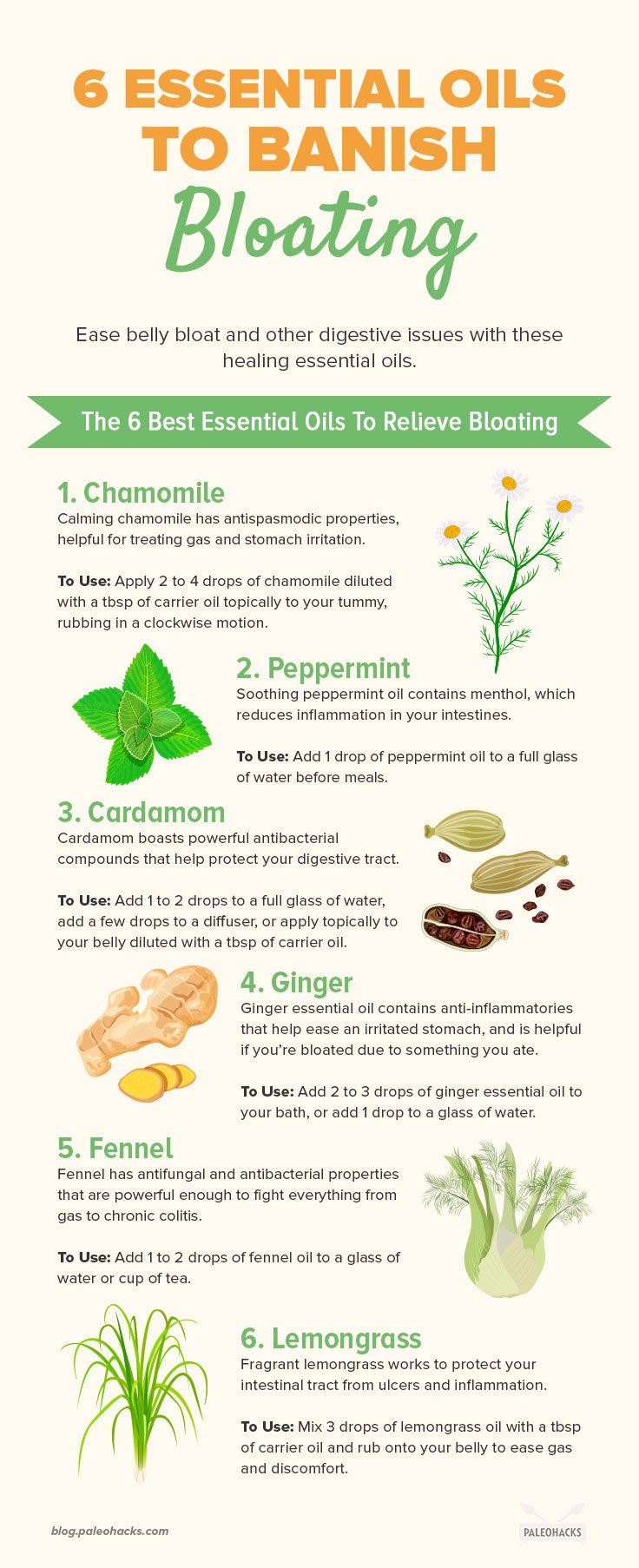 (Read This Next: 5 Signs of Digestive Problems & How to Heal Them + 7 Day Gut-Healing Meal Plan)