Sip on these comforting teas and soothing tonics to help heal your thyroid.
Thyroid wellness is crucial to feeling like a happy, healthy human. When this important gland is over- or under-functioning, you might experience symptoms like brain fog, a slower metabolism, fatigue, and even depression.
If your thyroid isn't functioning like it should be, there are plenty of natural remedies that will boost energy, lessen stress, and reduce inflammation.
Are you struggling with a Thyroid condition? We've created a FREE guide that shows you how you can heal your thyroid.
Click here to get your FREE copy of our Thyroid Guide!
Brew up these 10 tonics and teas made from healing herbs, medicinal mushrooms, and restorative bone broth, and sip your way to a whole new you.
Note: Because herbs and other tonics can be potent medicines, consult with your doctor and pharmacist to check for any potential interactions with your medications.
---
10 Tonics to Boost Thyroid Function and Relieve Symptoms
1. Dandelion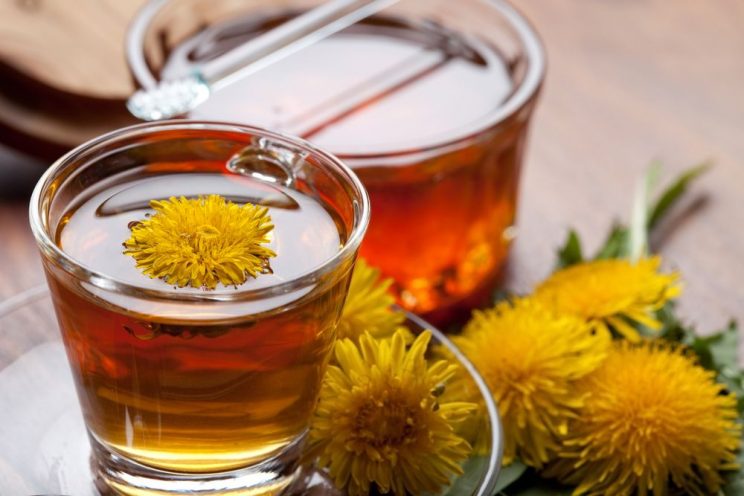 Anti-inflammatory dandelion is full of antioxidants and can help calm autoimmune flares and balance out the immune system. (1,2,3)
Dandelion leaves can be harvested right from your yard as long as you don't treat your lawn with toxic weed-killing chemicals.
How to make dandelion tea:
Steep 2 teaspoons of dried dandelion root and leaves with fresh lemon zest in a tea infuser for 15-20 minutes, then add half a teaspoon of raw honey, stir, and drink.
2. Siberian Ginseng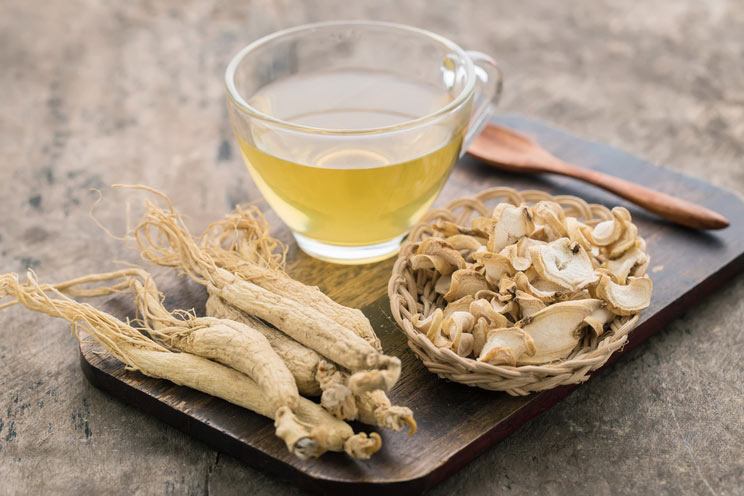 Siberian ginseng is an adaptogenic herb that can help the body better handle stress, whether it comes from outside sources or internally, such as a thyroid problem. It can also help reduce inflammation within the body, which is commonly found in thyroid conditions. (4,5)
How to make orange ginseng tea:
Siberian ginseng dried root can be brewed into a tonic tea and can be consumed a few times per week to better help the body adapt to stressors. Pairing it with orange peel or zest can give it a warm, citrus flavor that will also provide soothing, anti-stress benefits.
Siberian ginseng needs to be cooked longer to extract the herbal benefits, so try the following:
In a slow cooker, add 2 quarts of boiling water and dried herbs, along with the orange peel. Cover and cook on low heat for 2-3 hours.
Remove the ginseng root after this time, allow to cool, and slice in half. Add back to the crockpot and continue cooking on low for another 2-3 hours.
Once cooled, discard herbs and orange pieces, and store the cooled liquid in the refrigerator.
3. Chaga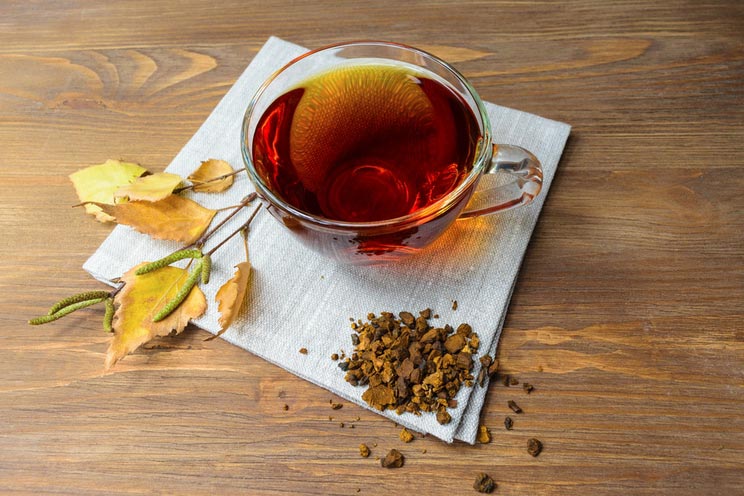 Chaga is in the family of medicinal mushrooms that's making its way to the top of the wellness ladder. Chaga has liver and lymph cleansing benefits and can help a thyroid-sluggish body by removing toxins and nourishing the detox system in a gentle, natural way. It is also potently anti-cancer, so if you have a family history of thyroid cancer (or any type), this might be the tonic for you. (6,7)
Chaga also has mind-clearing benefits and can clear away thyroid brain fog better than addictive caffeine. It can also help to naturally increase superoxide dismutase, an important antioxidant that is often lacking in people with impaired thyroids. (8)
How to drink chaga:
Mix in a smoothie or make a matcha-like tea drink by adding ½ teaspoon of chaga powder to your favorite smoothie recipe, or stir into hot water with coconut cream, cinnamon, and a drop or two of pure liquid stevia.
4. Ashwagandha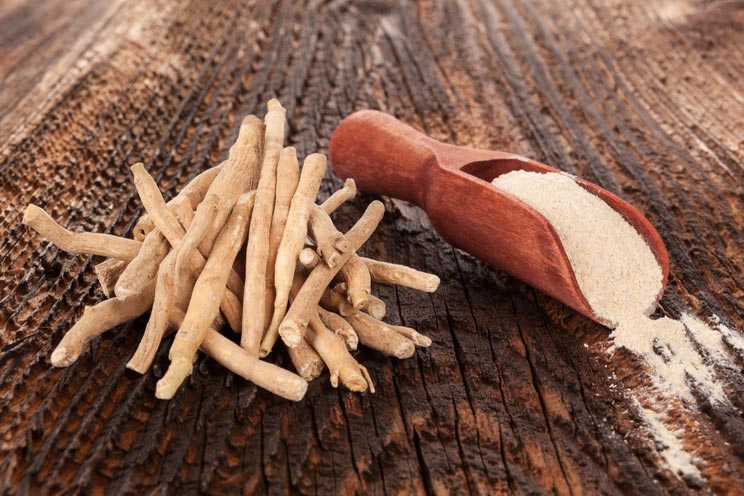 A popular adaptogenic herb, ashwagandha can help the body better cope with stress, anxiety, and chronic health problems. (9,10) It can also help to improve natural production of thyroid hormone. (11)
Ashwagandha is often found in herbal preparations for stress and the adrenal glands, but it can also be used in loose herbal form and absorbs better when taken along with food instead of simply as a capsule.
How to make herbal milk with ashwagandha:
Mix ground ashwagandha herb into a warming, nourishing herbal milk. Warm coconut or almond milk until boiling, then remove from heat. Stir in 1 tablespoon of coconut oil or butter, 1 teaspoon raw honey, ½ teaspoon Ceylon cinnamon, and ½ teaspoon of ashwagandha. Drink warm.
5. Turmeric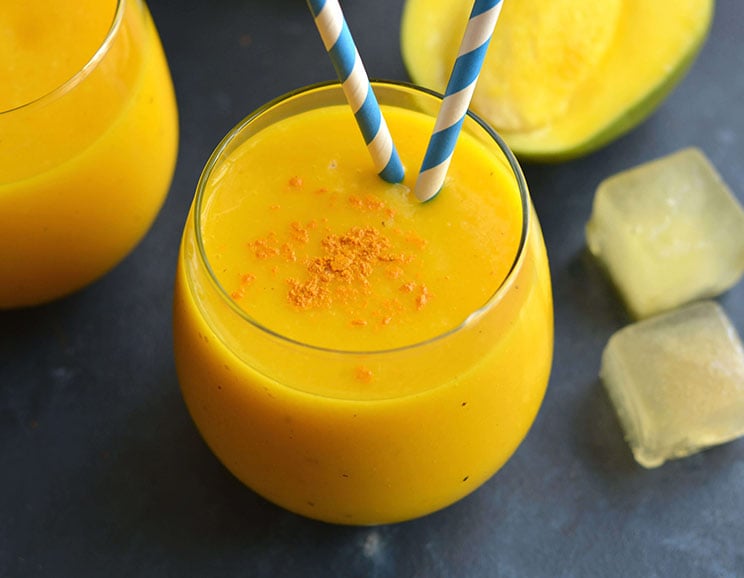 Turmeric is a nourishing food for thyroid health thanks to its active ingredient, curcumin. It works in the body as an anti-inflammatory relieving agent and can help to cool inflammation associated with thyroid problems. Bonus: It also works to help alleviate mood-related disorders, like anxiety and depression, which can often go hand-in-hand with a jacked-up thyroid. (12,13)
It can also help to reduce instances of goiter, or enlarged thyroid, in people who are prone to that. (14)
How to make golden milk:
For a soothing turmeric tonic, try making golden milk. In a small saucepan, heat a teaspoon of turmeric with 1 ½ cups dairy-free milk, and spice it with a half teaspoon each of cinnamon, ground ginger, and vanilla extract. For a frothy component, add ½ a tablespoon of coconut oil and whisk well. Be sure to include a ¼ teaspoon of black pepper, which helps with turmeric absorption and use within the body. Simmer on low for a few minutes and serve warm.
6. Astragalus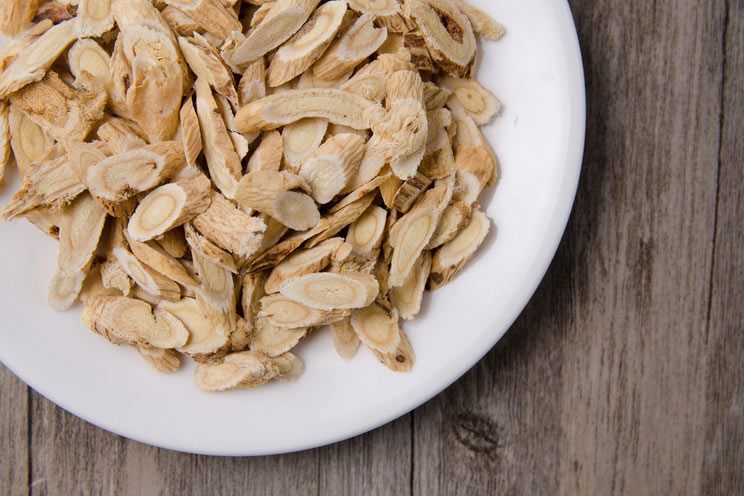 Astragalus, another adaptogenic herb (sensing a theme?), can boost adrenal function and help the body better cope with stress. The thyroid and adrenals are closely related, and when one is off, the other is likely struggling, too.
Like so many other adaptogens, astragalus helps fight off stress physically and mentally by tapering inflammation. It can also help to modulate the immune system, which can be beneficial in situations of autoimmunity, where the immune system mistakenly begins to attack its own body tissue. (15,16)
How to make astragalus tea with lavender:
Steep 1 ¼ teaspoon dried astragalus root as you would your favorite tea, for at least five minutes. Try steeping with some lavender buds, or add a splash of turmeric lavender creamer and a bit of raw honey for a natural, antioxidant-rich sweetness.
7. Maca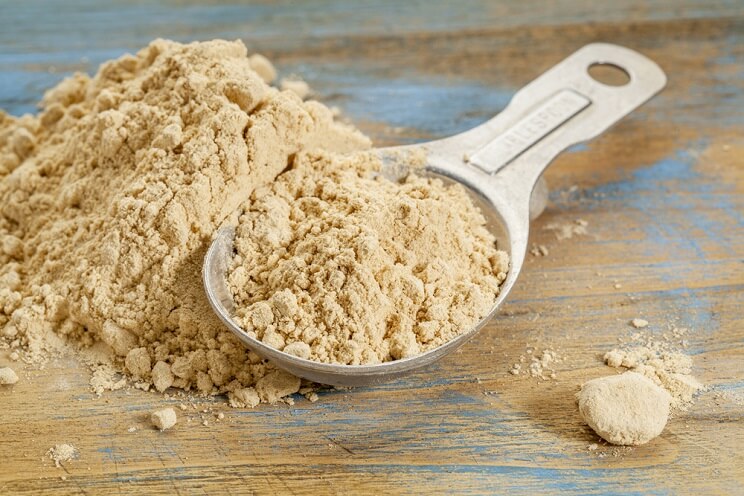 Maca is one of those superfood ingredients that is often found in drink recipes like smoothies or Paleo milkshakes, and it can also make a soothing herbal tonic.
Maca is nutrient dense in vitamins B, C, and E – all nutrients that the thyroid requires in abundant amounts to produce hormones and regulate metabolism and energy levels. Maca can also help to regulate hormonal communication, especially reproductive hormones. This ties in with thyroid balance because if your sex hormones are low, your stress hormones will be high, and both put extra strain on the thyroid as it tries to maintain a steady hormone output. Maca can also help to improve mood. (17,18,19)
How to make a maca tonic:
For an energizing tonic, pair a scoop of maca with a teaspoon of cinnamon and a teaspoon of ginger and whisk together with warm coconut milk, ½ teaspoon raw honey, and ½ teaspoon of MCT oil.
8. Rhodiola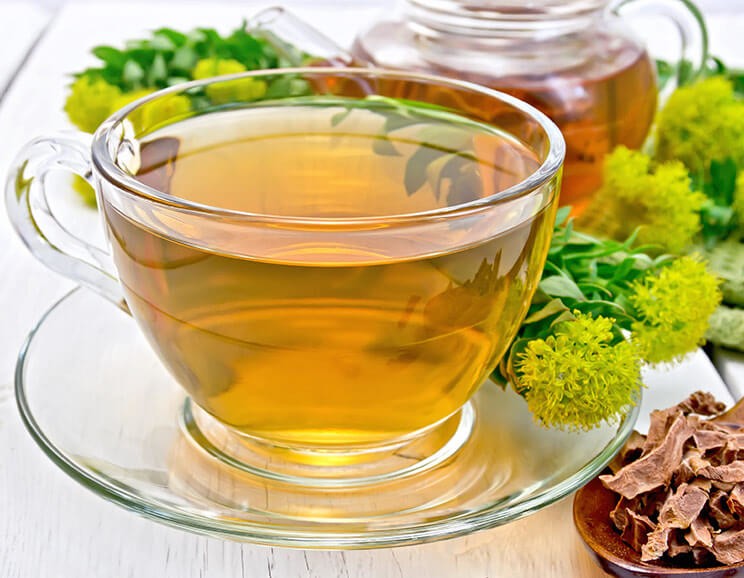 The adaptogen Rhodiola is used in traditional and herbal medicine for bringing calmness and clarity to the body. Unlike most herbs in this list, Rhodiola can have an almost immediate effect in clearing brain fog and boosting energy, making it a good go-to if you struggle with the 3 pm lull that most thyroid sufferers experience.
Rhodiola can also help to tame depression symptoms and fight chronic fatigue, both of which tend to plague hypothyroid patients and those with Hashimoto's. (20,21)
How to make Rhodiola tea:
Rhodiola works fastest in tincture form, so adding a dropperful to your favorite herbal tea can have some energizing benefits that won't take a lot of time to prep. You can also add it to smoothies or juice.
9. Ginger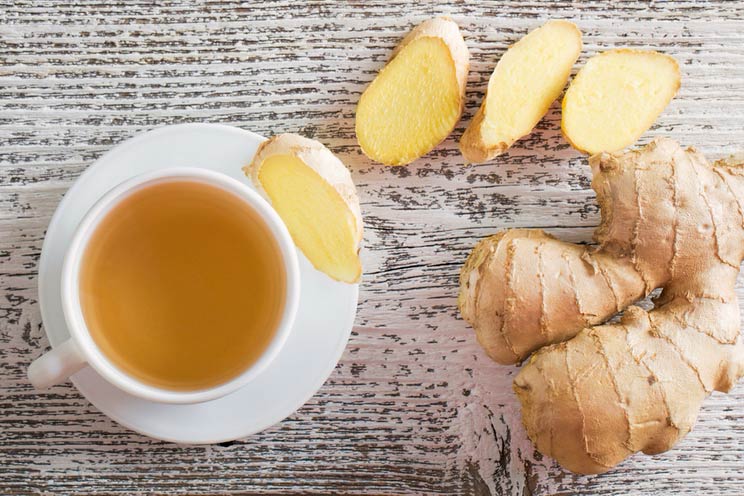 Ginger has a great reputation for helping to soothe physical upset: from pregnancy nausea to the flu, it has a calming effect on the body. It also works at a deeper level and tames inflammation, which can often lead to bigger problems like chronic disease and autoimmunity.
Ginger can help reduce pain in chronic conditions like arthritis as well as reduce the associated risks between a low-functioning thyroid and cardiovascular problems. (22,23)
How to make ginger tea:
Make a comforting, spicy tea by adding 3-4 slices of ginger root to a saucepan of 3-4 cups of boiling water. Let it simmer for 10-15 minutes and then discard the ginger pieces. Add honey to taste, and sip away.
10. Bone Broth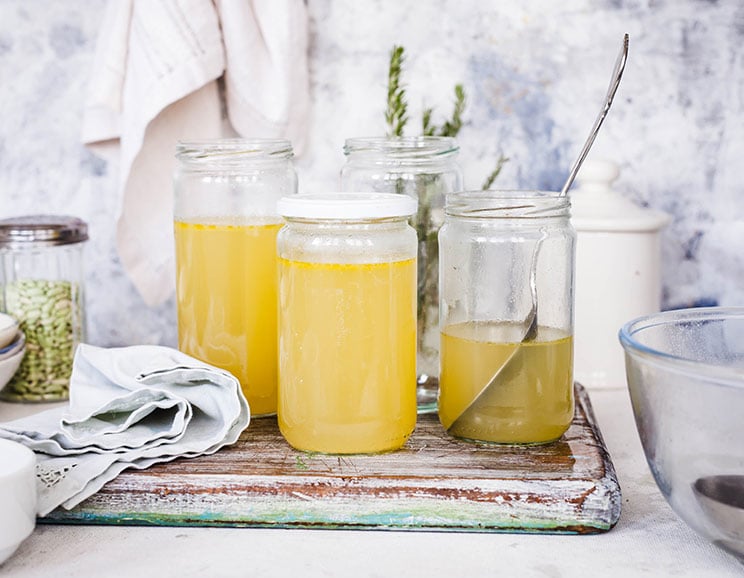 Bone broth is an unconventional tonic that is relevant to thyroid health thanks to the intimate connection between the gut and the immune system. In many cases of a thyroid gone rogue, the immune system has been affected by a leaky gut – one that is damaged and allowing foreign particles into the bloodstream. Bone broth is a therapeutic tonic for gut health and all types of chronic problems because it contains amino acids and other nutrients, like collagen, which help to repair the lining of the intestine and restore balance to a fired up immune system.
How to make bone broth:
Make your own bone broth at home by slow-cooking grass-fed beef bones or pastured chicken bones with purified water, a few tablespoons of apple cider vinegar, and any herbs of choice for 12-48 hours. If you're low on time, you can buy quality bone broth online from companies like Kettle and Fire. Tip: Try any of these bone broth mix-ins to spice things up!

(Read This Next: 5 Essential Oils to Boost Thyroid Health & How to Use Them)