From argan to jojoba, there's a carrier oil for every skin treatment. Whether you're looking for the ideal scalp treatment or nourishing relief for dry skin, this helpful guide will help you find the ideal blend!
Carrier oils play an important role in applying essential oils to delicate skin. There's an array of different ones that can be used, each with their own unique properties. From soothing itchy skin to offering redness relief, these oils help dilute essential oils without changing their potency.
Because essential oils are concentrated, pairing them with a carrier oil helps avoid skin irritations and creates a balanced blend for all skin types. Find out how to use essential oils with carrier oils, the benefits of the most common carrier oils, and what essential oils they pair best with.
Coconut Oil has hundreds of health benefits - learn how you can experience them with our FREE guide to Coconut Oil & its benefits.
Click here to subscribe
Mixing Essential Oils with Carrier Oils
For topical uses on the skin, scalp, or hair, start with a 1% dilution ratio for each essential oil blend. This means you'll want to mix about six drops of essential oil per one ounce of carrier oil. Always begin with a low dilution and add more drops of essential oil after spot testing on skin first. This will help ensure there's no allergic reaction and allow for minor adjustments, if needed.
When storing these oil blends, use an amber or blue-colored glass bottle to best preserve the oils from UV light exposure. Keep them in a dry cool spot with low humidity to prevent the carrier oils from becoming rancid. If you're wondering how long they'll last, you'll be happy to learn that most carrier oils have a shelf life of up to one year.
For more information on different dilutions, including proper dilution for children and infants, use this handy chart recommended by the National Association for Holistic Aromatherapy. (1)
To patch test essential oil: Combine two drops of essential oil with a half teaspoon of carrier oil. Using the inside of your arm, apply a few drops of the diluted oil to a bandage and apply to your arm. Wait 24 to 48 hours to determine if the oil is safe for further use.
Note: Avoid nut-based carrier oils like sweet almond oil if you have a nut allergy.
---
Carrier Oils
Jojoba Oil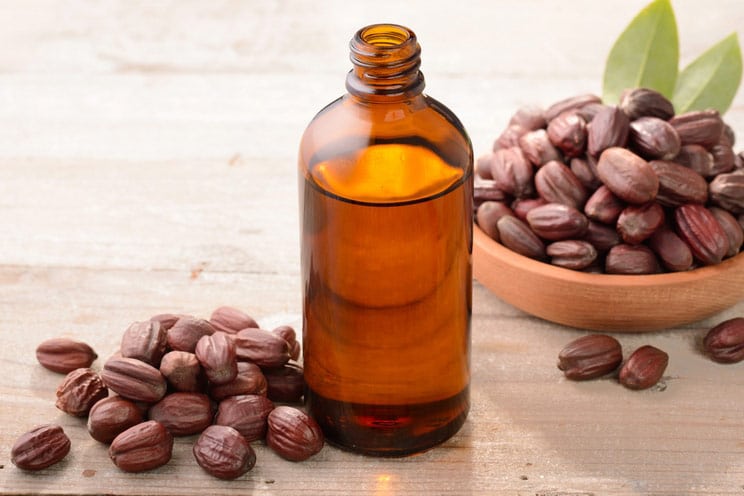 This common carrier oil is great for using all over the body because it doesn't clog pores and mimics your skin's natural oils. It makes a great choice for most skin types and is especially beneficial to acne-prone skin.
Scent: Jojoba oil has a mild nutty scent, making it great to use with just about any essential oil.
Sweet Almond Oil
Sweet almond oil is a lightweight oil that absorbs quickly. High in vitamin E, this oil is ideal for skin treatments, massages, and especially for dry skin. You'll also find sweet almond oil in ointments and body oil.
Scent: As the name implies, sweet almond oil has a strong nutty scent, so look for complementary scents like orange or vanilla.
Olive Oil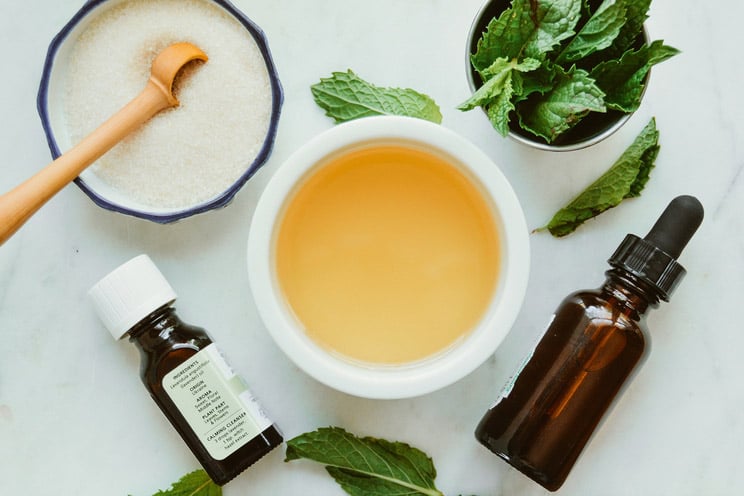 This common oil is not only great for cooking, but also makes a convenient carrier oil. Olive oil can be used in hair masks, massage treatments, and even homemade soap. Packed with vitamin-rich antioxidants, it's a great way to reduce skin inflammation and treat damaged hair naturally – especially for times when split ends become overbearing. (2, 3)
Scent: Because olive oil has an earthy scent, it pairs well with essential oils like rosemary, lavender, lemongrass, and peppermint.
Apricot Kernel Oil
This carrier oil is widely used in cosmetics and natural beauty products for its high vitamin E content. With a strong ability to moisturize, it's great for topical use in lotions and balms.
Scent: Its slightly sweet scent pairs great with sweet orange, almond, and lemon essential oil.
Coconut Oil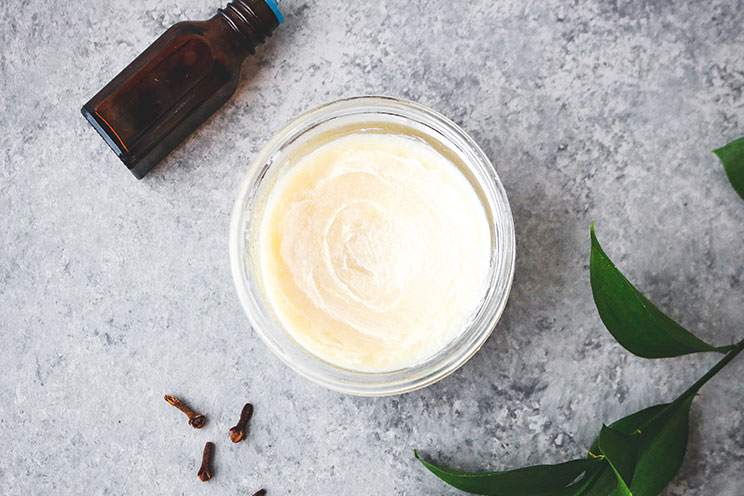 Also known for its benefits in the kitchen, coconut oil is popular in many beauty treatments. Coconut oil contains antimicrobial and anti-inflammatory properties, making it a great choice for acne or eczema-prone skin. Use coconut oil as a carrier oil for massage oil, scalp treatments, and in lotions.
Scent: Unrefined virgin coconut oil has a tropical scent and pairs well with fruity essential oils like orange and lemon. You can also pair it with more earthy scents like mint and lavender for a milder scent.
Argan Oil
Argan oil is one of the most commonly used oils in beauty products, from shampoo to body butter. It includes ultra-nourishing fatty acids and contains a rich content of vitamins A and E. Use it to help heal cracked skin, dry scalp, and skin inflammation.
Scent: This oil has a nutty scent that pairs great with sweet orange and vanilla essential oils.
Grapeseed Oil
Rich in vitamin E, grapeseed is a lightweight oil that easily absorbs with other oils to soften and moisturize the skin. It's often used in body butters, face lotions, and bath oils as a popular carrier oil.
Scent: Practically odorless, you can use this oil with all of your favorite essential oils. From floral to fruity, let their aromatic scents shine!
Avocado Oil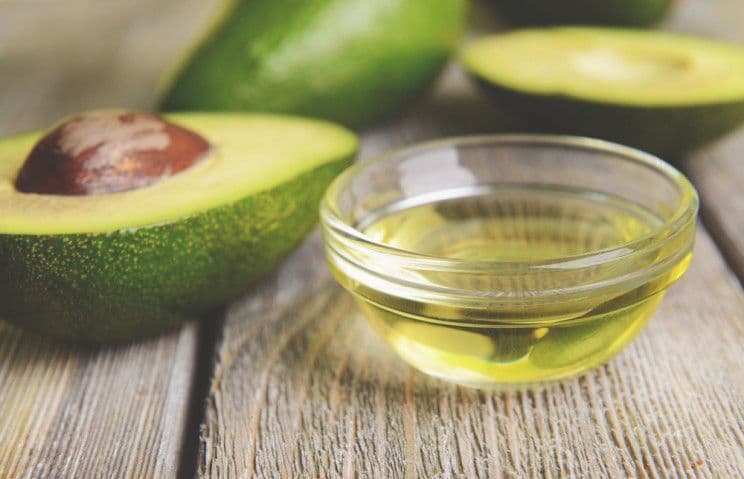 This thick and soothing oil does the heavy lifting when it comes to extremely dry skin. It's best used on the hands, heels of feet, or in body cream – especially during the cold winter months. High in nourishing fatty acids, avocado oil is great for using in hair masks and scalp treatments.
Because of its thickness, avocado oil can clog pores and should be avoided if you have oily or acne-prone skin.
Scent: Its mild earthy scent makes avocado oil a great oil to use with essential oils ranging from peppermint to vanilla.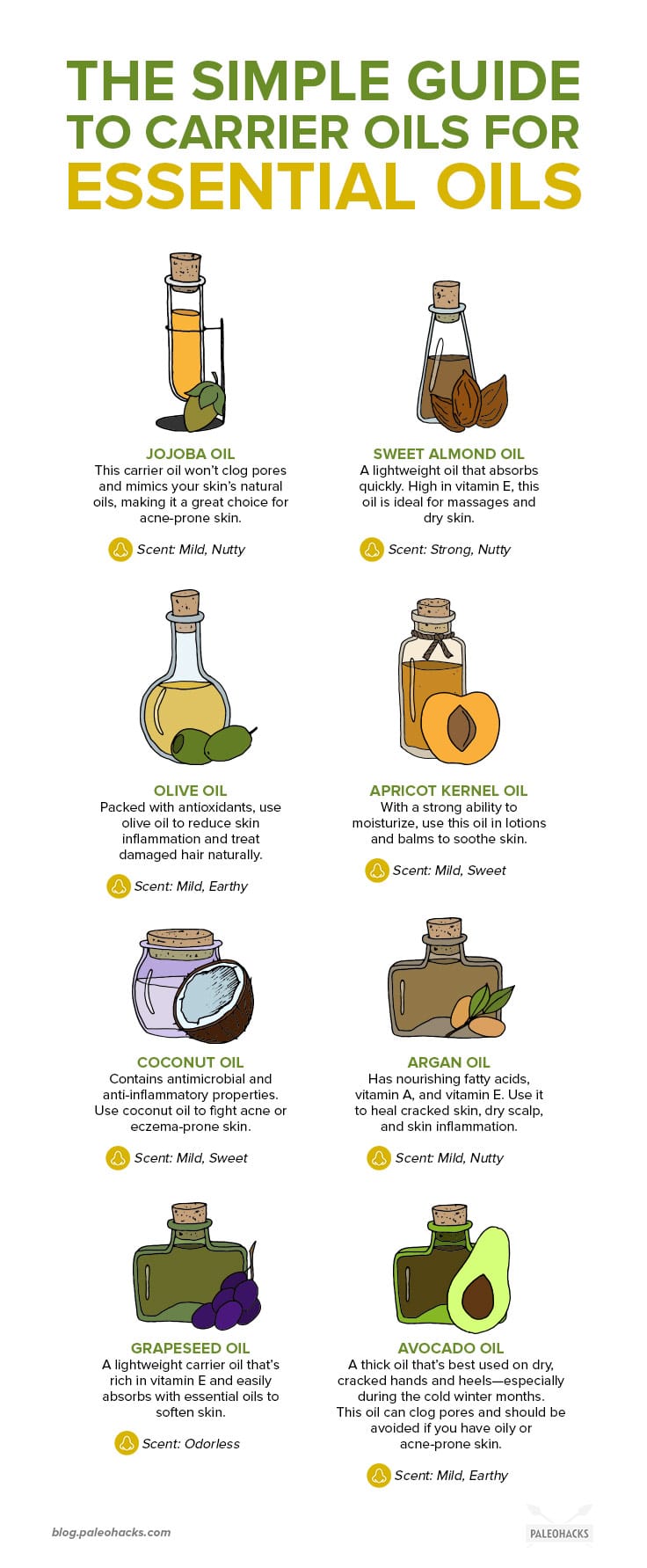 (You'll Also Love: 10 Healing Ingredients to Add to Your Bath)