Use this three-ingredient Bug Spray to naturally repel pesky bugs!
Nothing ruins outdoor activities quite like the buzzing and biting of bugs. Spray this natural repellant before going outdoors to naturally protect your skin. Best of all, it smells fresh and leaves behind zero residue.
DEET is a common ingredient found in many store-bought bug sprays and pesticides. However, some studies suggest it can negatively affect reproductive organs. (1) This DIY bug spray nixes the DEET in favor of essential oils to naturally help ward off ticks and mosquitos. (2)
Want naturally radiant skin? We've created a FREE guide to give you the best tips & tricks for natural skincare.
Click here to get your FREE copy of our Skincare Guide!
Citronella is a key ingredient in many bug repellents, outdoor sprays, and candles. It has a citrusy aroma with earthy notes and produces a herbal scent that fends off bugs. Pair it with eucalyptus oil for a subtle hint of minty menthol and to keep things smelling fresh and clean.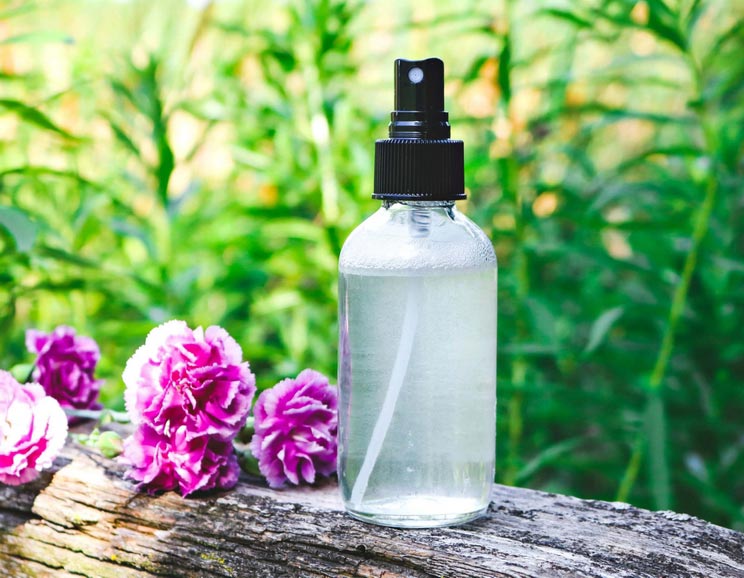 As a bonus, this gentle bug spray includes skin-nourishing witch hazel for its powerful antibacterial properties. (3) Extracted from the leaves and bark of Hamamelis Virginiana (a shrub native to North America), this natural astringent is often used to reduce skin inflammation. Use it as an alternative to harsh skincare products and look for it at your local health store.
To make this spray, combine essential oils and witch hazel in a spray bottle and shake to combine. Spray on arms, shoulders, and legs just before going outdoors or into wooded areas. Since oils tend to evaporate quickly during warm weather and high-sweat activities, make sure to reapply every 30 minutes.
Jennafer Ashley
Homemade Bug Spray with Powerful Essential Oils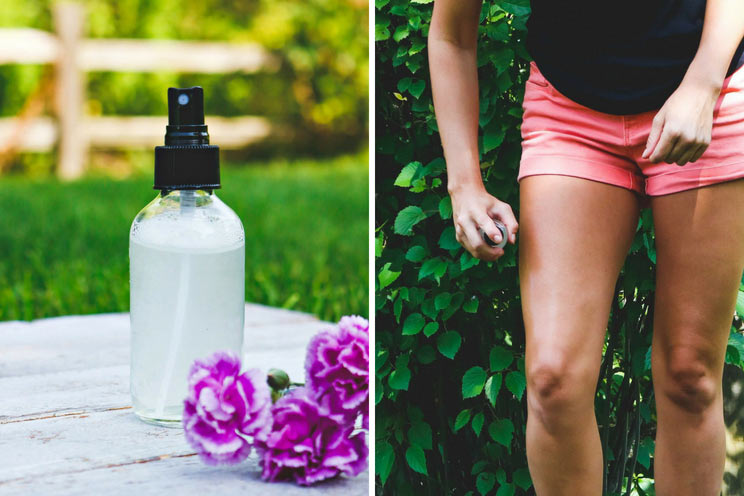 Prep Time:
2 mins
2 minutes
Homemade Bug Spray with Powerful Essential Oils
Use this three-ingredient Bug Spray to naturally repel pesky bugs.
Ingredients
1/2 cup witch hazel

1 T jojoba oil

15 drops citronella essential oil

10 drops eucalyptus essential oil
Instructions
To Make: Combine the ingredients in a small spray bottle and shake before using. Store in a dark dry location for up to six months.
To Use: Spray just before going outdoors and into wooded areas. Reapply every 30 minutes, paying close attention to bite-prone areas like arms, shoulders, and legs.
Note: When applying any new topical, make sure to test it on a small patch of skin first.

(You'll Also Love: Homemade Water-Resistant Sunscreen
)