These baked eggplant Caprese stacks make for a stunning appetizer or side dish. Instead of frying in oil, eggplant slices are coated in almond meal and baked to crispy perfection. 
Eggplant can be a polarizing vegetable: often mushy once cooked and not very exciting on its own. If you're one of the people who think eggplant is not for you, I challenge you to try this baked, grain-free version. There's something about the crispy coating that's so satisfying and just as good as any fried vegetable I've tried. Almond meal is a terrific substitute for breadcrumbs, which are traditionally used to fry or bake eggplant. Almond meal is light and takes on a toasty, nutty flavor when baked. The almond meal gets an Italian boost of flavor from dried basil, oregano and garlic.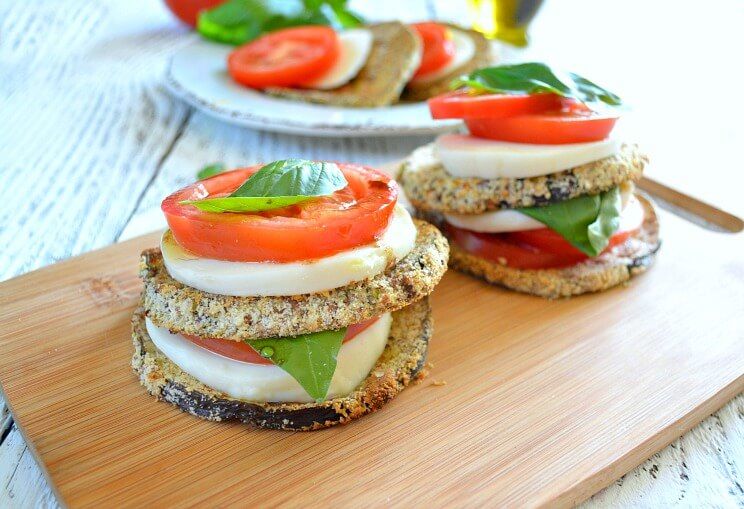 Before coating in Italian seasoned almond meal, the eggplant is dredged in egg to help the almond meal mixture stick. Make sure to gently shake off any excess egg from your eggplant—a light coating is all that is needed. I also found it handy to have a damp kitchen towel nearby to wipe my hands in between dippings and to prevent the almond meal from getting into the egg. The prepared eggplant is baked at a high heat to cook the eggplant and turn the coating a crispy golden brown.
Want to go Paleo? Not sure where to start?
Start with this FREE Paleo For Beginners Guide Today!
Next, the stacking begins. Each baked eggplant slice gets topped with Paleo cheese, tomato and fresh basil. This Paleo cashew cheese is something I recommend again and again for its versatility. I've used it in pizza, quesadillas and pasta recipes. For this recipe, pour the cheese mixture into a small round bowl, about the size of a large tomato or ¾-cup measuring cup. This allows the Paleo cheese to solidify in a circular shape, perfect for topping the eggplant. Finally, finish with a drizzle of olive oil and balsamic vinegar and you have a dish that's a sure crowd pleaser!
Jennafer Ashley
Baked Eggplant Caprese Stacks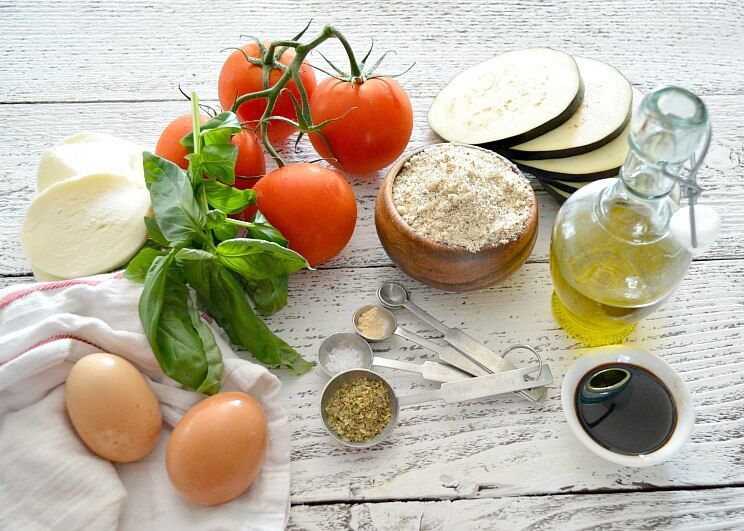 Cook Time:
24 mins
24 minutes
Prep Time:
15 mins
15 minutes
Baked Eggplant Caprese Stacks
These baked eggplant Caprese stacks make the perfect appetizer or side dish. Coated in almond meal, they're baked for a crispy and comforting dish.
Ingredients
1 large eggplant (ends cut off, sliced into ¼-inch slices)

1 cup Paleo cheese (sliced into ¼-inch slices)

2 large tomatoes (sliced into ¼-inch slices)

2 eggs (beaten)

2 cups almond meal

1/2 t garlic powder

1/2 t dried basil

1/2 t oregano

1/2 t sea salt

1 T balsamic vinegar

2 T olive oil

10-12 basil leaves
Instructions
Make the Paleo cheese a day ahead of time and pour it into a small round bowl (about the size of a ¾-cup measuring cup) before refrigerating. Once solid, slice cheese into ¼-inch slices.

In a small bowl, beat egg. In a separate shallow bowl or plate, combine almond meal, garlic, dried basil, oregano and sea salt.

Preheat oven to 425ºF and line a baking sheet with parchment paper. Dredge each eggplant slice in egg, shake off excess egg, and then coat with almond meal mixture. Set onto baking sheet.

Place baking sheet on center rack in oven. Bake eggplant for 10-12 minutes. Carefully flip and bake an additional 10-12 minutes, until golden brown. Remove from oven and allow to cool 5 minutes.

Begin layering Caprese stacks on a serving plate, starting with baked eggplant on the bottom followed with sliced Paleo cheese, tomato, and 1 basil leaf. If your tomatoes are small, place two slices on each layer. Repeat once. Drizzle each Caprese stack with balsamic vinegar and olive oil.


(You'll Also Love: Creamy Eggplant Spinach Dip)