Believe it or not, bee pollen is one of nature's most complete superfoods.
What is bee pollen? At it's basic level, it's simply pollen that has been collected from flowers by bees, and then mixed with their saliva to form granules.
If you're ready to boost your energy and overall health, read on to see why a little pollen added to your morning smoothie could make all the difference.
It's not just a sweetener -- it's medicine, too! Discover The Benefits of Nature's Superfood: Honey
Click here to get your FREE copy of our Honey Guide!
The Top 8 Health Benefits of Bee Pollen
Packed with amino acids, enzymes, B vitamins, fatty acids and minerals, this wonder food can help relieve respiratory problems, soothe digestion, and even balance hormones. [tweet_quote]Local pollen can help relieve respiratory problems, balance hormones and ease digestion.[/tweet_quote]
Our modern diet is rife with nutritional deficiencies, and adding this complete food to your diet can help fill in the gaps.
Here are some of the most impressive benefits of pollen.
Bee Pollen is Rich in Protein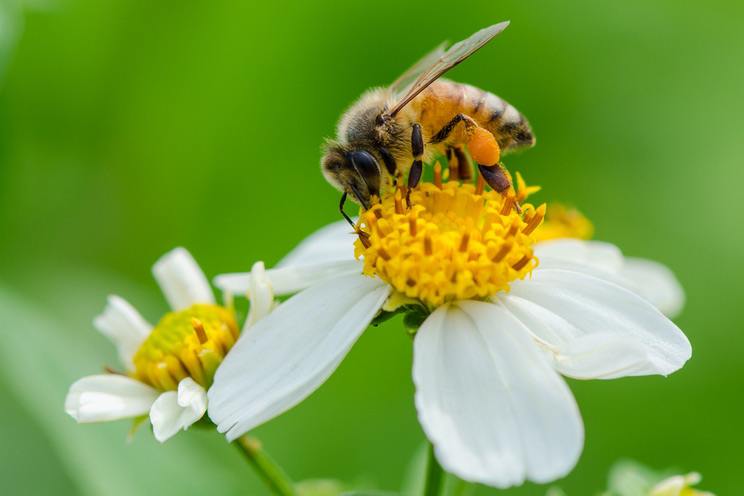 Bee pollen is perhaps one of the best of all high-protein foods. It is higher in protein than any animal source, and pound for pound, it also contains more amino acids than beef, eggs, or cheese.
Bee Pollen is a Powerful Anti-inflammatory
The flavonoids contained in bee pollen have anti-inflammatory properties. It has been shown that an alcohol extract of pollen provides the most anti-inflammatory properties. However, pollen is beneficial both as a nutritional supplement and also as a functional food. (1)
Bee Pollen Eases Allergies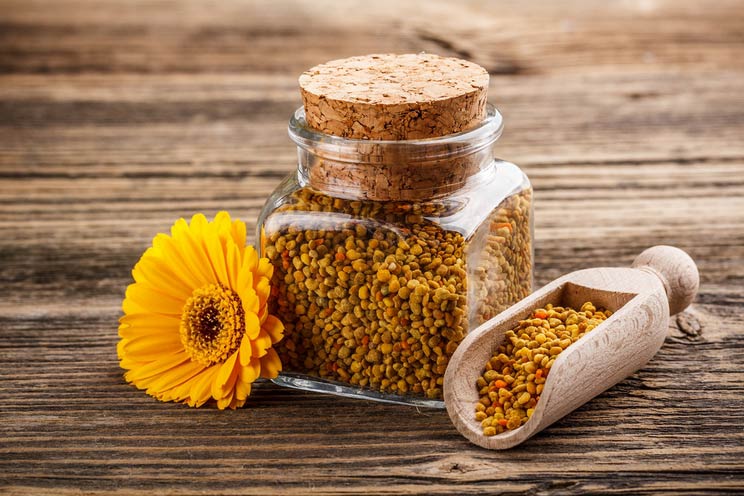 Bee pollen has been used as a folk remedy for centuries against various diseases, particularly allergies. Research suggests that the pollen is activated in mast cells, which plays important roles in the early and late stages of allergies. (2)
Bee Pollen Helps Fight Cancer
Several recent studies have shown that bee products, including pollen, inhibit tumor cell growth and work to kill cancer cells. (3)
Bee Pollen Boosts Metabolism and Energy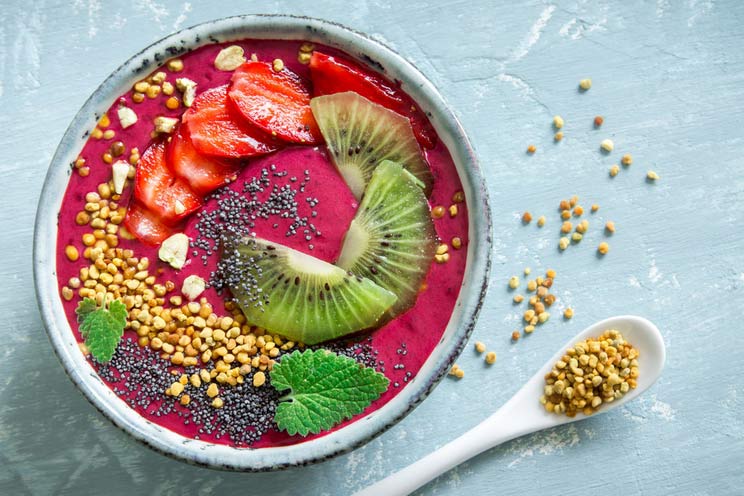 When we are protein-deficient, both our muscle protein synthesis and metabolism slows, resulting in decreased energy. Pollen is rich in bioavailable protein in the form of amino acids, which helps our metabolism works more efficiently. (4)
Bee pollen also aids in the recovery of muscle protein. One study found that rats fed with fresh pollen-enriched diets showed a significant increase in muscle mass. (5)
In other words, supplementing daily with pollen can help enhance energy, increase muscle mass, and boost metabolism.
Bee Pollen Has Antibacterial Properties
There is research demonstrating the antibacterial properties of bee pollen. There is a substance in pollen that inhibits the growth of various harmful bacteria. Studies show that bee pollen contains an antibiotic element that is effective against salmonella and other strains of bacteria.
Also, clinical studies have revealed a governing effect on proper intestinal function which can be accredited to bee pollen. Its cellulose and fiber, as well as the presence of its antibiotic factors all contribute to an explanation for its antibacterial effect. (6)
Bee Pollen Increases Fertility
Bee pollen is great for boosting fertility as it helps stimulate ovarian function. Pollen also improves the ability of eggs to survive the incubation phase, increasing your odds of pregnancy. (7)
Bee Pollen Helps Clear Up Skin
Want to amp up your beauty routine? Bee pollen helps soothe and renew your skin, helping to rejuvenate your complexion. Studies show that pollen might even clear up acne. (8)
---
How to Find The Best Bee Pollen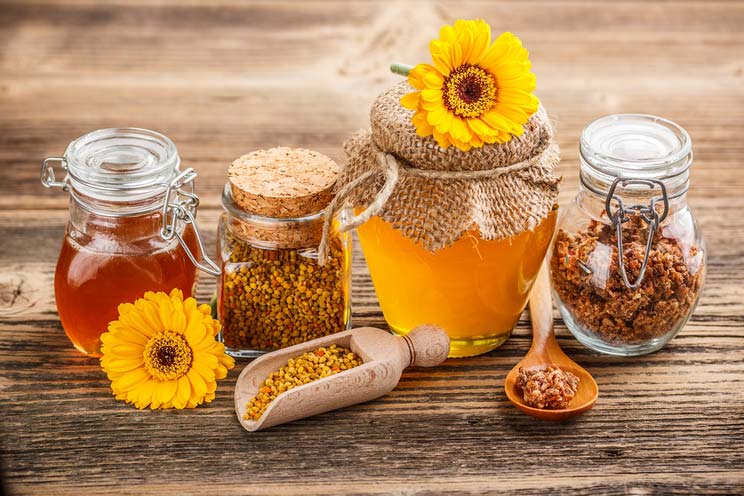 Local bee pollen is best. The bees in your area are exposed to the same environmental pollutants as you are, and helps you develop a specific immunity to them.
You should be able to find fresh, local pollen at a health food store or farmer's market. To test its quality, try this simple at-home test: Put a few granules of pollen into a glass of water. If it sinks, it's good; if it floats, it's rancid.
A little bee pollen added to your diet goes a long way. Put a couple of teaspoons over your salad or add to your favorite smoothie. You can also mix the pollen with a bit of raw honey and use it as a sweetener, or even take it straight for a quick energy boost.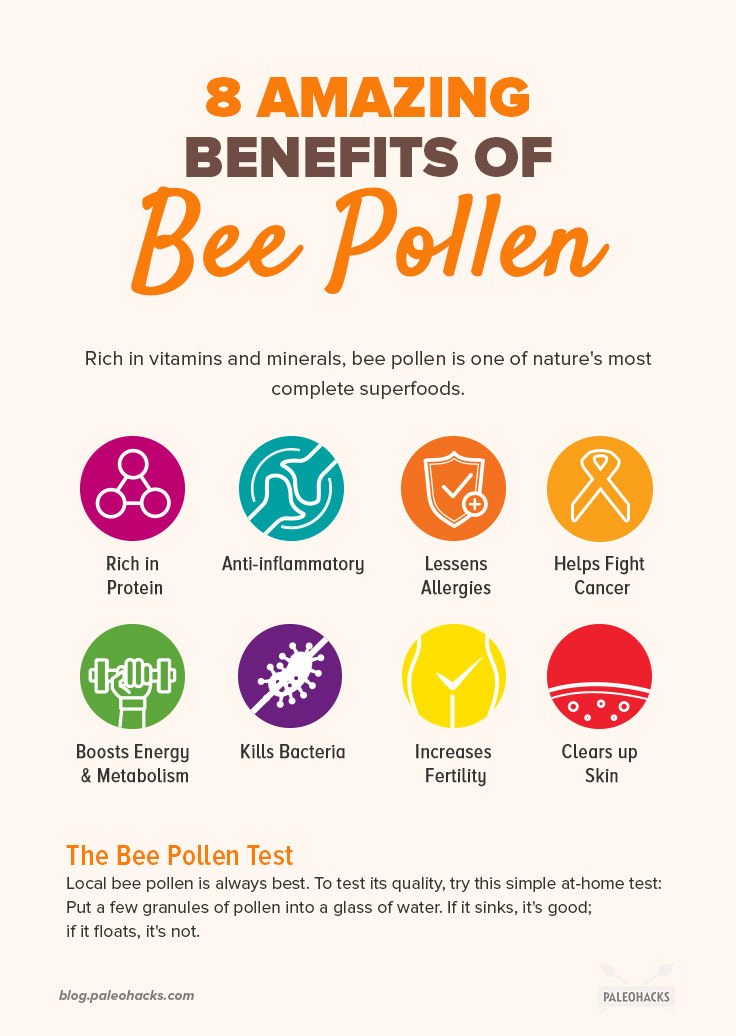 (Read This Next: Raw Honey vs. Processed Honey)