Autoimmune disorders can be triggered by a combination of genetics and lifestyle factors, like stress and poor eating habits. Discover how a Paleo diet can help heal and even reverse autoimmunity.
According to the American Autoimmune Related Diseases Association (AARDA), autoimmune disease affects 50 million Americans. (1)
Between 80 and 100 autoimmune diseases have been identified, but many of them haven't been thoroughly researched. (2) Beyond that, more than 40 other diseases have roots in autoimmunity. Autoimmune disorders affect women more than men, and most of these diseases have genetic components to them. (3)
Fight inflammation and create easy, healthy meals! We've created a FREE 7-Day AIP Meal Plan
Get Your FREE 7-Day AIP Meal Plan here.
What Is Autoimmune Disease?
Autoimmune disease occurs when the immune system mistakenly begins attacking organs or body systems. The immune system is designed to keep the body safe from viruses or bacteria that invade by producing antibodies or lymphocytes. Under normal circumstances, the immune system can't attack its own cells. However, certain conditions can trigger this mistaken identity as a foreign material. Then the immune system starts fighting against body tissues, and autoimmune disease begins. [tweet_quote] Certain lifestyle factors can trigger your immune system to turn on itself.[/tweet_quote]
Autoimmune diseases are broken down into organ-specific and non-specific disorders. The impact of autoimmunity can be varied. Antibodies can cause the slow destruction of organs, cells, or tissues; interfere with organ function; cause inflammation in tissues or organs; or overstimulate organs.
The most common organs and systems impacted by autoimmune disease include:
Hormone-producing endocrine glands (such as the thyroid, adrenal glands, and pancreas)
Connective tissues, skin, muscles, and joints
Red blood cells and other blood components
Bottom line: Autoimmune disease occurs when the immune system becomes sensitized to itself and starts attacking specific organs, body systems, and tissues.
---
What Triggers Autoimmune Disease?
Autoimmune disease initially begins when there's a triggered interruption in the typical control process. In a healthy immune system, lymphocytes that could attack the body are suppressed and maintain recognition of themselves. But when a trigger interrupts the suppression process, the immune system becomes sensitized to some component of itself. Then it starts producing lymphocytes or antibodies to attack the specific organ, tissue, or cell that's viewed as a threat.
The precise mechanisms that cause or contribute to the beginning of autoimmune disease aren't perfectly understood (especially since there's such a wide variety of organs, tissues, and systems that can be affected). In many cases, multiple autoimmune diseases can be present. Once the immune system goes rogue, it'll naturally expand its search for problematic tissues or organs.
Typical triggers of autoimmune disorders can include:
Bacteria
Viruses
Toxins and chemicals
Drugs
These triggers alone aren't enough to simply cause autoimmunity to develop. A person must have the right combination of genetic components, lifestyle factors, and triggers. For example, an external factor (e.g., a food allergy or chronic viral infection) would be required to trigger the development of autoimmune disease in someone with genetic tendencies toward thyroid disease. [tweet_quote] Genetic components combined with triggers like food allergies or viral infections cause autoimmune disorders.[/tweet_quote]
Organ-specific autoimmune disorders can lead to further confusion in the body. The other organs that rely on the organ that's being attacked will also start under- or overproducing, which leads to widespread symptoms. Non- specific disorders typically involve widespread body pain and inflammatory symptoms. So in many cases, these types are more difficult to diagnose or understand.
People can have multiple organ-specific disorders (or a combination of organ-specific and non- specific).
Common organ-specific disorders include:
Hashimoto's thyroid disease (thyroid)
Pernicious anemia (stomach)
Type 1 Diabetes (pancreas)
Addison's disease (adrenal glands)
Multiple sclerosis (brain and spinal cord)
Autoimmune hepatitis (liver)
Celiac disease (small intestine)
Crohn's disease (gastrointestinal tract)
Endometriosis (lining of the uterus)
Ulcerative colitis (colon and rectum)
Non-specific disorders include:
Rheumatoid arthritis (joints)
Antiphospholipid syndrome (blood)
Lupus (can impact many organs, including skin, digestive system, lungs, kidneys, or blood vessels, muscles joints)
Polymyalgia rheumatica (muscle stiffness and pain)
Bottom line: Autoimmune disorders are triggered by a combination of genetic factors, lifestyle factors, and triggers from outside sources (such as viruses, bacteria, and toxins).
---
How Does Food Impact Autoimmunity?
The food we eat can either fuel our body or feed disease. Of course, that's an oversimplification. There're many more gray areas than that. Food is a complex issue. So when autoimmune disease enters the picture, it can be difficult to identify whether food started the autoimmune process, or the autoimmunity led to food issues.
In many cases, food allergies, sensitivities, or toxins can lead to a cascade effect, which helps trigger autoimmune disease in genetically inclined people.
For example, celiac disease is specifically tied to gluten, which leads to the breakdown of the small intestine. Other organ-specific autoimmune disorders don't necessarily have a single trigger food. Rather, groups of foods can lead to inflammation and trigger worse conditions. [tweet_quote] Common foods that trigger autoimmune disorders are: processed foods, vegetable oils, sugars and refined carbs.[/tweet_quote]
Even if these foods aren't diagnosable allergies, thyroid disease worsens in the presence of gluten, dairy, and soy. (4) That's why a Paleo diet (which naturally excludes these food groups) can be a therapeutic food plan for Hashimoto's or Graves' disorders.
In most autoimmune issues, some common groups of foods can lead to issues. They include:
Processed foods high in preservatives and artificial ingredients
Refined sugars and carbohydrates
Vegetable oils and trans fats
Grains and legumes
Nightshades
The digestive system is often referred to as the center of health. It runs through the body; it's literally the path for nourishment. Without healthy digestion, the cells and tissues can't be healthy. When autoimmune disease is present, it's even more critical to have a healthy nutrient intake.
Certain foods can be more problematic than others. In addition to typical inflammatory foods, a food sensitivity or allergy can also play a role.
Leaky gut must also be considered. It's considered to be a gateway to autoimmunity. Leaky gut occurs when foods, viruses, bacteria, or toxins aggravate the tight junctions of the small intestine. These junctions open and close, which allow digested nutrients to enter the bloodstream. However, when particles aggravate or damage these gateways, undigested particles, toxins, and bacteria can enter the bloodstream, circulate through the body, and flare up the immune system.
Bottom line: Diet plays a huge role in autoimmunity, and the foods eaten can either slow or worsen the progression.
---
Paleo and Autoimmune Disease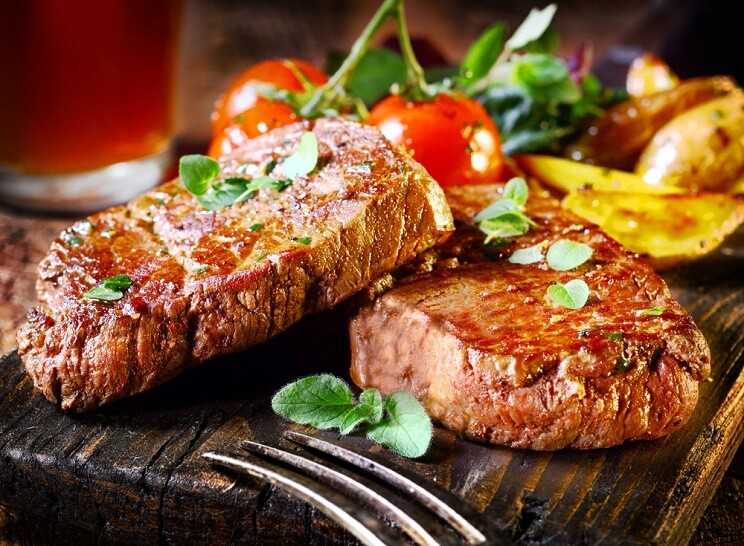 The Paleo Diet ditches "modern" foods (such as grains, legumes, dairy, and preservatives), in favor of imitating the diet of our caveman ancestors (who didn't have autoimmune disease). While there are variations on what cavemen actually ate, based on where they lived, the general principles are very applicable to autoimmune disease.
Paleo avoids grains and legumes (because of their high lectin and phytate content). Lectins are proteins found in these types of foods. They're meant to protect them from consumption – as a defense mechanism for plants, which ensures that the species survives. [tweet_quote] Grains and legumes contain anti-nutrients, which can wreak havoc on the digestive system.[/tweet_quote]
Grains and legumes are often referred to as "anti-nutrients." When they're ingested, they can wreak havoc on the tissues of the digestive system, which causes upset stomach and other symptoms.
Phytates (or phytic acid) is another anti-nutrient because humans lack the specific enzyme needed to break it down into a digestible form. Phytates also bind to minerals (such as magnesium, calcium, iron, and zinc) in the body and escort them out. Considering the importance of these minerals (especially in cases of autoimmunity, when the body is worn down), it's important to avoid anti-nutrients.
While the Paleo diet is certainly not one-size-fits-all, it does offer a good starting point for people who're battling autoimmune conditions. It can also be a preventative measure for people who have a family history of autoimmunity.
---
Variations of Paleo for Autoimmune Problems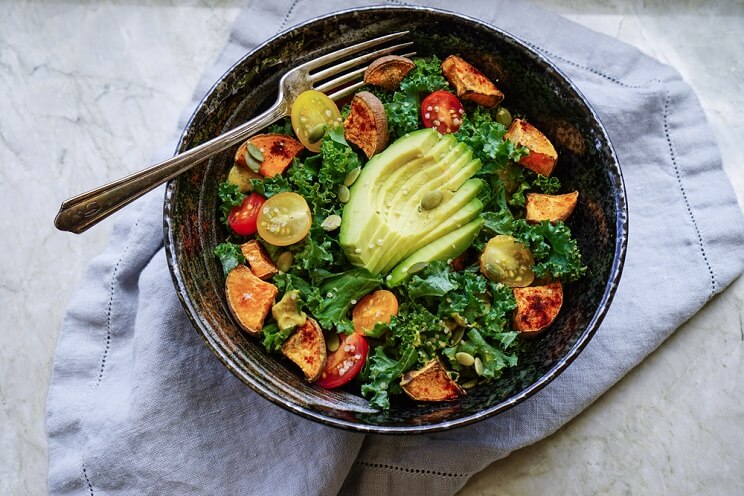 The benefit of the Paleo diet is that it can be fully customized to meet an individual's needs. In fact, there's an "autoimmune protocol" (AIP), which excludes typical inflammatory or autoimmune triggers that would otherwise be considered Paleo friendly. They include:
Eggs
Nightshades (white potatoes, eggplants, peppers, certain spices, chocolate, coffee, and sugars)
Nuts and seeds
Fermented foods (in some versions of AIP)
Alcohol
Some people experience dramatic reversals of autoimmune disease when they closely follow AIP. But depending on the specific type of autoimmune disorder, you may need to be more or less strict. Some people do well by simply following the traditional Paleo diet; the removal of grains, dairy, and soy often has a huge impact. Others will be able to tolerate non-AIP foods (such as eggs), but they may not do well on high-histamine foods (such as sweet potatoes, avocados, and banana, all of which are AIP-friendly).
Bottom line: The specific food plan that'll help reduce autoimmune and inflammatory symptoms varies wildly from one person to the next. But there are basic principles that can be a good place to start.
---
Is It Possible to Reverse Autoimmune Disorders?
Autoimmune disease begins when the immune system goes rogue, recognizing itself as an invader that needs to be destroyed. It's possible to calm the immune flare-up, but it's not possible to cure an autoimmune disease. Once the immune disease recognizes an organ or tissue as a threat, it's always possible to have a flare-up or start producing antibodies again.
Autoimmune progression can be reversed, and damage to the organ or tissues can be halted. But once triggering lifestyle factors are reintroduced, the immune system will pick up where it left off. Other factors (such as stress) can also serve as triggers for autoimmunity.
So the answer to how long it takes to reverse autoimmune disease is complex. Different autoimmune disorders respond differently to lifestyle changes. Factors that impact the length of time it takes to improve include:
The length of time that the disease has been present
The number of triggers (e.g., food allergies, viral infections, bacteria, and toxins)
Family history
The willingness to make drastic lifestyle changes
The protocols of practitioners
Some practitioners will more aggressively work toward reversing autoimmunity, while others will focus on a slow-and-steady, long-term approach. The method can differ, depending on age, type of autoimmunity, and other prevailing factors (such as weight, fitness level, work, and stress).
Bottom line: Autoimmunity is complex. But with time, lifestyle changes, dietary support, and professional help, it can be reversed (or at least put into remission) in many cases. However, there is no one-size-fits-all answer.

(Read This Next: The Link Between Autoimmunity and Your Gut)