Blend up your favorite brunchy sauce and pour over crisp asparagus in this 10-minute recipe.
Hollandaise usually requires a rapidly moving whisk over a hot stove. It's no secret that this coveted sauce is a wrist-exhausting exercise in patience.
Luckily, there's an easier way to make the brunch mainstay, and it will deliver even creamier results. So, give your wrists a break and try this blender-friendly trick!
Add power-packed superfood veggies to every meal with these easy cauliflower recipes.
Click here to get your FREE copy of our Cauliflower Recipe Guide!
Is A Blender Really As Good As A Whisk?
The consistent, vigorous nature of the blender produces a delightfully fluffy sauce. The goal with hollandaise is an emulsion, which allows fat and water to coexist harmoniously. The egg yolks in this sauce mediate between fat and water, producing a rich and velvety texture.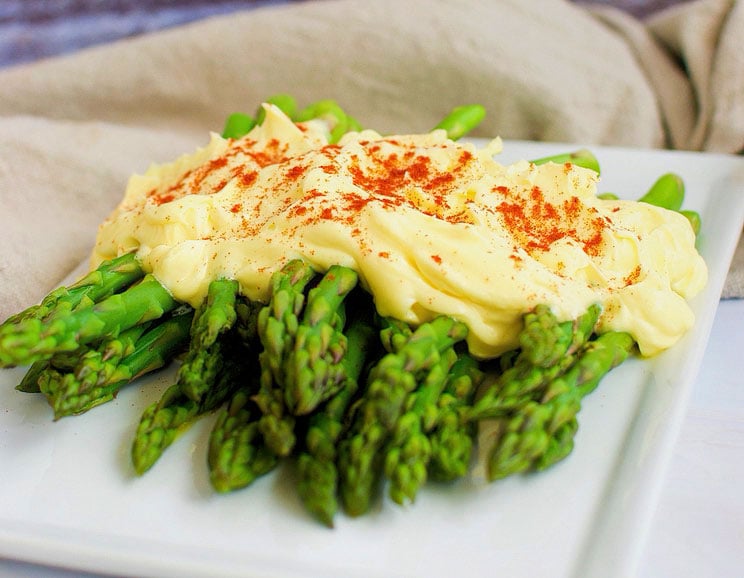 Temperature, too, plays a big role. The first key is using room temperature egg yolks, which adds volume to the hollandaise. The blender itself heats the egg yolks slightly without cooking them, and the lemon acts to stabilize the yolks. Make sure your ghee is hot, but not bubbling when you slowly stream it in.
Some Tips To Get Started:
Start cold, then warm your eggs. Egg yolks are easiest to separate when they're cold, so separate them first then set the yolks out to come to room temperature.
Pour the ghee in slowly. Gradually pouring the hot ghee in slowly heats the eggs, but pouring it in too quickly will overcook them. You'll end up with chunky, not creamy, hollandaise sauce.
Keep it fresh. This is best served freshly whipped, so make it just before serving.
Experiment with your base. This hollandaise is delectable when poured over pretty much any brunch dish, so use it on your favorite veggies, or even over Paleo English muffins and ham.
Danielle Moore
10-Minute Asparagus Blanketed in Creamy Hollandaise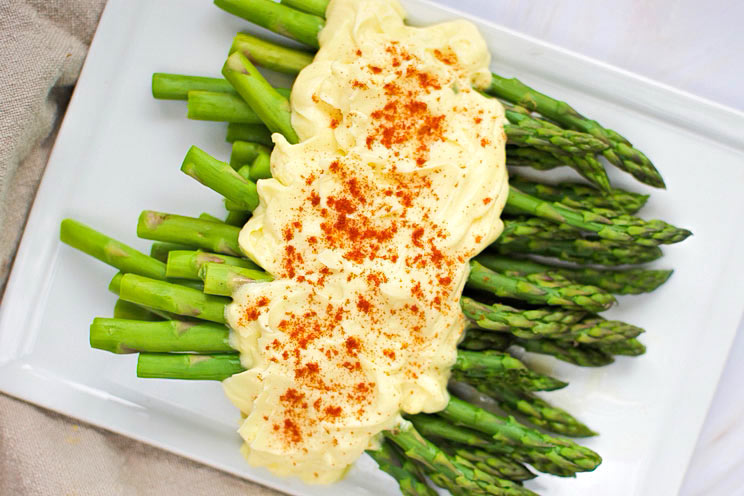 Cook Time:
2 mins
2 minutes
Prep Time:
8 mins
8 minutes
Nutrition facts:
3 grams of protein
5 grams of carbohydrates
23 grams of fat
10-Minute Asparagus Blanketed in Creamy Hollandaise
Blend up your favorite brunchy sauce and pour over crisp asparagus in this 10-minute recipe.
Tools
Large saucepan

Colander

Blender
Ingredients
2 cups trimmed asparagus

3 egg yolks

2 t lemon juice

½ cup melted ghee (hot, but not bubbling)

1 t mustard powder

1 t paprika, divided

¼ t salt

⅛ t ground black pepper
Instructions
Bring a large pot of water to a boil for the asparagus.

Add the asparagus and blanch for 2 minutes, until bright green. Drain then cover and keep warm.

In a blender at medium-high speed, combine the egg yolks and lemon juice for 30 seconds.

Turn the blender to low, and slowly add the melted ghee until the mixture is smooth and thick.

Add the mustard powder, half a teaspoon of paprika, and salt and pepper to the blender. Continue to blend until fluffy, about 2 minutes.

Serve the asparagus topped with the creamy hollandaise, sprinkled with the remaining paprika.
Looking for Paleo ingredients? Here are a few we'd recommend:
Ghee (Pure Indian Foods)
Paprika (Simply Organic)
Black pepper (Frontier)
PS: If you want more deliciously healthy, easy meals, get our FREE Paleo Eats Cookbook shipped to you now.