Tell the ice cream man not to wait up. We've got you covered.
Ice cream sandwiches are a timeless classic that pleases both kids and adults alike. This Paleo version combines healthier, gut-friendly ingredients to create a creamy treat that'll keep you satisfied! Made with coconut cream, honey, and gluten-free flour, these soft-baked treats are a guilt-free snack you can enjoy anytime!
Coconut flour creates the base for the cookie dough and is very absorbent. When combined with moisture, it helps create a soft and chewy cookie base that pairs perfectly with the coconut ice cream filling! Best part is, it's completely gluten-free and won't upset your tummy.
It's not just a sweetener -- it's medicine, too! Discover The Benefits of Nature's Superfood: Honey
Click here to get your FREE copy of our Honey Guide!
Grass-fed butter adds fatty acids and anti-inflammatory properties, while pasture-raised eggs add a dose of protein and vitamin-E. Along with its nutritional benefits, both of these ingredients bind the cookies together so that they can hold the ice cream, without crumbling.
For the dairy-free ice cream, you'll only need coconut cream, honey, and vanilla. The trick to creating the silkiest ice cream is having the coconut cream solid enough to whip, but soft enough to scoop. The best way to achieve this is by keeping the coconut cream at room temperature. If left refrigerated, the cream will become too hard and crumble when whipped.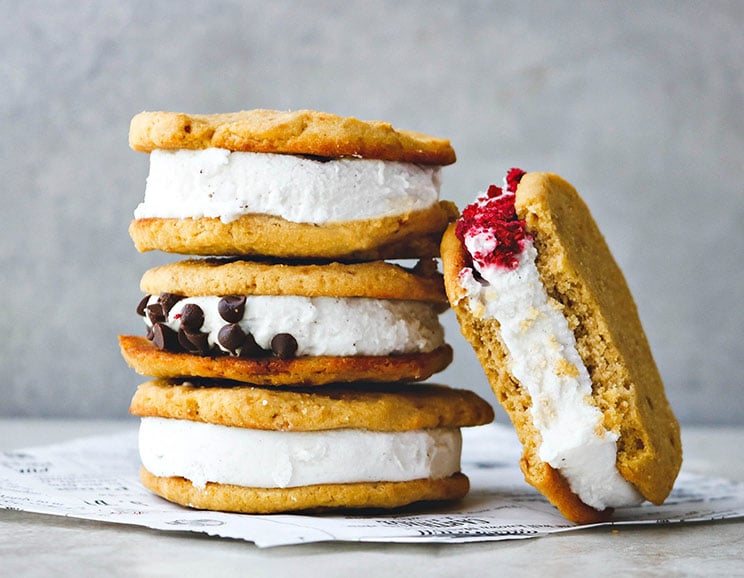 To get started, create the ice cream by whipping together coconut cream, raw honey, and vanilla. Use an electric mixer to whip on medium-low speed for 15 seconds, or until fluffy. Transfer to a glass pan lined with parchment paper and freeze for one hour. Make sure to set a timer to help remind you since over-freezing the ice cream will alter the final result. The ideal ice cream should be scoopable, but not frozen solid.
While the ice cream freezes, prepare the cookie batter accordingly and place inside the freezer to let it chill for five minutes. This will make it easier to mold into cookie shapes later. When ready, form the batter into small balls and place onto a prepared baking sheet. Use your hands to press and shape into round cookies. Try to match the same size as your cookie cutter since the dough won't spread much during baking.
Next, bake the cookies for 18 minutes, or until golden brown on the edges. Let them cool at room temperature for at least 30 minutes. Begin making the sandwiches by using a round cookie cutter to cut out the ice cream patties. Place one ice cream patty onto a cookie bottom and place another cookie on top. Enjoy immediately with added toppings like: freeze-dried berries, dark chocolate chips, shredded coconut, or chopped nuts. Freeze leftovers in an airtight container and thaw 10 minutes prior to serving.
Jennafer Ashley
Coconut Flour Cookie Ice Cream Sandwiches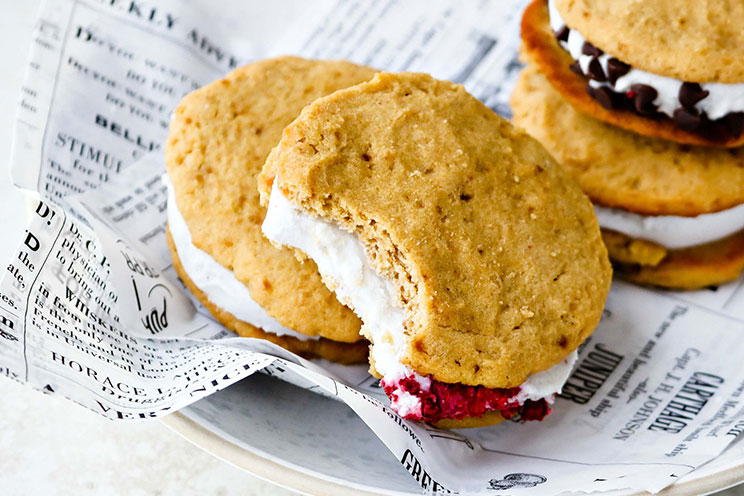 Inactive Time:
1 hr 5 mins
1 hour 5 minutes
Cook Time:
20 mins
20 minutes
Prep Time:
15 mins
15 minutes
Coconut Flour Cookie Ice Cream Sandwiches
Keep cool with these dairy-free Coconut Ice Cream Sandwiches that taste better than anything you can find on an ice cream truck.
Tools
8x8" Glass pan

Medium mixing bowl

Electric mixer

Baking sheet

Parchment paper

Cookie cutter
Ingredients
For the Ice Cream:
3 cups coconut cream, room temperature

3 T honey

1/4 t vanilla bean powder
For the Cookies:
1/2 cup coconut flour

2 large pasture-raised eggs, at room temperature

1 stick unsalted grass-fed butter, at room temperature

1/4 cup coconut sugar

1/8 t sea salt
Instructions
To Make the Ice Cream: Combine the coconut cream, raw honey, and vanilla in a mixing bowl. Use a hand mixer to whip until fluffy, about 20 seconds.

Transfer the mixture to a glass pan lined with parchment paper. Smooth evenly with a spatula and freeze for one hour. But be careful not to over-freeze.

To Make the Cookies: Preheat the oven to 325°F and line a baking sheet with parchment paper. Combine butter and coconut sugar in a medium mixing bowl. Use an electric mixer to blend for 15 seconds. Add in the eggs and beat until combined. Slowly beat in the coconut flour and the salt. Place the mixture in the freezer for five minutes.

Use your hands to roll the dough into eight small balls, slightly larger than golf balls. Place onto the prepared baking sheet and use your hands to flatten and shape them into round cookies. Bake for 18 minutes and allow them to cool completely; about 30 minutes.

Once the cookies have cooled, remove the ice cream from the freezer. Use a round cookie cutter to remove four ice cream patties from the pan and place onto four cookie bottoms. Top with the remaining cookie tops to complete the sandwiches.

Enjoy immediately or freeze covered until ready to serve.
Looking for Paleo ingredients? Here are a few we'd recommend:
Coconut cream (Native Forest)
Raw honey (Bee Farms)
Vanilla powder (Gold)
Coconut flour (Nutiva)
Sea salt (REDMOND)

(You'll Also Love: Coconut Ice Cream Muffin Sandwiches
)