This dairy-free coconut buttercream frosting is low in sugar and big on flavor. Ideal for icing your favorite Paleo treats!
No dessert is complete without a rich frosting to smear on top. Unfortunately, many commercial frostings are known for their high sugar content and harmful ingredients, making them unusable in Paleo desserts. Good news, however: making your own at home is easy and you just need four ingredients.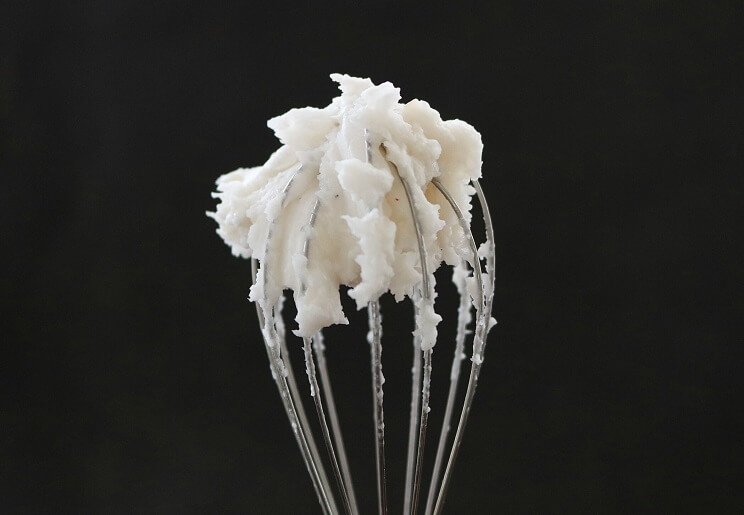 Coconut cream is the perfect stand-in for whipping cream or butter to create a silky, dairy-free frosting. This versatile frosting can be flavored with cacao powder or cinnamon and used to frost cakes, cupcakes or brownies. Note: I have found many recipes using coconut cream that recommend using a coconut cream that is chilled overnight. Through trial and error, I have discovered this method to not to be ideal. Chilled coconut cream becomes hard and, when whipped, turns into a gritty cottage cheese texture. So before making your frosting, be sure it is at room temperature.
Tapioca starch is another important component for this frosting. It helps stabilize the whipped coconut cream and provide the thickness that you would get if using powdered sugar, without creating a gritty texture.
Stevia powder is great for sweetening frosting. It is a fine powder that blends effortlessly into the cream. I don't recommend liquid sweeteners like honey because they tend to add too much moisture to the frosting when whipped.
Love dessert recipes? Get our free dessert recipes cookbook here!
Start by whipping the thick, paste-like coconut cream at the top of the can with stevia and vanilla bean powder. Reserve the leftover liquid to use in smoothies. Once the cream is thick and airy, gradually add in tapioca starch starting with ¼ cup. Depending on the moisture content of your coconut cream, you may need to use more tapioca starch. The frosting is now ready to use or can be stored in the refrigerator until you need it. If you are frosting ahead of time, be sure to store desserts in a cool spot or refrigerator to keep the frosting stable.
Jennafer Ashley
Coconut Dairy-Free Buttercream Frosting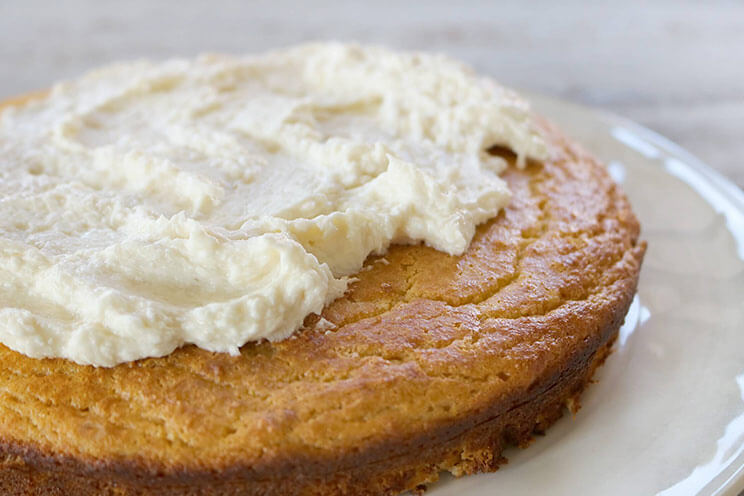 Prep Time:
5 mins
5 minutes
Coconut Dairy-Free Buttercream Frosting
This dairy-free, low-sugar coconut buttercream frosting is perfect for icing your favorite Paleo treats!
Tools
Large mixing bowl

Hand mixer
Ingredients
2 cups coconut cream, room temperature

1/2 cup tapioca starch

1 T stevia powder

Pinch of vanilla bean powder
Instructions
For the cream, scoop out the thick coconut cream found at the top of the can. Save leftover liquid to use in smoothie recipes.

In a large mixing bowl, combine scooped coconut cream, vanilla bean powder and stevia. Use a hand mixer to beat on medium speed until combined.

Gradually add tapioca starch until desired thickness is reached. Continue to mix until smooth. Pour frosting into an airtight jar or bowl and refrigerate until ready to use.
Looking for Paleo ingredients? Here are a few we'd recommend:
Organic Coconut Cream, Unsweetened (Native Forest)
Tapioca Flour (Bob's Red Mill)
Non-GMO Stevia Sweetener (Thrive Market)


(You'll Also Love: Banana Cake Recipe with Dreamy Coconut Frosting)