This autumn recipe will satisfy all your pumpkin spice cravings. Finished with a dollop of coconut cream frosting, these pumpkin bars make fall a whole lot sweeter.
Nothing beats a slice of homemade pumpkin pie. Whether you enjoy it warm or chilled, it has a satisfying, silky texture with a slightly crisp crust. This recipe takes everything you love about pumpkin pie and turns it into a sheet pan-style bar that serves a crowd. Better still, this Paleo version is packed with only the most pure and high quality ingredients.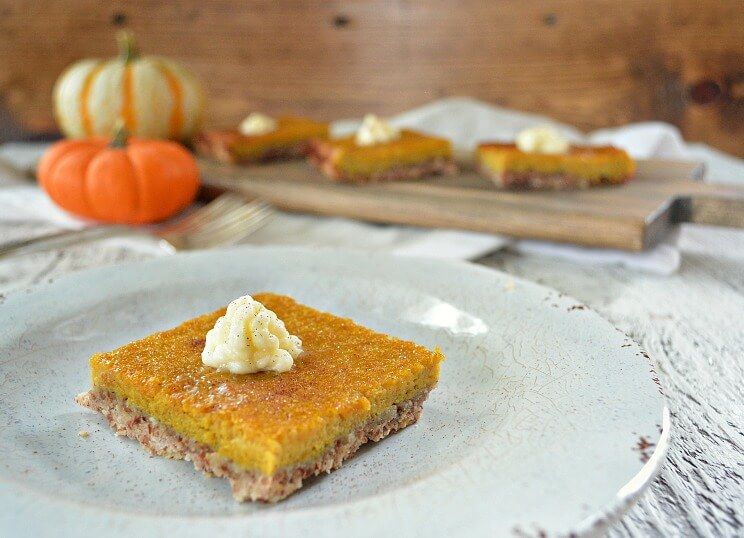 Every great dessert bar starts with a crispy crust to hold the filling. This grain-free crust is made with almond meal and tapioca starch combined with melted coconut oil and pure maple syrup. A sprinkle of cinnamon adds a kick of spice. Instead of baking the crust before layering on the pumpkin filling, this crust is baked after the filling is added.
Love Paleo Desserts? Then you'll love our FREE Paleo Dessert Cookbook.
Click here to get your FREE copy of our delicious Dessert Recipes!
Although many recipes suggest baking the crust for a short time before added the filling and baking, I find that the crust ends up getting too dark that way. I also noticed that cooking the crust and filling together helps the filling adhere better to the crust, and it becomes a more solid bar.
For the filling, pumpkin, nutmeg and cinnamon are beaten together with eggs, grass-fed butter and raw honey. Once combined and smooth, the topping is poured into the crust and baked for 35-40 minutes. Let your pumpkin bars cool completely, at least 1 hour after baking. This time is necessary for the bars to really set and will make them much easier to cut.
Once sliced, each bar gets a dollop of rich coconut buttercream frosting. Be sure to use the thick type of raw honey, as this helps the frosting hold up. A little bit of tapioca starch is added to the frosting to give it that powdered sugar feel.
Jennafer Ashley
Pumpkin Bars with Coconut Buttercream Frosting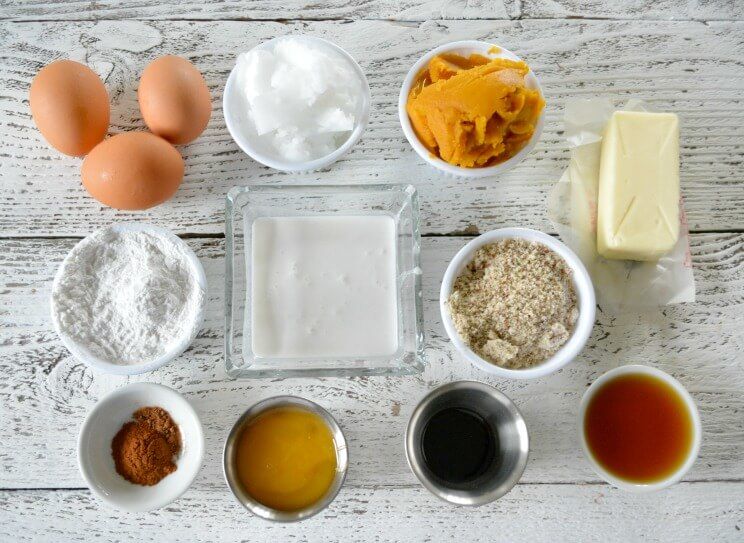 Cook Time:
40 mins
40 minutes
Prep Time:
20 mins
20 minutes
Pumpkin Bars with Coconut Buttercream Frosting
Finished with a dollop of coconut cream frosting, this autumn recipe will satisfy all your pumpkin spice cravings.
Ingredients
For the Crust:
2 cups almond meal

1 cup tapioca starch

1/2 cup coconut oil, melted

2 T maple syrup

1/2 t cinnamon

1/4 t sea salt
For the Filling:
3 eggs

2 cups pumpkin purée

1/4 cup raw honey at room temperature

2 T tapioca starch

1/2 cup grass-fed butter at room temperature

1 t vanilla extract

1 t cinnamon

1/2 t nutmeg
For the Coconut Buttercream Frosting:
1/2 cup grass-fed butter

3 T raw honey

2 T coconut cream

1 T tapioca starch
Instructions
Preheat oven to 350°F degrees and line a 9x13-inch baking sheet with parchment paper. Combine ingredients for crust in a mixing bowl. Stir to moisten. Pour into lined pan and press evenly to edges of pan. Set aside.

In a separate mixing bowl, combine ingredients for filling. Beat using a hand mixer on medium speed until smooth.

Pour filling over crust and smooth evenly with a spatula. Bake on center rack for 35-40 minutes.

For the coconut frosting, combine coconut cream, raw honey, tapioca starch and butter in a mixing bowl. Use hand mixer to beat on high speed until thick and smooth. Pour into a pastry piping bag and refrigerate to set frosting.

Once bars are cooled, slice and pipe frosting onto bars. Refrigerate in an airtight container.

(You'll Also Love: No-Bake Coffee 'Cheesecake' Bars)