Whip up this silky-sweet coconut cream pie for a guilt-free dessert rich in healthy fats!
This decadent coconut cream pie features a creamy custard set in a homemade almond flour crust. You can feel good about digging into a slice for dessert, as it's completely free of refined sugars, gluten, and dairy.
How To Make The Almond Flour Crust
To make the coconut cream pie crust grain-free, we swapped out the all-purpose flour in favor of nutritious almond flour. Next, we mixed it with sweet coconut sugar, a bit of salt, and some coconut oil to give it moisture.
Love Almond Flour Recipes? Then you'll love our FREE Almond Flour Recipes.
Click here to get your FREE copy of our delicious Almond Flour Recipes!
Make sure to firmly pack the crust into the pan before baking. This helps encourage the ingredients to bind as it cooks.
Getting The Custard Just Right
To create a dairy-free custard, we combine coconut milk with an egg, maple syrup, and vanilla to get a nice creamy consistency. The key to making this custard extra fluffy is to thicken it with a bit of arrowroot powder.
When simmering these ingredients together, you'll want to stir continuously, making sure to bring the bottom of the mixture to the top. When it starts to look like pudding, immediately remove from the heat to prevent the arrowroot from overheating and thinning out.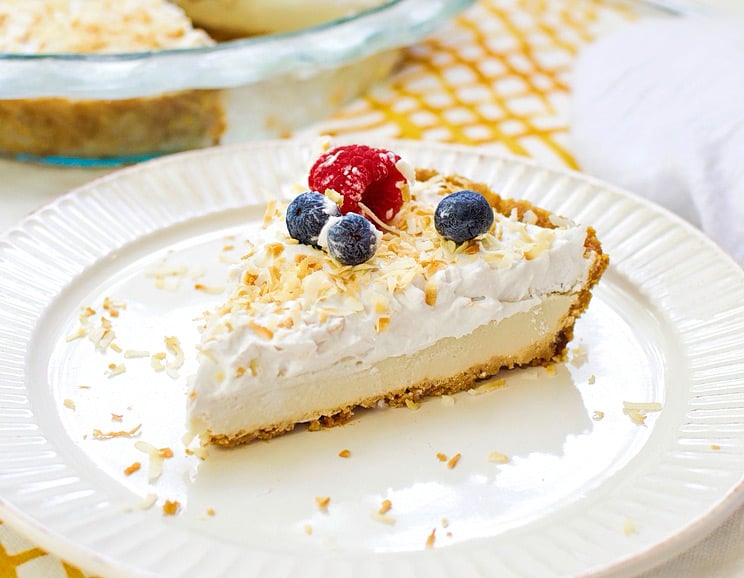 Top It Off With The Essentials
We top the coconut cream pie with a layer of homemade whipped cream and toasted coconut for a tropical flavor, while fresh berries (like raspberries, blueberries, or strawberries) bring needed brain-boosting antioxidants to the party.
The whipped cream topping is easy to make. All you need to do is beat full-fat coconut cream using an electric mixer until soft peaks form. If you plan on storing the pie in the fridge, add the whipped coconut cream just before serving so it stays nice and fluffy.
Helpful Tips To Get Started:
Be patient. Allow the crust and custard to fully cool and solidify before adding the whipped coconut cream on top. Otherwise, it might melt!
Save it for later. You can refrigerate leftovers for up to five days, or store it (topping-free) in the freezer for up to two months. When ready to enjoy, let it thaw overnight in the refrigerator, add the coconut cream, berries, and toasted coconut, and serve!
Danielle Moore
Dairy-Free Coconut Cream Pie with Fresh Berries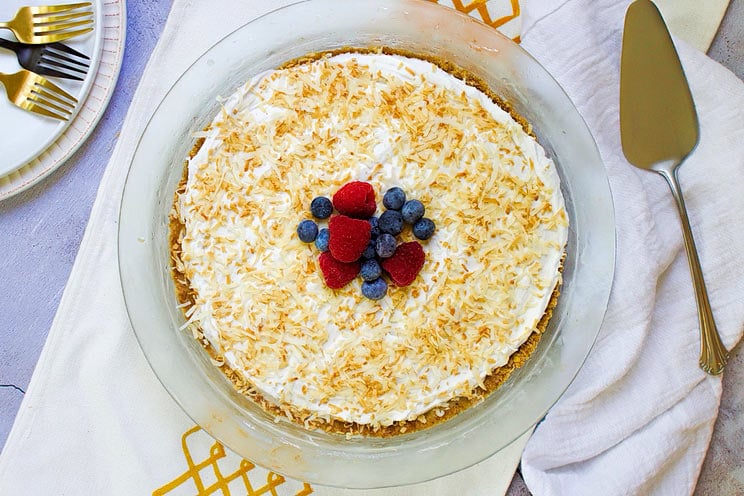 Inactive Time:
1 hr 20 mins
1 hour 20 minutes
Cook Time:
28 mins
28 minutes
Prep Time:
15 mins
15 minutes
Nutrition facts:
3 grams of protein
21 grams of carbohydrates
20 grams of fat
Dairy-Free Coconut Cream Pie with Fresh Berries
Whip up this silky-sweet coconut cream pie for a guilt-free dessert rich in healthy fats.
Tools
Large mixing bowl

Pie plate

Medium pot

Medium saucepan

Large mixing bowl

Electric mixer
Ingredients
For the Crust:
1½ cups almond flour

2 T coconut sugar

½ t salt

¼ cup coconut oil, melted
For the Custard:
2 cups coconut milk

1 egg

¼ cup arrowroot powder

2 T maple syrup

1 t vanilla extract
For the Toppings:
½ cup shredded coconut

1 cup coconut cream

¼ cup fresh berries
Instructions
Preheat the oven to 350°F.

To Make the Crust: In a large mixing bowl, combine the almond flour, coconut sugar, salt, and melted coconut oil until crumbly.

Transfer the mixture to a pie plate and press into an even layer. Use a sharp knife to poke holes throughout the crust and bake for 20 minutes. When golden, remove and set aside to cool.

To Make the Custard: In a medium pot, whisk together the coconut milk, egg, arrowroot powder, maple syrup, and vanilla extract.

Transfer the pot to the stovetop and heat over medium-low for 5 minutes. Stir continuously until the mixture thickens to the consistency of pudding. Then remove from the heat and let it cool for 15 minutes.

Pour the cooled custard into the pie crust and transfer it to the refrigerator for 1 hour to firm up.

To Make the Topping: In a medium saucepan, heat the shredded coconut over medium-low for 3 minutes, or until golden. Remove from the heat and set aside.

In a large mixing bowl, use an electric mixer to beat the coconut cream for 3 minutes, until fluffy.

Spread the whipped topping over the coconut custard, then top with toasted coconut and fresh berries.
Almond flour (Anthony's)
Cold pressed coconut oil (Viva Naturals)
Coconut milk (Native Forest)
Arrowroot starch (Authentic Foods)
Vanilla extract (Frontier)
Coconut cream (Native Forest)
If you have a sweet tooth that just won't quit, you'll love our Paleo Sweets cookbook! You'll get 70 delicious and nutritious desserts that you'd swear came from your local bakery. Bake your family mouth-watering brownies, whip up decadent cakes and churn out creamy dairy-free ice creams. Get your FREE copy HERE (just pay for shipping)!