Need a sweet pick-me-up? Try this speckled banana cake that's coated in the fluffiest, dreamiest coconut frosting ever.
While the cake ingredients recall a Paleo banana bread, we lighten things up by whipping several eggs and extra air into the cake batter through beaters or a stand mixer (or a really resilient arm and a whisk—make it into arm day!), resulting in a light and moist banana cake that you can feel good about eating.
We keep it sweet with 4 large overripe bananas and a little bit of maple syrup—and that's it! Bananas are widely accessible as a health food: they're cheap and they pack a powerful nutrition punch. They're an excellent source of potassium, fiber and manganese, and they replenish electrolytes for you athletes out there.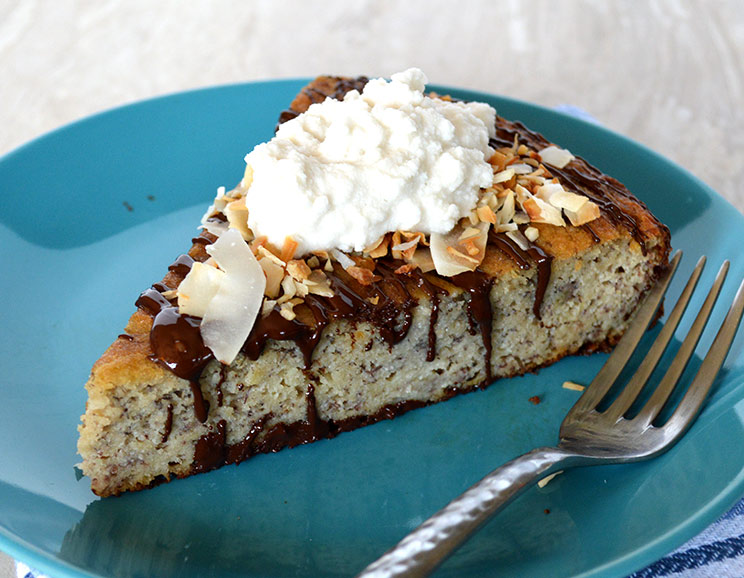 Instead of butter and grain flour, we opt for almond flour—which is gluten-free, high fiber and high protein—and coconut oil, the true renaissance oil. It's heart-healthy thanks to its high natural saturated fat content and is also energizing, easily digested, and not readily stored as fat.
The frosting is the easiest, 2-ingredient Paleo and dairy-free cake topping you'll ever make. Just combine coconut cream or chilled coconut milk (separated from its water) with maple syrup, whip and chill.
Love almond flour recipes? Get our free almond flour recipe cookbook here!
Do note, however, that the frosting is temperamental. It can melt easily and will definitely melt if you leave your cake out in the heat. To avoid this, be sure your cake is completely cool before frosting. If you frost the entire cake, either serve the entire thing immediately (if you're having a gathering), or scoop frosting on individual slices and keep the rest of it chilled in the fridge until the next serving.
Courtney Hamilton
Banana Cake Recipe with Dreamy Coconut Frosting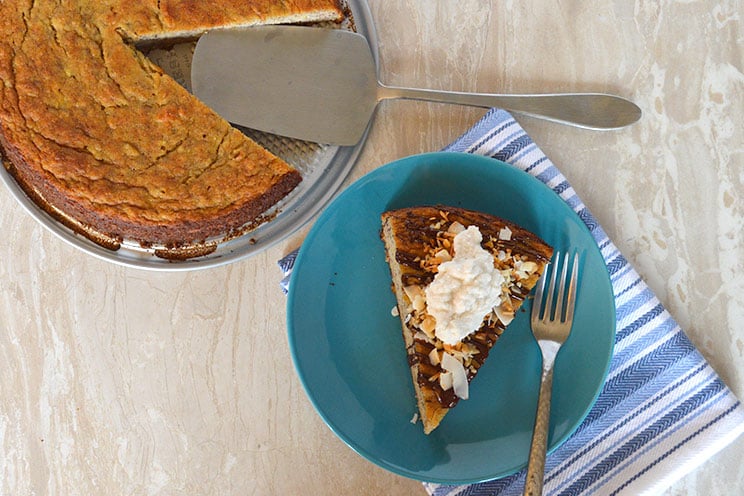 Cook Time:
40 mins
40 minutes
Prep Time:
15 mins
15 minutes
Banana Cake Recipe with Dreamy Coconut Frosting
Banana cake made with grain-free almond flour and topped with heavenly coconut frosting.
Tools
Stand mixer

Large bowl

9-inch cake pan
Ingredients
For Banana Cake
4 large overripe bananas, smashed

4 eggs

¼ cup coconut oil, melted + more for greasing

3 T maple syrup

1 t vanilla extract

1 ¾ cups almond flour

1 t baking powder

1 t baking soda
For Coconut Frosting
1 14 oz. can coconut cream

2 T maple syrup
Instructions
Preheat oven to 350°F. In a large bowl or stand mixer, beat together bananas, eggs, coconut oil, maple syrup and vanilla extract until light and fluffy.

In a separate bowl, sift together almond flour, baking powder and baking soda. Beat dry ingredients into wet.

Grease a 9-inch cake pan with coconut oil. Pour batter in and bake for 40 to 45 minutes, until an inserted toothpick comes out dry.

While cake bakes, whip together coconut cream and maple syrup with beaters on medium speed, until it forms stiff peaks. Chill frosting in the fridge.

When cake has completely cooled, frost it or dole out individual portions of frosting per slice.
Tip:
Drizzle in dark chocolate for extra decadence!