The best of both worlds — ice cream served in an edible churro bowl. Paleo ingredients reinvent this classic dessert in a guilt-free way. Summer just got a whole lot sweeter.
You don't have to forgo all of the desserts you know and love when following a Paleo lifestyle. A few simple tweaks can turn the most taboo of desserts into something truly good for you. The traditional churro is made using all-purpose flour, fried in oil and then tossed in sugar. Delicious I know, but definitely not Paleo. So for this version, coconut flour will be used as the base.
Love Paleo Desserts? Then you'll love our FREE Paleo Dessert Cookbook. Click here to get it!
Coconut flour is terrific in Paleo desserts and adds pastry texture without the carbs and empty calories. Instead of frying the bowls, they will be baked, creating the crispy yet chewy texture we expect from churros. Coconut sugar replaces refined sugar and, in my opinion, adds a richer flavor.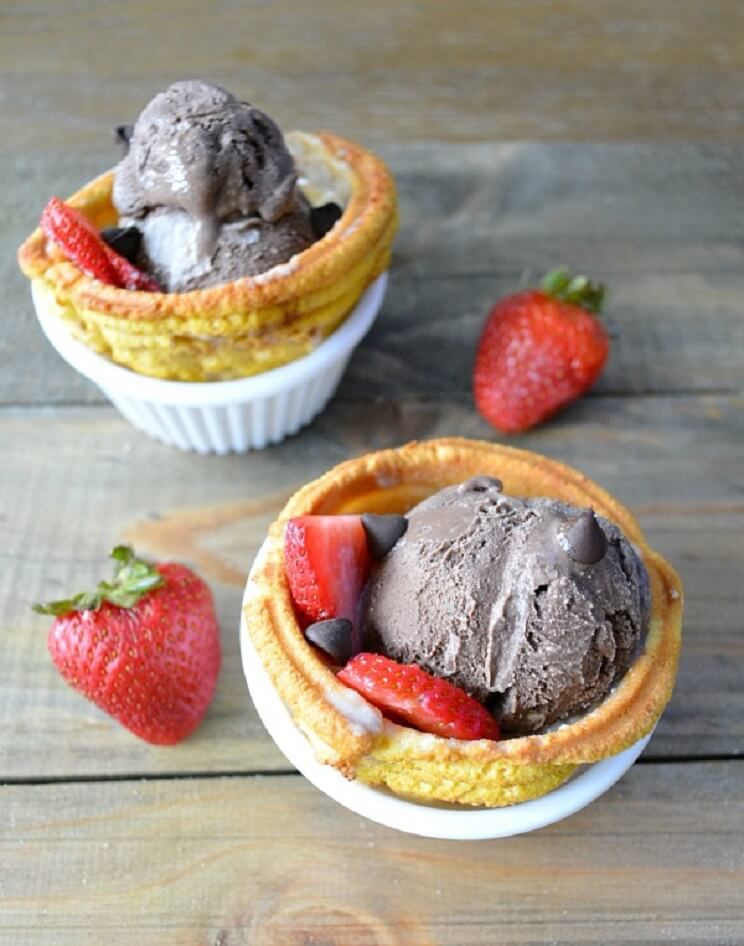 Patience is key when working with this recipe. The back of a muffin tin will be used as a mold to create the bowl shape. Who knew a muffin tin had so many uses? I used a large storage bag instead of a pastry piping bag. I found that cutting a half inch hole in the corner of the bag and having a good handle on it while I created a circular pattern around the muffin tin worked best. Work slowly as you pipe the batter around the tin as this will help to create fewer gaps in the dough—and fewer gaps equal a less leaky bowl. Because these bowls are not fried like traditional churros, the cinnamon and sugar are sprinkled on before baking when they are still sticky.
Love coconut flour recipes? Get our free coconut flour recipe cookbook here!
Fill your bowls with your favorite Paleo ice cream like this Coconut Milk Ice Cream and top with fresh fruit, nuts or dark chocolate chips for a complete dessert experience. These Paleo Churro Bowls, which make a delicious addition to a summertime ice cream bar for special occasions, are also the perfect way to beat the summer heat.
Jennafer Ashley
Paleo Churro Ice Cream Bowls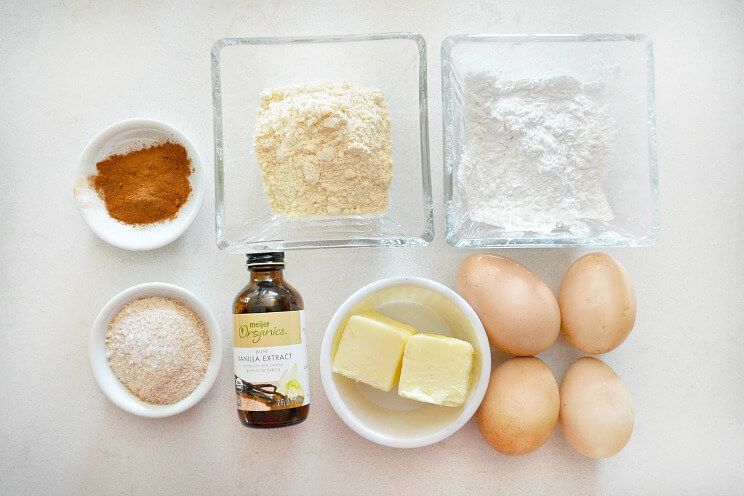 Cook Time:
15 mins
15 minutes
Prep Time:
15 mins
15 minutes
Paleo Churro Ice Cream Bowls
The best of both worlds—ice cream served in an edible churro bowl.
Ingredients
3/4 c coconut flour

1/2 c tapioca starch

1/4 c butter

2 T coconut sugar

4 eggs

1 t vanilla extract

1 c water

¼ t sea salt

TOPPINGS:

1 T coconut sugar

1 T cinnamon

Paleo ice cream
Instructions
Preheat oven to 400ºF. In a medium saucepan over medium heat, combine butter, water, coconut sugar, and salt. Bring to a low boil until butter melts.

Add flour gradually, stirring until smooth. Remove from heat and transfer to a large mixing bowl. Cool 5 minutes.

Mix in vanilla extract and eggs one at a time. Stir until smooth and well combined. Transfer to a piping bag or large storage bag. Cut end of storage bag to ½-inch.

Combine 1 tablespoon coconut sugar and 1 tablespoon cinnamon in a small bowl.

Spray the back of a muffin pan with nonstick spray. Pipe batter around muffin tin in a circular pattern. Fill in any gaps. Sprinkle batter with cinnamon and sugar mixture. Place muffin tin in oven for 15 minutes, until light golden brown and crispy.

Remove bowls from oven and allow to cool 5 minutes. Gently lift bowls off muffin tin with a butter knife, working around the bottom to release. Fill with your favorite ice cream.

(You'll Also Love: Dairy-Free Cookie Dough Ice Cream)