This Paleo Chicken and Waffles Recipe makes one large waffle and two hefty fried chicken drumsticks — either a very large meal for one or a reasonable portion for two, given the decadence.
We know: the combination of chicken and waffles has our hearts too. Who can resist the call of crispy yet fluffy waffles, the crunch of fried chicken and the syrupy maple flavor that binds the two in sweet and savory matrimony?
Fortunately, it's not difficult to pair juicy, crunchy fried chicken, fluffy waffles and stay Paleo-compliant. You can even keep the maple syrup (for those who occasionally consume dairy) butter! This recipe calls for chicken drumsticks dredged in egg, tapioca flour and a delicious spice blend to be pan-fried, creating a flavorful, golden-brown crust with an audible crunch but without all of the oil and trouble of deep frying.
The waffles come together in minutes, made with a mock buttermilk (your milk of choice with a few drops of apple cider vinegar—it works, trust us), and a blend of tapioca and coconut flours. We don't sweeten the waffles much. Given the savory pairing, the maple syrup is more than enough.
Love coconut flour recipes? Get our free coconut flour recipe cookbook here!
This recipe employs the magic of a plastic bag to get an even flour dredging on the drumsticks. Just dip the chicken in egg, throw it into a bag with flour and your spice mix, seal and shake vigorously—Paleo Shake'N Bake, basically. The best part: no extra bowls for cleaning and no messy, flour-splattered dredging stations (a.k.a. your kitchen counter). Just shake the bag then discard.
When making your waffle, cooking times may vary according to your waffle maker. The shape of your waffle may also prove different. It's fine: Round, square, triangle (keyboard shaped, maybe?), your Paleo waffle will pair perfectly with fried chicken and maple syrup. Enjoy!
Courtney Hamilton
Paleo Chicken and Waffles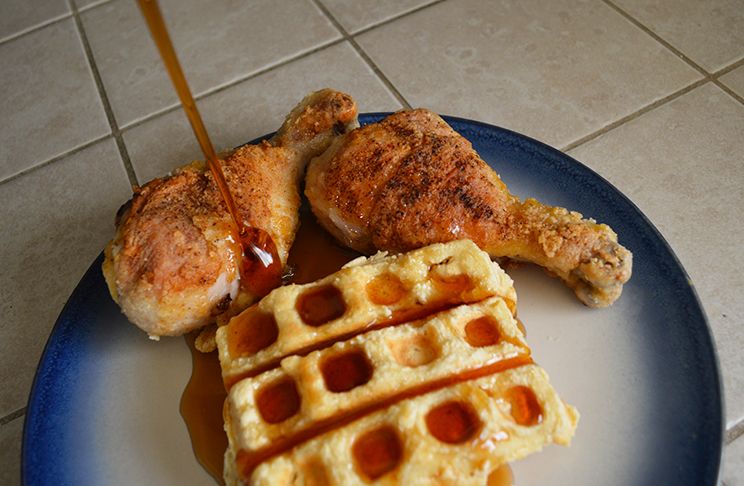 Cook Time:
10 mins
10 minutes
Prep Time:
10 mins
10 minutes
Paleo Chicken and Waffles
Ingredients
For the chicken:

2 large chicken drumsticks (approx. 1 lb.)

1 egg

¼ cup tapioca flour

½ t garlic powder

½ t paprika

½ t salt

½ t pepper

¼ cup coconut oil

For the waffle:

¼ cup almond milk (or milk of choice)

½ t apple cider vinegar

1 egg

½ T coconut oil

1 t coconut sugar

¼ cup tapioca flour

¼ cup coconut flour

½ t baking powder

¼ t salt
How to Make It
1. In a skillet, heat ¼ cup coconut oil till bubbling. Set up your dredging station: in a bowl, beat one egg, then, in a large plastic bag, combine ¼ cup tapioca flour, ½ teaspoon each of garlic powder, paprika, salt, and pepper. Dip drumsticks into egg, then add to bag and seal. Shake vigorously until chicken is coated evenly. Shake off the excess.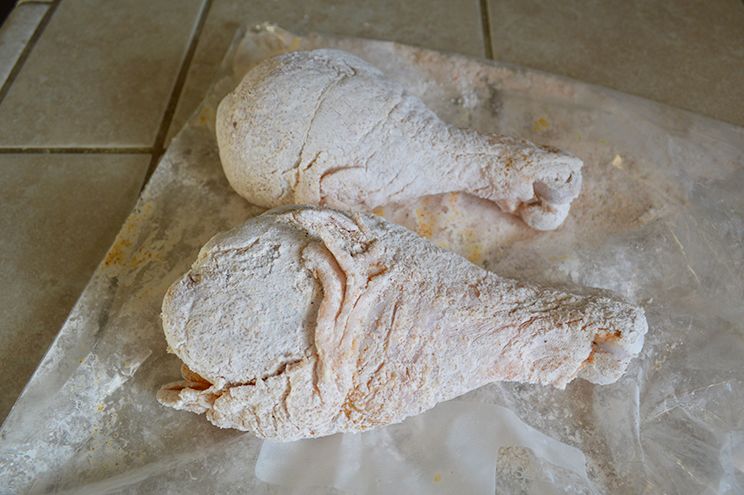 2. Carefully add dredged chicken to oil. Cook drumsticks 10-15 minutes per side, until chicken is cooked all the way through and crust is golden brown and crunchy.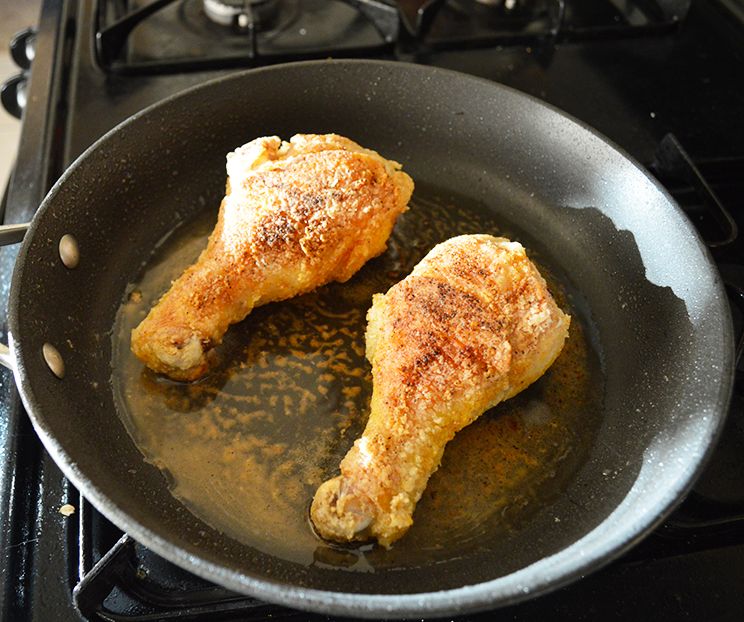 3. While chicken fries, combine almond milk and apple cider vinegar in a bowl. Set aside for 3 minutes.
4. Whisk into faux buttermilk, 1 egg, ½ teaspoon coconut oil and coconut sugar. In a separate bowl, combine flours, baking powder and salt. Whisk dry ingredients into wet. Tip: if mixture becomes too thick and dry, thin it out with milk as needed.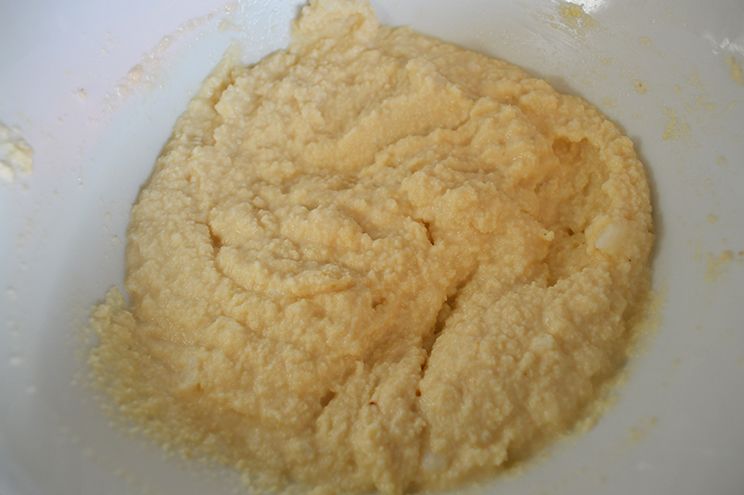 5. Cook waffle in a waffle iron according to your waffle iron's instructions. Ours took under 5 minutes.
6. When cooked through, remove chicken onto paper towels, padding excess oil. Serve chicken and waffles drizzled with syrup and, if you desire, butter.

(You'll Also Love: Baked Popcorn Chicken)