If you're somebody that regularly works out or sits all day, then you need to incorporate ankle mobility exercises into your routine.
Ankle mobility exercises may seem like small tasks, but they are vital to your knee health. In fact, a loss of ankle dorsiflexion can cause anterior knee pain and other injuries.
With the amount of sitting and working out we do, our ankles have a tendency to lock up quickly. Sometimes just stretching your calves doesn't do the trick.
Suffering from a sore neck, back and shoulders? Get our mobility guide to ease pain and soreness.
Get The FREE Mobility Guide To Fix Your Pain Today!
Instead, try this combination of five ankle mobility exercises to take a more comprehensive approach.
1. Calf Rollout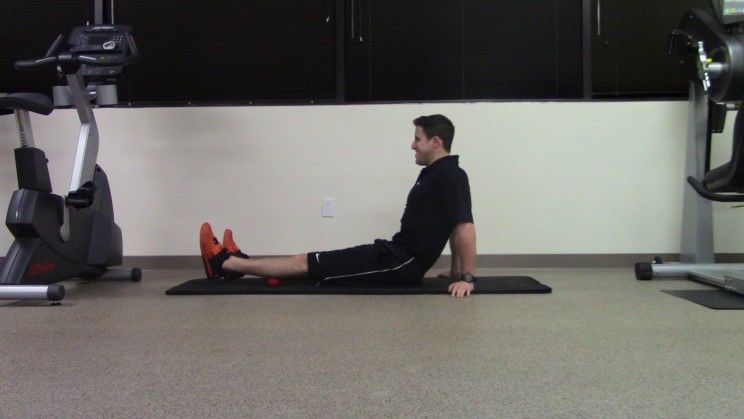 If you've read my past article then you'll know that sometimes stretching isn't the problem.
Soft tissue mobility rollouts can be very beneficial to the dense muscle tissue that can become overactive. Try isolating one calf at a time and use a ball or foam roller to release the calves.
Place one leg on top of the other to apply pressure into the foam roller or ball. You can turn your foot in and out to find a spot that is stiffer.
Make sure you stay on the stiffer spots for one minute. You may find that you have a few spots along the muscle!

Hold for 1 minute for 2 sets.
2. Plantar Fascia Rollout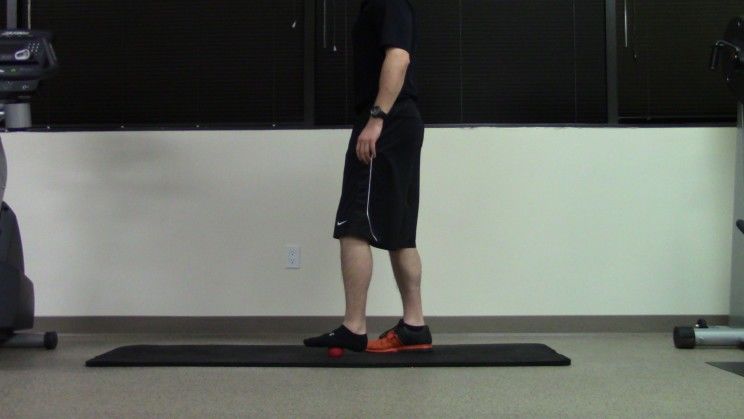 Here is a forgotten soft tissue rollout that can affect the foot and ankle.
The plantar fascia is tissue on the bottom of your foot that can affect the mobility of the ankle and foot. It can also become irritated and painful if it becomes too stiff and overstrains.
Our feet rarely have a chance to move with how often we wear shoes, heels, or sandals. To release this tissue, take a ball and roll it on the bottom of your foot.
You may notice one side is more sensitive to the pressure than the other. Roll on the plantar fascia for one minute.

Hold for 1 minute for 2 sets.
3. Straight Leg Calf Stretch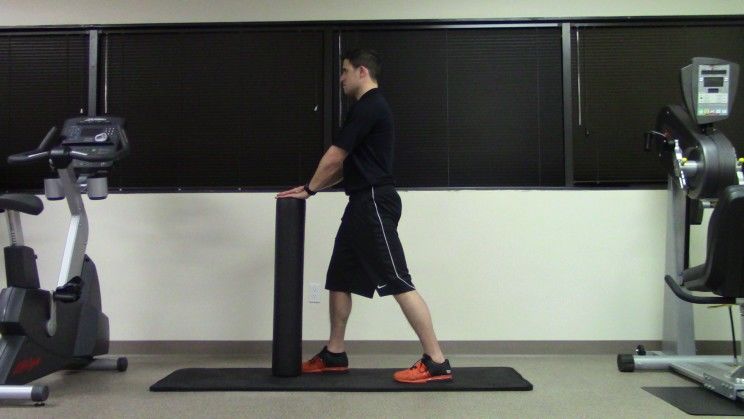 The calf muscle consists of two muscles, the gastrocnemius and the soleus. Both play vital roles in calf and ankle mobility.
To target the gastrocnemius, you want to stretch your calf in a straight leg position.
Hold for 1 minute for 2 sets.
4. Bent Knee Calf Stretch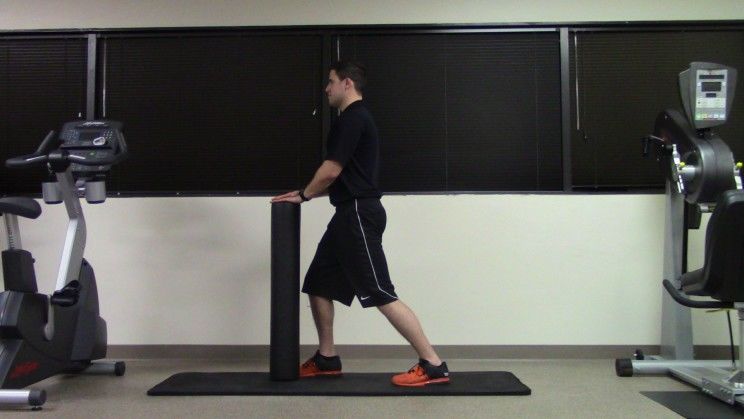 Sometimes the gastrocnemius isn't the muscle that is tight. To stretch the soleus, bend your knee (back leg) and keep your heel down.
Hold for 1 minute for 2 sets.
5. Ankle Rockers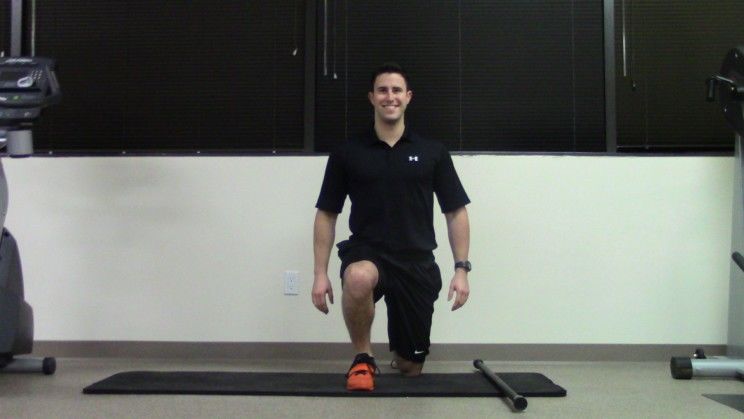 As I alluded to earlier, with the amount of high-impact workouts we do in addition to all the sitting, our ankles tend to lock up.
Many times, the ankle joints themselves get stiff. The most common ankle joint to get stiff is the talocrural joint, which is the joint that is right where the ankle meets the foot.
When you flex your foot up or down, you are moving from the talocrural joint. The motion that typically becomes most restricted is dorsiflexion.
To target this joint, place one leg back and one leg forward with your forward leg flexed. Keeping your heel down, rock forward as far as you can on the front foot.
Rock back and forth for 10-20 reps for 1 set.
6 & 7. Inside/Outside Ankle Rockers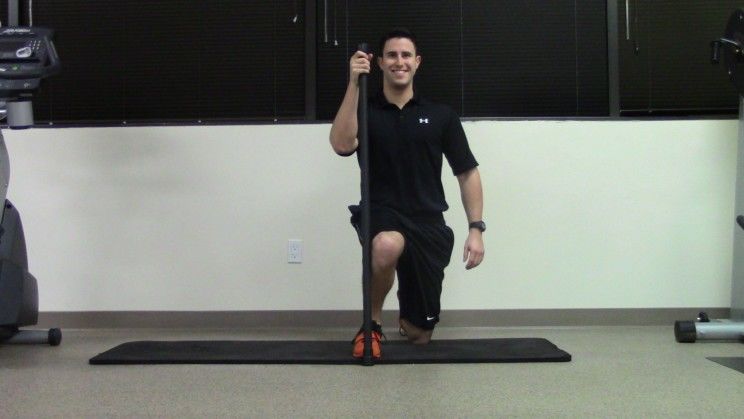 Here is a variation of the ankle rockers to make sure you hit all the corners of the joint.
Rock 10-20 times in each direction. You might notice that you are a little more restricted in one corner versus another!
Rock 10-20 times for 1 set.
8. Ankle Circles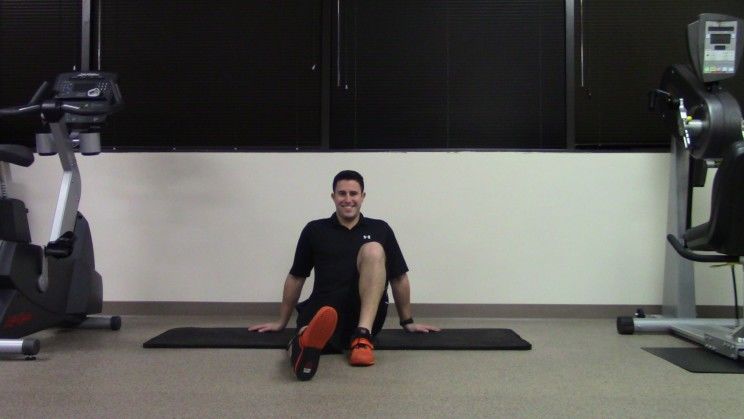 Ankle circles are an overlooked exercise. They allow the ankle to get motion in the entire ankle.
Working in both the clockwise and counterclockwise directions will help ensure you cover enough area. Work each direction 10-20 times.
Clockwise: 10-20 reps for 1 set.
Counterclockwise: 10-20 reps for 1 set.
9. Plantar Fascia/Toes Stretch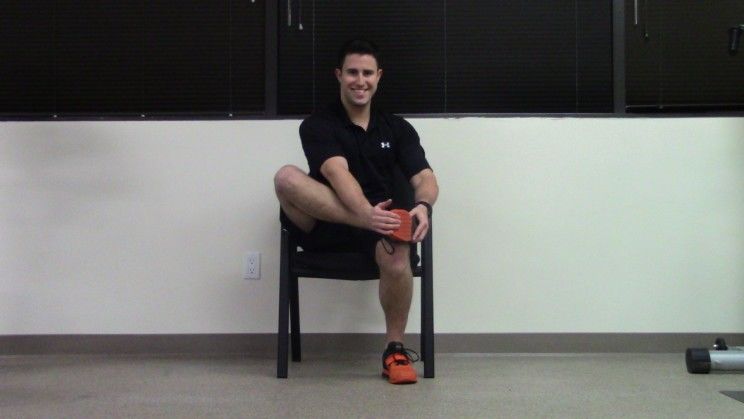 Lastly, work on opening up some of those toes and the plantar fascia.
Many of the muscles that help flex and extend the toes pass the ankle joint to get to the end of the foot. Sometimes they can get locked up along that path.
Take your foot and pull your toes back. You may feel a stretch on the bottom of your foot. Hold for up to one minute.
Hold for 1 minute for 2 sets.
With these nine exercises and a ball, you can mobilize your ankles anywhere. Next time you feel your ankles start to stiffen up, give this routine a try to get some mobility back!
Watch the Video Below!


(Your Next Workout: 7 Wrist Exercises to Prevent Carpal Tunnel)