There's something deliciously refreshing about fusing a warm, spicy protein with cool, fruity salsa. The combination is perfect for cookouts and easy lunches.
These Caribbean Chicken Mango Lettuce Wraps are simple to make: Top blackened chicken with chunky mango-avocado salsa. Don't be scared if the ingredient list is longer than you're used to. You probably have most of the items in your pantry already!
Start by creating a cajun seasoning to coat the chicken. The key to perfectly blackened chicken breasts is to dry them off with a clean paper towel before seasoning them. Make sure your pan and coconut oil get nice and warm (but not smoking hot) before placing the chicken in the pan. Then allow it to develop a crispy outer layer before flipping it over, and place it in the oven to finish.
Want to go Paleo? Not sure where to start?
Start with this FREE Paleo For Beginners Guide Today!
While you're chicken is baking, you can quickly whip up a mango-avocado salsa with just a handful of ingredients.
When your chicken and salsa are both prepared, creating your wraps is a cinch. Just spoon everything into a romaine lettuce "cup" and enjoy!
Deanna Dorman
Caribbean Chicken Mango Lettuce Wraps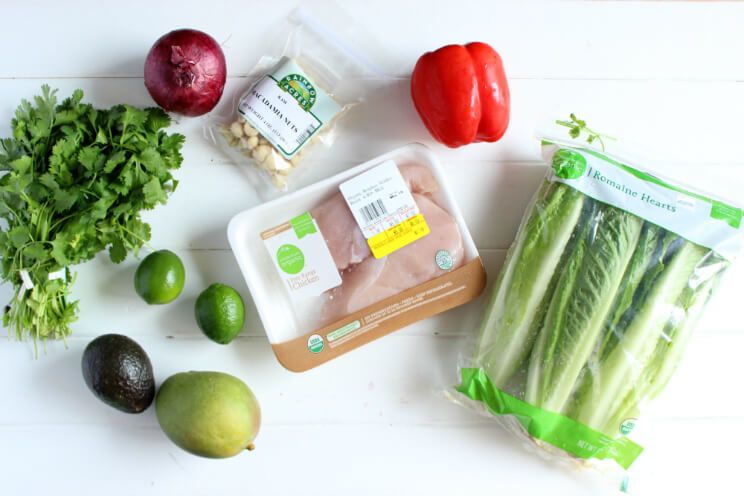 Cook Time:
25 mins
25 minutes
Prep Time:
5 mins
5 minutes
Caribbean Chicken Mango Lettuce Wraps
There's something deliciously refreshing about merging spicy chicken with cool, sweet, fruity salsa
Ingredients
For the Cajun Seasoning:

2 t paprika

1 t garlic powder

½ t salt

½ t black pepper

½ t onion powder

½ t thyme

½ t oregano

½ t cayenne pepper

For the Chicken Wraps:

1 pound boneless, skinless chicken breasts

1-2 T of the cajun seasoning from above (with no or low salt added)

2 T of coconut oil

1-2 heads of romaine lettuce

For the Salsa:

1 mango (peeled and diced)

1 avocado (diced and peeled)

½ red onion (sliced thin)

½ red bell pepper (diced)

¼ bunch of cilantro (chopped)

Juice from 1 lime

½ jalepeno (seeded and diced, optional)

¼ cup chopped macadamia nuts or cashews

Black pepper to taste
Instructions
Preheat oven to 400 degrees.

In a small bowl, combine the cajun seasoning ingredients, and whisk until combined. Set aside.

Gently pat the chicken dry, and generously sprinkle the cajun mixon both sides.

Heat the coconut oil in a skillet over medium to medium-high heat. Carefully lay the seasoned chicken in the hot skillet, and cook it for 3-5 minutes (per side) until lightly blackened.

Transfer the skillet into the oven. Cook 10-20 minutes (or until the internal temperature reaches 165 degrees).

While the chicken is cooking, create your salsa. In a medium bowl, toss the salsa ingredients together, and set it aside.

Remove the chicken from the oven, and allow it to rest for 5 minutes. Then slice the chicken into thin strips.

Take one romaine lettuce leaf. As if it were a taco shell, spoon a few slices of chicken and the salsa into the leaf. Serve and enjoy!

(You'll Also Love: Spicy Avocado Shrimp Tower)