Serve up fajita-style savory chicken wraps in under an hour, no tortillas necessary!
These chicken wraps pack quality protein, fats, and hearty vegetables. They're also whipped up on a sheet pan for an easy one-pan meal for busy weeknights.
Pasture-raised chicken breasts are filled with chopped veggies and zesty spices for a fit and nutritious meal. Opting for pastured chicken includes a higher level of vitamins and omega-3 fatty acids. It's also a versatile protein that's great for stuffing, wrapping, or smothering with just about any seasoning.
A spicy combination of cumin, oregano, and smoky paprika creates the perfect rub. Instead of using onions, this recipe swaps in scallions for a subtle twist. When making the wraps, trim the scallions to be slightly larger than each chicken breast and include multiple colors of bell peppers for optimal nutrition.
Love slow cooker recipes?
Click here to get your FREE copy of our delicious Slow-Cooker Recipes!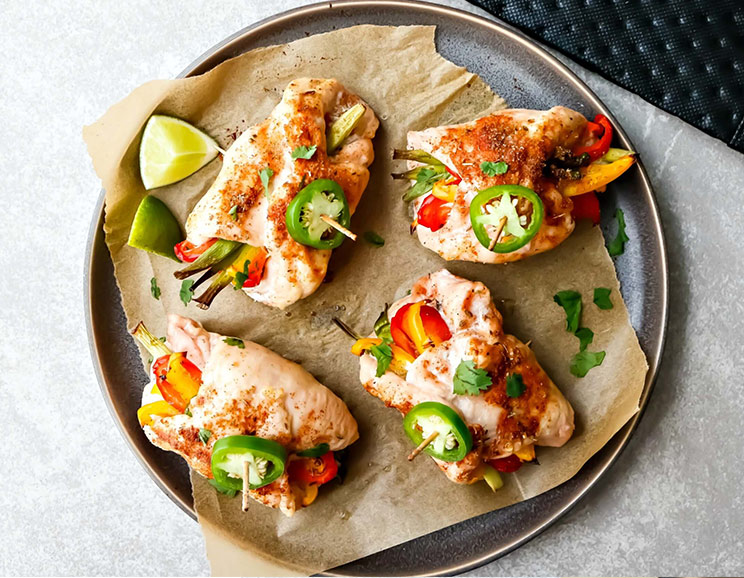 Other great ingredients for stuffing inside these chicken wraps include:
Spinach
Sun-dried tomato
Fresh basil
Julienned carrots
Mushrooms
To get started, pound each chicken breast into ¼-inch thickness. This will help create a flat surface area to lay the vegetables on top. Arrange the vegetables in the center of each fillet and fold in the ends, slightly overlapping. Secure with a toothpick and brush the tops with avocado oil. Sprinkle on the seasonings and press down to help them stick. Bake for 35-40 minutes, or until the chicken is cooked through and golden brown on top. When finished, remove the toothpicks and serve warm. Garnish with fresh lime juice and chopped cilantro.
Jennafer Ashley
Tortilla-Free Primal Chicken Wraps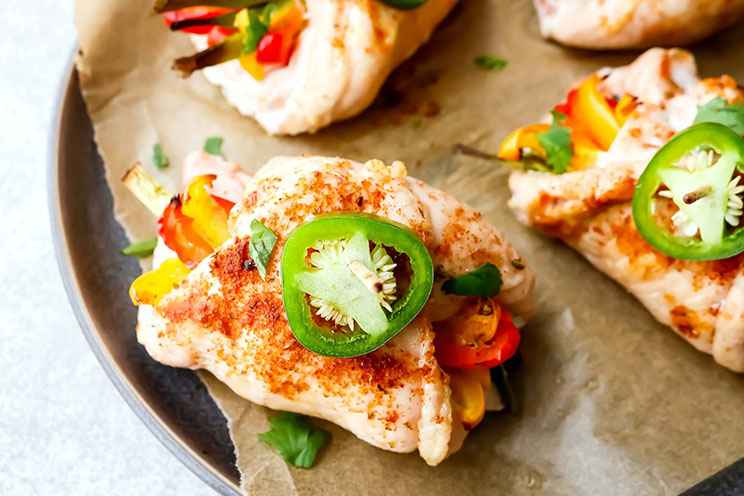 Cook Time:
40 mins
40 minutes
Prep Time:
10 mins
10 minutes
Tortilla-Free Primal Chicken Wraps
Serve up fajita-style savory Chicken Wraps in under an hour, no tortillas necessary.
Tools
Baking sheet

Toothpicks

Parchment paper
Ingredients
1/2 t cumin

1/4 t smoked paprika

1/4 t sea salt

1/4 t dried oregano

1/8 t garlic powder

4 large chicken breasts (about 6 oz each)

1 cup bell pepper, julienned

1 small jalapeño, thinly sliced

4 scallions

1 t avocado oil

1 lime, cut into wedges

Chopped cilantro, for garnishing
Instructions
Preheat oven to 350ºF and line a baking sheet with parchment paper.

Combine dry seasonings in a small bowl and set aside.

Pound the chicken breasts into ¼-inch thick pieces and set onto the baking sheet.

Divide and arrange the vegetables in the center of each chicken breast.

Fold in the ends of chicken, slightly overlapping. Secure with a toothpick and brush each chicken breast with avocado oil. Sprinkle seasoning mixture on top and gently press it into the chicken.

Bake for 35-40 minutes. Serve warm with lime wedges and garnish with cilantro.
Tip: For easy meal prepping, make these wraps in batches and store in an airtight container for up to a week. When ready to enjoy, simply reheat in the oven for 15-20 minutes at 325ºF.
Looking for Paleo ingredients? Here's what we recommend:
We know it's hard to find toxin-free and grass-fed meat that's truly good for you. This is why we recommend ButcherBox – they deliver the highest quality meat straight to your doorstep and are one of the most trusted sources of meat in the Paleo industry. To get 100% grass-fed and grass-finished beef, free-range chicken, and antibiotic-free pork, CLICK HERE to get FREE BACON, Shipping, and 15% OFF. Enjoy!

This post is sponsored by our friends at ButcherBox. Our goal is to bring you the best Paleo-friendly brands that we know you'll love and that are approved by the PaleoHacks team.
(You'll Also Love: Tortilla-Free Paleo Steak Wraps
)