Craving something rich and decadent after dinner, like a delectably dense caramel cheesecake?
Cheesecake may not seem Paleo, but with a few alterations, you get the most heavenly Paleo-friendly dessert ― right down to the caramel sauce! Which, by the way, might be the easiest caramel sauce you'll ever make.
With a crunchy crust made from chopped almonds and dates, and a chewy center of cashews and coconut cream, these caramel cheesecake bites will satisfy those aches for something sweet, crunchy, chewy and sticky all at the same time.
Love Paleo Desserts? Then you'll love our FREE Paleo Dessert Cookbook. Click here to get it!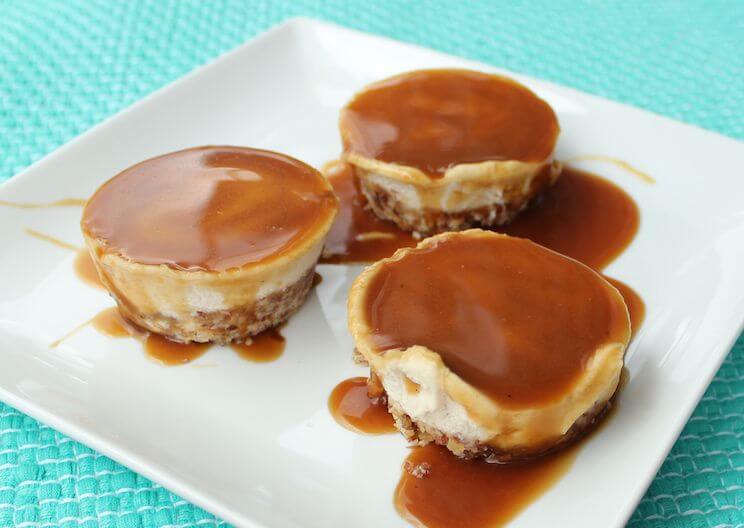 The best part? These cheesecakes come in bite-sized cups of deliciousness! That way, your dessert is both adorable and portion-control friendly. Three cheers for these caramel cheesecake bites!
Deanna Dorman
Caramel Cheesecake Bites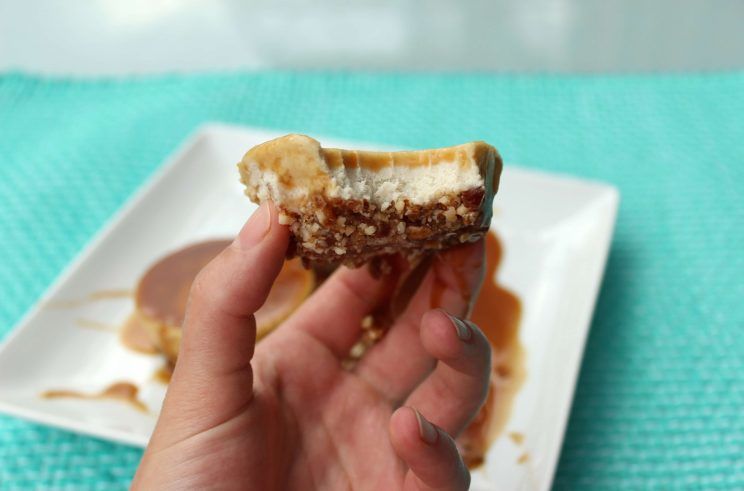 Prep Time:
20 mins
20 minutes
Caramel Cheesecake Bites
Decadent dairy-free cheesecake bites that will send your tastebuds on a sensory journey.
Ingredients
1 cup pitted dates

1 cup raw almonds

1 1/2 cups raw cashews (soaked overnight, then drained)

1 can full fat coconut milk, do NOT shake the can, and scoop the cream off the top (reserve the remaining milk for a smoothie later!)

1/3 cup maple syrup

1/4 cup melted coconut oil

3/4 cup coconut palm sugar

1/2 cup full fat coconut milk, shake the can before opening

1/3 cup honey

4 T grass-fed butter

1/2 t vanilla extract
Instructions
Prepare a regular-sized muffin tin by greasing it with coconut oil.

To make the crust: Add the dates and almonds (you can also use cashews) into a food processor and blend until finely chopped.

The mixture should begin to stick together and form a dough.

Scoop a heaping tablespoon into each muffin tin and, using your fingers or the bottom of a drinking glass, firmly press the mixture down until it completely sticks together.

To make the filling: Wipe out your food processor and add the cashews, coconut cream, maple syrup, and 1/4 cup coconut oil.

Blend until creamy and smooth.

Pour the mixture into the tins over the mini crusts.

Place in the freezer for 4-6 hours.

To make the caramel sauce: While the cheesecakes are freezing, prepare the caramel sauce by adding the coconut palm sugar, coconut milk, honey, and butter into a large glass mixing glass.

Allow the sauce to cool at room temperature until the cheesecakes have hardened.

Remove the cheesecakes from the muffin tins and drizzle the caramel sauce over the cheesecake bites and enjoy!
Watch the Recipe Video Below!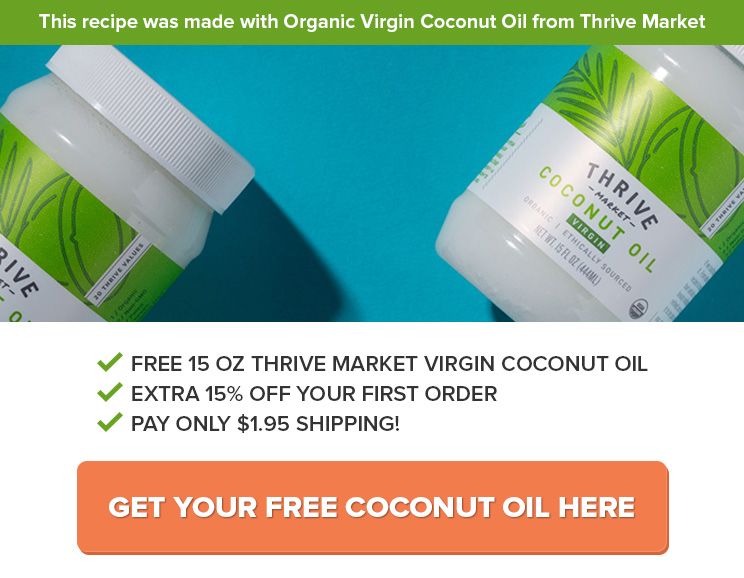 (You'll Also Love: Vanilla Caramel Almond Milk)