This childhood favorite gets a Paleo makeover. Rich chocolate cookie layers are filled with a lightly sweetened coconut ice cream for a nostalgic summer ice cream sandwich snack.
It's hard to believe the ice cream sandwich has been around since 1899, but it is easy to see why this treat has such strong staying power.
The summer staple is handheld and portable, with creamy vanilla ice cream between two layers of thin chocolate wafer-style cookies. Since it originated, the ice cream sandwich has taken on too many flavors to count. So it's about time a Paleo version is created!
Love Paleo Desserts? Then you'll love our FREE Paleo Dessert Cookbook.
Click here to get your FREE copy of our delicious Dessert Recipes!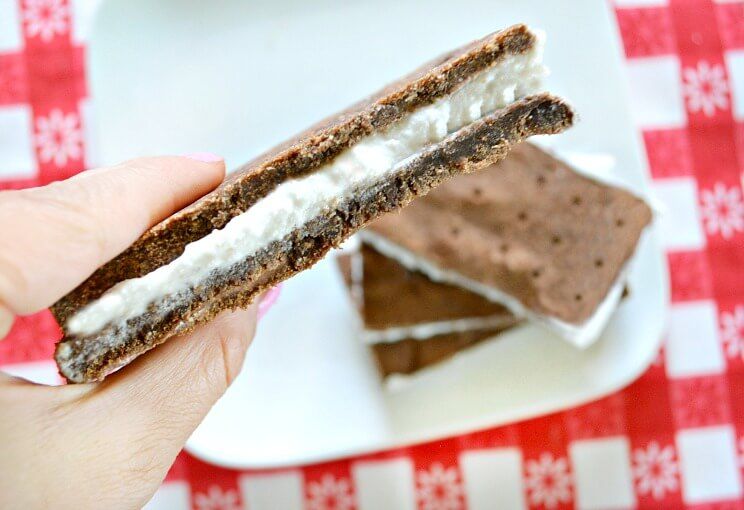 Coconut and tapioca flour, along with rich cocoa powder, will create the base for the cookie wafers. Many recipes for ice cream sandwiches and cookies generally have heaps of sugar. This version will be lightly sweetened with coconut sugar. I find that half a cup of coconut sugar is enough to complement the rich cocoa flavor without being overly sweet.
The chocolate base is pressed into a baking pan and cooked just long enough to lightly crisp the edges while keeping the cookie soft. Scoring the top layer of cookie wafer is an important step not to be overlooked. This will create the guide for slicing the bars once they are frozen. Ice cream sandwiches are known for the little dot pattern that covers each cookie layer. This pattern can be easily achieved using a cooking thermometer or the tip of a chop stick.
The ice cream layer is composed of only 2 ingredients – coconut cream and honey. That's all it takes to make a super creamy filling that is reminiscent of the ice cream filling in traditional sandwiches (minus the additives). Coconut cream, a terrific staple to keep on hand whenever you want to create rich Paleo fillings and toppings for desserts, is much thicker than coconut milk with a paste-like texture.
Jennafer Ashley
Dairy-Free Ice Cream Sandwich Recipe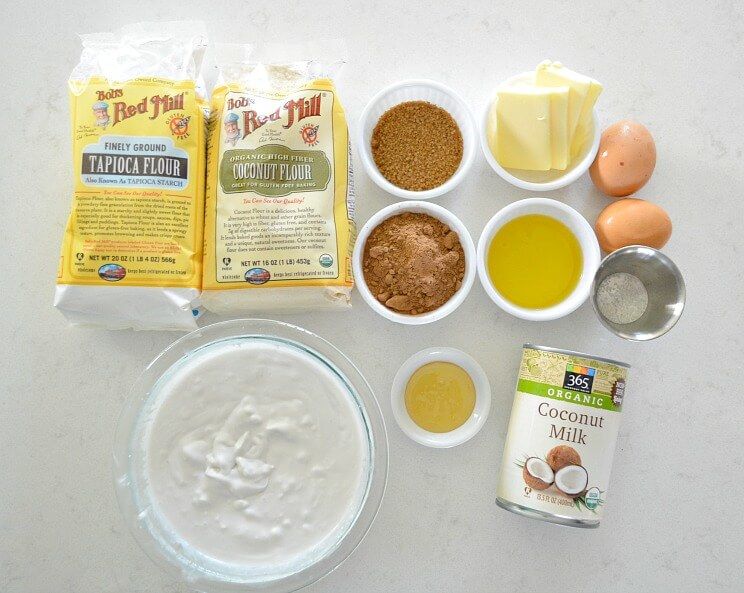 Cook Time:
20 mins
20 minutes
Prep Time:
30 mins
30 minutes
Dairy-Free Ice Cream Sandwich Recipe
This childhood favorite gets a Paleo makeover with rich chocolate cookie layers filled with a lightly sweetened coconut ice cream.
Ingredients
For Cookie Layers:

1 cup coconut flour

1.5 cup tapioca starch

1/2 cup unsweetened cocoa powder

1/2 cup coconut sugar

2 eggs

4 T butter (at room temperature)

1/3 cup avocado oil

1/2 cup coconut milk

1/4 t sea salt

For Coconut Ice Cream:

2 cans coconut cream

2 T pure honey
Instructions
Preheat oven to 350F and line a 9x13 baking sheet with parchment paper overlapping the edges. In a large bowl, use a hand mixer on medium speed to cream eggs, coconut sugar, oil and butter together. Add coconut milk and mix once more.

Slowly mix in coconut flour, tapioca starch, cocoa flour and sea salt. Mix until well combined and moistened. Dough will be crumbly.

Divide dough in half. Press firmly into baking sheet to form a thin layer. Bake 10 minutes. Remove cookie layer from oven and allow to cool slightly. Lift using the parchment paper and set aside to cool.

While bottom cookie layer cools, combine coconut cream and honey in a large mixing bowl. Beat until thick and fluffy. Place bowl in refrigerator.

Cover baking sheet with another layer of parchment paper and press out second layer of dough. Lightly score dough with a butter knife every 2 inches and score down center of baking sheet to form 2x4-inch slices. Poke holes in each bar using end of a baking thermometer or skewer. Bake 10 minutes. Lift using the parchment paper and set aside to cool 15 minutes.

Place bottom layer of cookie on baking sheet and spread coconut cream evenly on it. Transfer top layer of cookie onto ice cream. Press gently. Freeze 3 hours.

Use a sharp knife to cut pieces along the score lines. Store in an airtight container in freezer. Allow bars to thaw a few minutes before eating.
You'll Also Love: Cauliflower Grilled Cheese Sandwich