Add this creamy date paste to all your Paleo treats for a sweetener that's naturally delicious!
Made with just three ingredients, this paste uses a combination of Medjool dates, vanilla, and sea salt. Use it as a healthier alternative to refined sweeteners or enjoy as a delicious spread or dip.
Reap The Fiber-Rich Benefits
Medjool dates are extremely nutritious and come loaded with extra fiber, minerals, and essential vitamins. Naturally sweet, they're the perfect fruits to incorporate into your daily diet and are full of beneficial antioxidants and anti-inflammatory properties.
In need of a sugar detox?
Click here to get your FREE Sugar Detox Guide + Sugar-Free Recipes!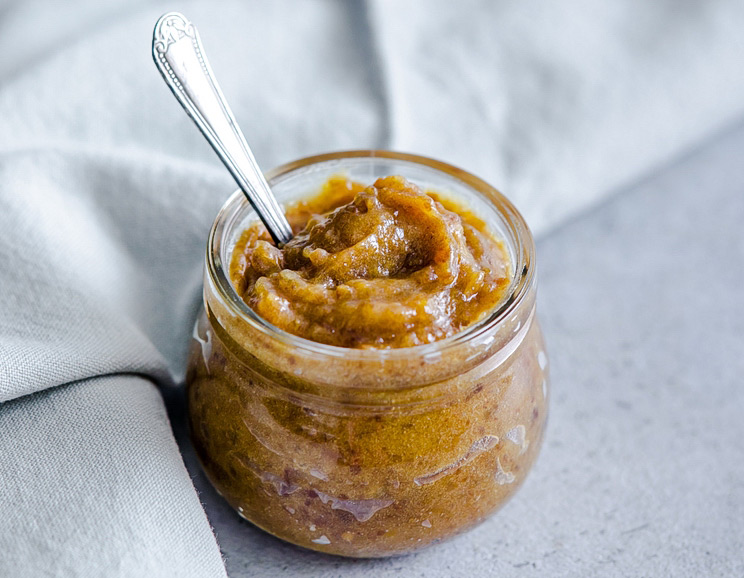 Get You A Spread That Can Do It All
From cookies to cupcakes, this date paste is versatile enough to sweeten and moisten any dessert. When added to Paleo puddings and sauces, it creates a thicker and creamier base. You can even replace honey or maple syrup in some recipes by swapping in this paste instead.
Helpful Tips To Get Started:
Experiment with different flavors. You can mix in other dried fruits like apricots, figs, cranberries, or raisins. Just make sure to soak them with the dates and add a ¼ cup of water for every cup of dried fruit.
Give your dates time to soak. Allow the dates to soak in warm water for at least 30 minutes or overnight. The more time you allow them to soak, the softer they'll become once they're ready to blend.
Serve immediately or enjoy later. Refrigerate leftovers in an airtight container for up to two weeks or store in the freezer for up to two months.
Dina Hassan
Date Paste: The All-Natural Sweetener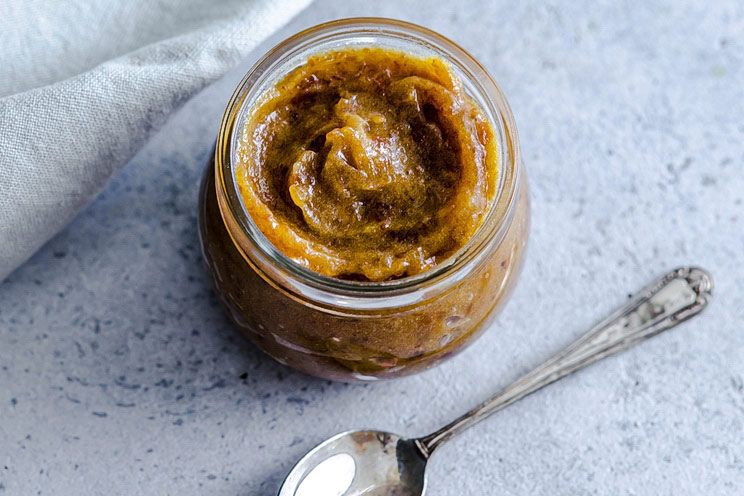 Inactive Time:
30 mins
30 minutes
Prep Time:
6 mins
6 minutes
Nutrition facts:
8 grams of carbohydrates
Date Paste: The All-Natural Sweetener
Add this creamy date paste to all your Paleo treats for a sweetener that's naturally delicious.
Tools
Large mixing bowl

Food processor
Ingredients
2 cups pitted Medjool dates

½ cup warm water

1 t vanilla extract

¼ t sea salt
Instructions
Place the pitted dates in a large mixing bowl and pour the warm water on top. Cover and let them soak for at least 30 minutes or overnight.

When softened, transfer the soaked dates and water into a food processor with vanilla extract and sea salt. Process for 6 - 9 minutes or until the mixture forms a smooth and creamy paste.

Serve immediately and enjoy or transfer to an airtight container. You can keep refrigerated for up to 2 weeks or keep frozen for 2 months.
Looking for Paleo ingredients? Here are a few we'd recommend:
Vanilla extract (Frontier)
Sea salt (REDMOND)
Need some inspiration on how to use this versatile date paste? Use it to replace honey and maple syrup in the recipes you'll find in our Paleo Sweets cookbook! Upgrade mouth-watering brownies, decadent cakes and creamy frostings using this fiber-rich date paste. Get your FREE copy HERE (just pay for shipping)!