Crispy on the outside and soft on the inside, these Paleo Cheddar Biscuits make a delicious low carb, grain-free snack!
If you want to satisfy your craving for a cheesy, garlicky, Paleo-friendly biscuit, then you've come to the right place! Made grain- and nut-free with a simple mix of eggs, coconut flour and coconut oil, these tasty cheddar biscuits are exactly what you need to serve as your next dinner side or healthy snack. The best part is they taste exactly like what you'd get in your favorite restaurant!
To get these cheddar biscuits tasting nice and "cheesy," you will need to use nutritional yeast. It makes the flour extra creamy and makes them taste as if they were made with real cheese!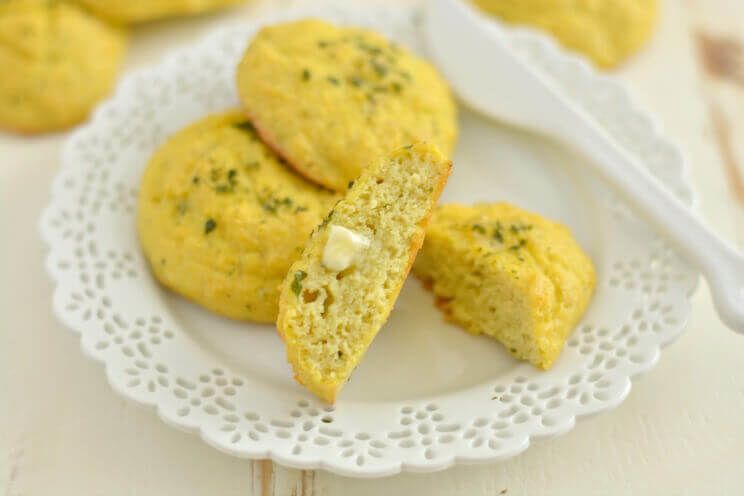 Never used nutritional yeast? Allow me to explain! Nutritional yeast is a plant-based yeast with a nutty, cheesy flavor. It's used to emulate cheese, thicken sauces and dressings, and give an additional boost of nutrients as it's loaded with B vitamins.
This recipe calls for two tablespoons of nutritional yeast, but feel free to add more if you like your biscuits extra cheesy. You can add up to four tablespoons without impacting the batter.
Love coconut flour recipes? Get our free coconut flour recipe cookbook here!
Making these cheddar biscuits could not be any easier. Simply whisk together the eggs, melted coconut oil, nutritional yeast, parsley garlic powder and salt with the premixed coconut flour and baking soda. Transfer the batter to a baking sheet and bake. Then devour your simple, nutritious and delicious cheddar biscuits!
Megan Olson
Paleo Cheddar Biscuits Recipe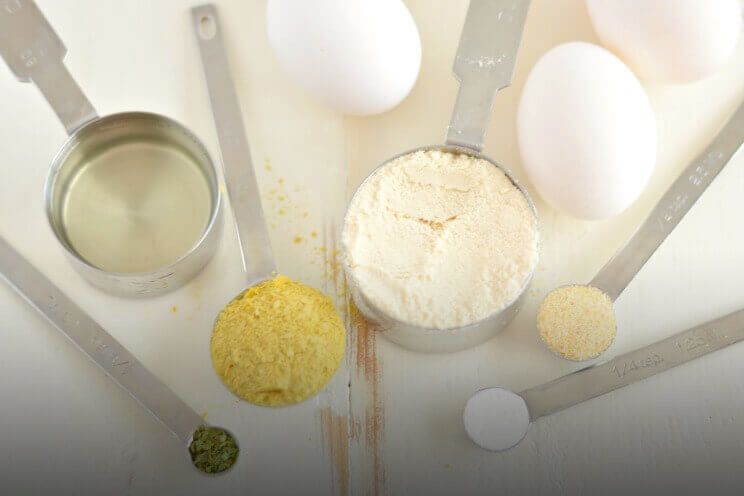 Cook Time:
15 mins
15 minutes
Prep Time:
5 mins
5 minutes
Paleo Cheddar Biscuits Recipe
Crispy on the outside and soft on the inside, these Cheesy Paleo Biscuits make a delicious low carb, grain-free snack!
Ingredients
4 large eggs

¼ cup melted coconut oil

1/3 cup coconut flour

¼ t baking powder

2 T nutritional yeast

½ t garlic powder

¼ t dried parsley

¼ t sea salt
Instructions
Preheat oven to 375ºF. Prepare a baking sheet with parchment paper or a slip pad.

In a medium bowl, whisk together eggs, melted coconut oil, salt, parsley, nutritional yeast and garlic powder.

In a separate smaller bowl, sift together coconut flour and baking powder.

Fold the flour mixture into the egg mixture. Mix to combine. Do not overmix.

Drop large spoonfuls of the batter onto the prepared baking sheet to form 6 biscuits.

Bake at 375ºF for 15-18 minutes until slightly brown around the edges.

Remove from the oven and transfer to a wire baking rack.

Store in the refrigerator in an airtight container up to one week, or freeze up to one month.


(You'll Also Love: Coconut Flour Biscuit Recipe)