Cut the carbs and recreate doughy lasagna-style pasta with these healthy cauliflower noodles.
Cauliflower is at it again in these low-carb veggie noodles that can withstand all kinds of hearty toppings. All you need is four ingredients to bake up chewy lasagna sheets that resemble real fresh pasta. Then, layer them up with your favorite sauces, meats, and veggies, and bake up the gluten-free lasagna of your dreams!
The Secret To Making Flawless Cauliflower Noodles
This easy recipe only requires four simple ingredients to create a soft and pliable dough: fiber-rich cauliflower, arrowroot powder, an egg, and a little salt. Together, they create the perfect al-dente noodle that you can stretch and fold – without the soggy residues other veggie noodles leave behind.
Add power-packed superfood veggies to every meal with these easy cauliflower recipes.
Click here to get your FREE copy of our Cauliflower Recipe Guide!
To get the ideal texture, spread the batter as thinly as possible onto the baking sheet. We suggest using one that's 13 inches long and 8 inches wide.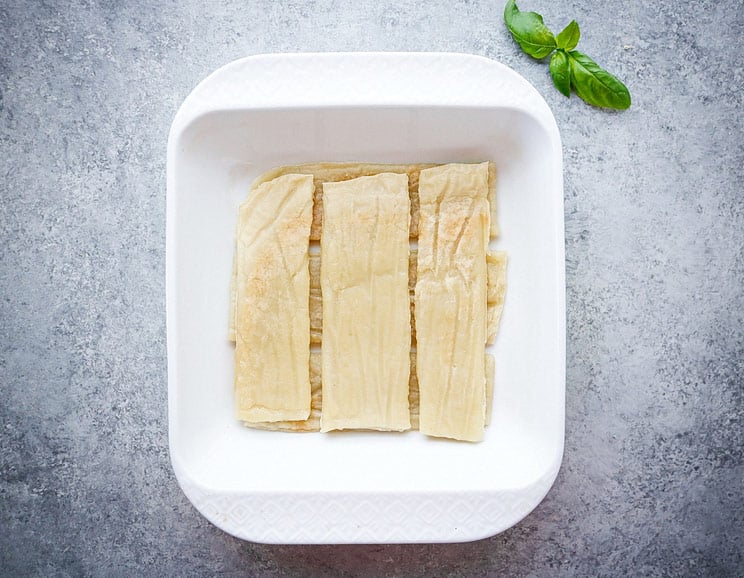 How To Bake It Into A Dreamy Lasagna
Once your cauliflower noodles are ready, you can use them just like you would with traditional lasagna – sans the boiling!
When you're ready to assemble your lasagna, grab an eight-by-eight-inch baking pan and spread a thin layer of tomato sauce on the bottom. Layer four lasagna noodles on top and pile on a good portion of veggies, meats, or Paleo cheese. Repeat the layering process with the remaining noodles and fillings, then bake for 15 minutes at 350°F.
Helpful Tips To Get Started:
Avoid overcooking. Oven times may vary, so check your noodle sheet after 10 minutes. The noodles should be completely cooked through, but not starting to brown.
Try them in other pasta recipes. You can use these cauliflower noodles as roll-ups or slice them into pappardelle-style noodles. Bonus: You don't need to reheat! Just add your favorite toppings with warm sauce and nosh away!
Jennafer Ashley
Cauliflower Noodles for Low-Carb Lasagna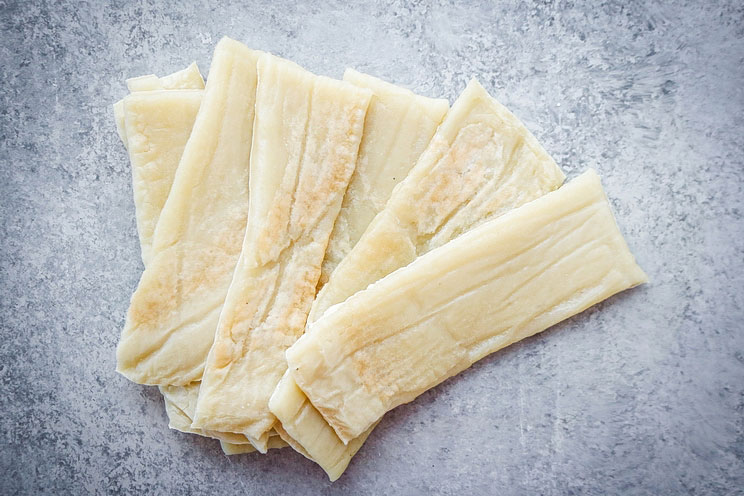 Cook Time:
35 mins
35 minutes
Prep Time:
15 mins
15 minutes
Nutrition facts:
2 grams of protein
13 grams of carbohydrates
2 grams of fat
Cauliflower Noodles for Low-Carb Lasagna
Cut the carbs and recreate doughy lasagna noodles using healthy cauliflower.
Tools
Large pot

Food processor

Baking sheet

Parchment paper
Ingredients
4 cups filtered water

4 cups cauliflower florets

1 large pasture-raised egg

1½ cups arrowroot flour

¼ t sea salt
Instructions
How to Make it: Bring the water to a boil in a large pot over medium-high heat.

Add the cauliflower florets and cook until tender, about 20 minutes. Drain, and let the cauliflower cool for five minutes.

Place the cauliflower into a food processor with remaining ingredients. Pulse until smooth, scraping the sides as needed.

Preheat the oven to 325ºF and pour the cauliflower mixture onto a baking sheet lined with parchment paper. Spread the mixture evenly with a spatula.

Bake for 15 minutes or until dough is set, then remove it from the oven and let it cool for 10 minutes.

Turn the cooked cauliflower sheet onto a work surface with the parchment paper facing up. Gently peel off the parchment paper.

Slice the sheet into 4–8 lasagna noodles, then refrigerate in an airtight container for up to two days.

How to Use it: When ready to enjoy, layer the noodles with your favorite toppings and bake for 15 minutes at 350°F.
Looking for Paleo ingredients? Here are a few we'd recommend:
Arrowroot starch (Authentic Foods)
Sea salt (REDMOND)
If you liked these easy low-carb cauliflower noodles, you'll love the variety of delicious, simple, and gourmet meals in Paleo Eats. Enjoy healthy yet hearty Paleo meals like Mongolian Red Pepper Beef, Pulled Pork, Bacon Bars, and more. Get your copy HERE.