Whip up this easy Key lime pie for a zesty treat you won't be able to resist!
This indulgent pie is a summertime staple in the Florida Keys, where aromatic Key limes grow fresh and plentiful. Key lime pie fuses the bright tartness of this small fruit with plenty of sweet and creamy ingredients for an indulgent dessert.
To give it a Paleo twist, we cut out refined sugars and dairy, and replaced them with healthier ingredients, like coconut cream, almond flour, and coconut sugar.
Love Almond Flour Recipes? Then you'll love our FREE Almond Flour Recipes.
Click here to get your FREE copy of our delicious Almond Flour Recipes!
Start With The Grain-Free Crust
Key lime pie is as much about the crumbly graham cracker crust as it is about the Key limes.
To make it grain-free, we combine almond flour with coconut sugar, cinnamon, and a hint of ginger. This creates a semi-sweet taste that balances out the tangy filling.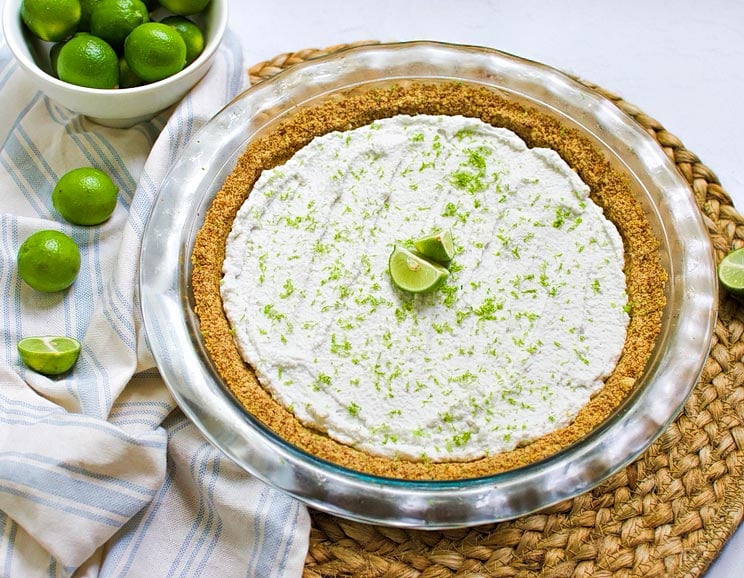 Fill It With Dairy-Free Custard
Coconut cream and arrowroot flour are key for thickening this mixture into a silky custard. A squeeze of fresh Key lime juice adds a zippy, invigorating aroma necessary for any Key lime pie.
If you can't find fresh Key limes, opt for regular limes or store-bought lime juice instead. Just be sure to check the label to avoid any added sugars.
Top It With Whipped Coconut Cream
The final step is to whip up some coconut cream and scoop it onto the top of the pie. Add a bit of Key lime zest for extra flare and you're ready to dive in! Make sure to hold off on the whipped coconut cream until ready to serve. This will ensure it holds its shape.
For long term storage, freeze the pie without the whipped cream. You can defrost it in the fridge overnight and top with fresh whipped coconut cream when ready to enjoy.
Helpful Tips To Get Started:
Pack in the pie crust. The crust dough will be crumbly in texture, so you'll need to firmly press it into the pan to keep it together.
Save leftovers for later. This pie will last 4 to 5 days in the refrigerator or up to 2 months in the freezer (without the whipped coconut cream).
Danielle Moore
Key Lime Pie with Coconut Whipped Cream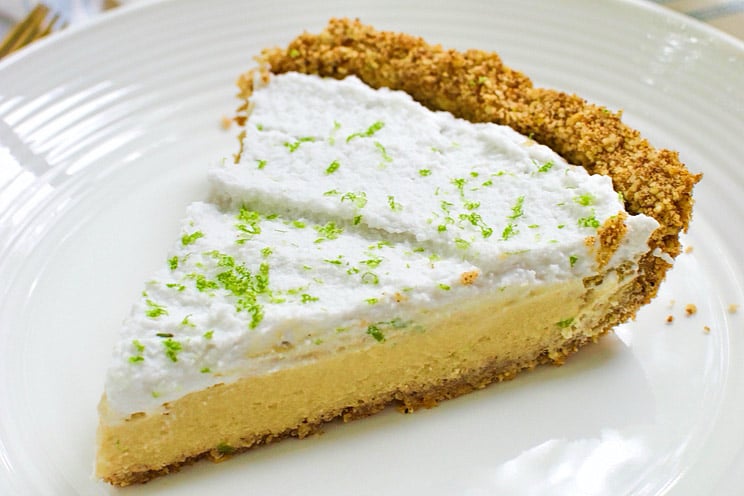 Inactive Time:
2 hrs 10 mins
2 hours 10 minutes
Cook Time:
45 mins
45 minutes
Prep Time:
10 mins
10 minutes
Nutrition facts:
4 grams of protein
15 grams of carbohydrates
14 grams of fat
Key Lime Pie with Coconut Whipped Cream
Whip up this easy Key lime pie for a zesty treat you won't be able to resist.
Tools
9-inch pie plate

Large mixing bowl

Electric mixer
Ingredients
For the Crust:
1¾ cups almond flour

3 T coconut sugar

2 t cinnamon

1 t ginger

½ t salt

¼ cup melted coconut oil
For the Filling:
3 eggs

¼ cup coconut sugar

½ cup coconut cream

⅓ cup Key lime juice

2 T arrowroot flour
For the Whipped Cream:
½ cup coconut cream

2 T Key lime zest, for garnish
Instructions
Preheat the oven to 325°F.

To Make the Crust: In a large mixing bowl, whisk together the almond flour, coconut sugar, cinnamon, ginger, and salt. Add the coconut oil last and stir until a crumbly dough forms.

Transfer the mixture into a pie plate and press it firmly into the bottom and along the sides. Use a sharp knife to carefully poke holes throughout the bottom.

Place the pie plate in the oven and let it bake for 15 minutes. When the crust is golden, remove and set it aside to cool for 10 minutes.

To Make the Filling: In a large mixing bowl, combine the eggs, coconut sugar, coconut cream, Key lime juice, and arrowroot flour with an electric mixer. Beat for about 3 minutes or until smooth.

Pour the mixture over the prepared crust and bake for 30 minutes. You'll know it's ready when the edges are set and the middle is slightly loose.

Let it cool for 1 hour at room temperature, then refrigerate for 1 hour to firm up.

To Make the Whipped Cream: In a large mixing bowl, use an electric mixer to beat the coconut cream for 3 minutes, or until fluffy.

Scoop the whipped cream onto the pie and sprinkle with key lime zest. Serve immediately and enjoy!
Looking for Paleo ingredients? Here are a few we'd recommend:
Almond flour (Anthony's)
Ground cinnamon (Simply Organic)
Ground ginger (Simply Organic)
Cold pressed coconut oil (Viva Naturals)
Coconut cream (Native Forest)
Arrowroot starch (Authentic Foods)
If you have a sweet tooth that just won't quit, you'll love our Paleo Sweets cookbook! You'll get 70 delicious and nutritious desserts that you'd swear came from your local bakery. Try mouth-watering brownies, whip up decadent cakes and churn out creamy dairy-free ice creams. Get your FREE copy HERE (just pay for shipping)!