Want to get more results from your workout in even less time? Then you'll love this advanced Tabata workout that burns calories, builds fitness and boosts metabolism all day long.
What Is Tabata?
A Tabata workout is a form of high intensity interval training (HIIT) that uses short bursts of all-out movement to increase your overall fitness. And the best part? It's only 4 minutes long!
It was originally discovered by Dr. Izumi Tabata, from the National Institute of Fitness and Sports in Tokyo. He examined how short bursts of maximum effort sprints, followed by short periods of rest, impacted athletic performance.
These workouts, now known as the Tabata method, consisted of ultra-high-intensity cardio exercise for a specific interval of 20-seconds-on, 10-seconds-off.
Looking for an easy way to get started working out? Grab our FREE Beginners Workout Guide – 3 Weeks To Tighter Abs, Sculpted Arms, And Toned Legs, by clicking here!
His findings concluded that athletes who followed his protocol improved both their anaerobic AND aerobic fitness (1), as compared to control groups who only participated in steady-state endurance cardio.
(Reminder: anaerobic exercise is intense — i.e. non-endurance — physical exercise that promotes strength, speed and power; aerobic exercise can range from low to high intensity, but primarily challenges the cardiovascular system and increases respiration.)
The Benefits of Tabata Training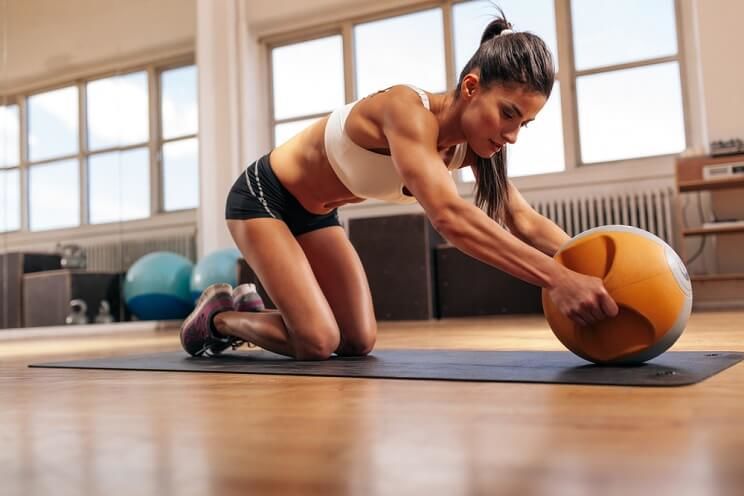 Here are the major benefits of Tabata-style training:
It saves you time: If I have an hour at the gym I will probably use that whole hour, but Tabata let's you get the same results in less than half the time — leaving ample opportunity for a good post-workout routine.
It boosts workout efficiency: Compressing your overall workout time isn't just good for your schedule, it's also a great way to boost intensity and challenge yourself to be more focused, explosive and results-driven in the gym. There's nothing like racing against the clock to keep your heart-rate elevated!
You can do them anywhere: While I am a member of a gym, I don't really like going there and would much prefer to exercise at home, the beach or a park. All you need for a Tabata workout is a good pair of shoes and a stopwatch.
How Does Tabata Rev Up Metabolism?
This workout can boost metabolism because training at an ultra-high intensity challenges the cardiovascular system and raises body temperature, so your body has to work harder than normal to bring in more oxygen and restore balance (2).
While this is taking place during the workout, the real benefits happen later on in the day, thanks to Excess Post-Exercise Oxygen Consumption (EPOC), which leaves the body in fat-burning mode for up to 38 hours (3).
Key Points to Remember
Tabata-style training is hard, really hard, and it's not for everyone. Always warm up well before starting your intervals and prioritize form and function — it's better to do fewer reps of great quality movement than risk injury with sloppy form.
If you know that ultra-fast training isn't for you, you can get the same results by slowing down and adding resistance.
Finally, I recommend committing to no more than three high intensity workout days per week; alternate HIIT days with core work and stretching.
How to Tabata
This workout is broken into four Tabata sets
Each set contains one exercise that you will repeat for eight rounds
The interval is 20-seconds-on, 10-seconds-off (to be repeated eight times)
Go ALL OUT during those 20 seconds of work, and rest completely in the break
After you have completed all eight rounds in the first set, rest for 2 minutes before starting the second, and so on
Metabolism-Boosting Tabata Workout
This is an advanced workout, so get ready to sweat! To modify the workout, increase the rest time and focus on good form with fewer reps.
Squat, Split, Split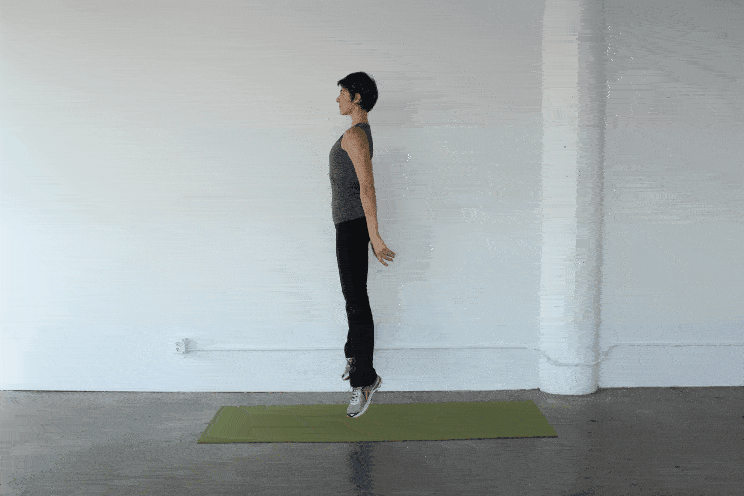 The basic movement is one squat jump followed by two split lunges (one on each leg). Start standing with feet hip-width apart and toes slightly turned out. Bend the knees and lower the hips into a squat, then power up the legs to jump up and away from the floor, landing in a lunge position with the RIGHT foot forward. Jump back up and switch the feet so the LEFT foot is forward in the lunge, then jump up again and land back into the squat. Continue moving, squat, split, split for the entire 20 seconds.
Push-Up Reach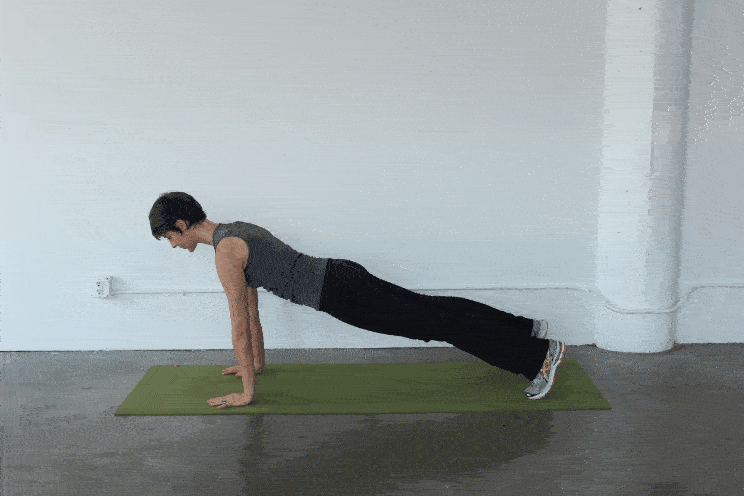 The basic movement is one full tricep push-up followed by a spinal balance, alternating sides after each push-up. Start in plank position with the wrists under the shoulders and the feet hip distance apart. Bend the elbows to lower the body into lower-push-position (keeping the elbows tucked in to the ribcage), press back up to straight arms before lifting the LEFT arm and RIGHT leg. Repeat the pushup and the spinal balance with the RIGHT arm and LEFT. Your goal is to keep the pelvis completely steady as you lift the limbs from the floor. To modify, only lift the foot and not the hand.
Double Crunch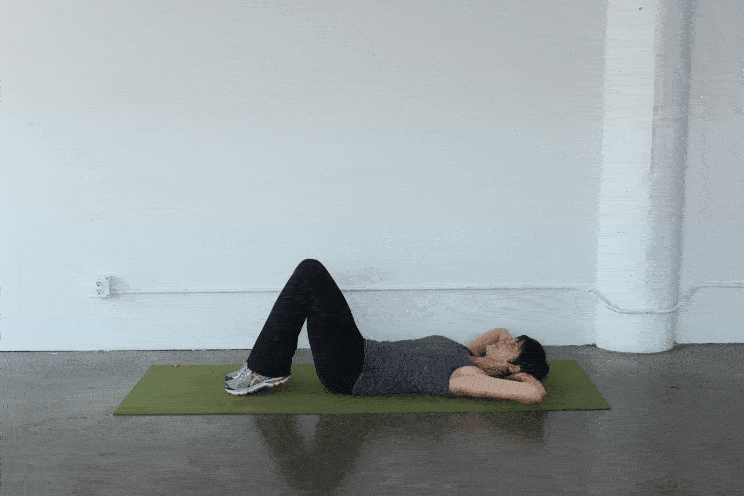 This move targets the upper and lower abs simultaneously, combining the upper ab- and reverse-curl. Lie on your back with knees bent, feet close to the buttocks. Squeeze the legs together, put your hands behind your head, and press the lower back into the floor. Do an upper ab curl; at the same time, pick up both feet and bring the knees towards the nose in a reverse curl, then lower the head and feet. Repeat continuously for 20 seconds. Pay attention to keeping your lower back on the floor the entire time.
Burpee Tuck Jump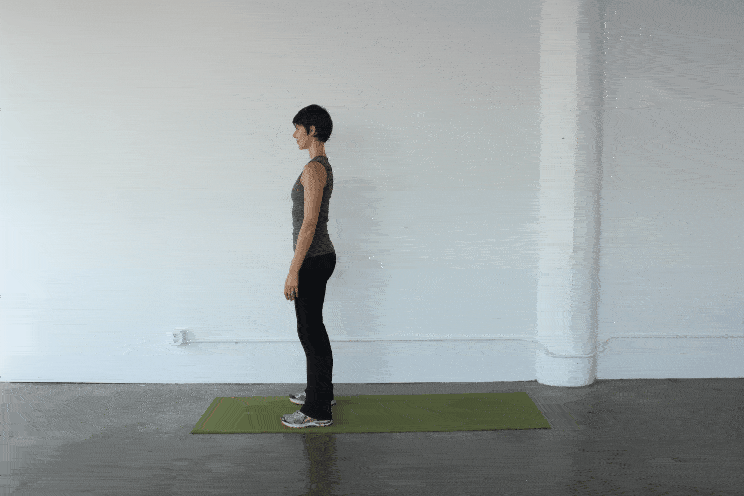 This is a big movement that burns tons of calories. To keep the cardio high, I have omitted the push-up phase of the burpee. Start standing with feet hip-width apart. Bend the knees, place the hands to the floor in a crouching position, and jump back to plank pose. Then, immediately jump the feet back up to the wrists in the crouch, and then explode from the floor as you jump up and bring the knees to the chest. Land with bent knees and continue to flow through the sequence: burpee-tuck jump-burpee…

(Your Next Workout: Try these 8 yoga hip stretches)