Forget the bun and enjoy these simple salmon burgers over crunchy mango jicama slaw for a refreshing combination bursting with summertime flavors.
Fish-based patties are often overlooked when thinking of burger recipes, but they make a very delicious and well-rounded meal with a little help from some Paleo ingredients.
I love using fresh salmon in burger recipes because it is very accessible and holds up nicely when cooked. Be sure to opt for wild-caught filets whenever possible. Serving these salmon patties over a juicy slaw makes for an unforgettable pairing without the need for extra side dishes.
Love Paleo Breakfasts? Then you'll love our FREE Paleo Breakfast Recipes.
Click here to get your FREE copy of our delicious Breakfast Recipes!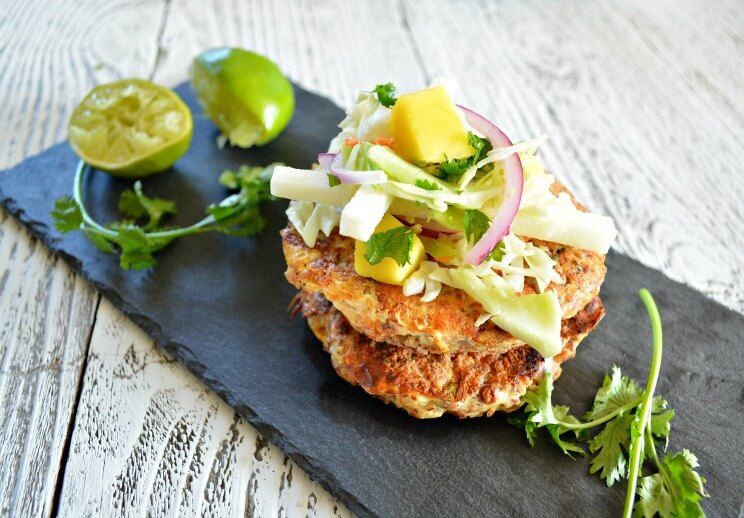 To make the salmon patties, first remove the skin from the fillets. You can ask your butcher to do this part for you and – at many grocery stores – they will even chop the salmon up for you. If you are using frozen fillets, thaw them ahead of time and blot any excess moisture from the filets to prevent too much liquid in the patties. Because this is a Paleo burger, using panko or breadcrumbs is out of the question. Almond meal is a terrific base for creating texture and helps to hold the egg together with the salmon. It also adds a slight nutty flavor that complements the burgers well. Because these are very delicate burgers, they are best cooked in a little bit of oil on a flat surface or pan. This creates an even browning and crispness to both sides of the burger.
Now, more about that slaw. This is the perfect summertime shredded salad with crunchy jicama and juicy mango running throughout. Green cabbage and red onion add bulk to the slaw while letting the mango and jicama shine through. A little bit of olive oil and lime juice serve as a light dressing while cilantro adds a fresh herb flavor and aroma. I like to serve the salmon burgers and slaw together to let the flavors combine with every bite. This recipe makes for four medium-sized salmon burgers and 4.5 cups of slaw – double or triple the measurements, depending on how many people you're serving.
Jennafer Ashley
Salmon Burgers with Jicama Mango Slaw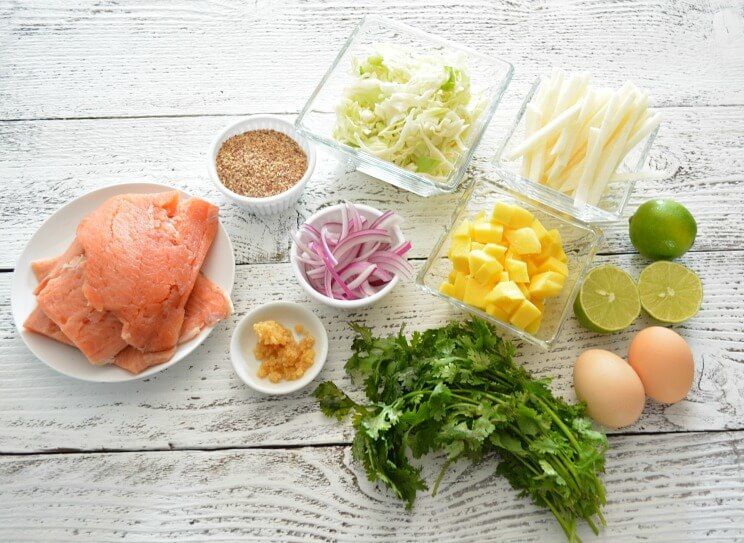 Cook Time:
10 mins
10 minutes
Prep Time:
20 mins
20 minutes
Salmon Burgers with Jicama Mango Slaw
Forget the bun and enjoy this simple salmon burger recipe over crunchy mango jicama slaw for a refreshing combination bursting with summertime flavors.
Ingredients
For Salmon Burgers:
16 oz salmon filets, skin removed

2 eggs

3/4 cup almond meal

1/3 cup red onion, minced

3 garlic cloves, minced

1/2 cup cilantro, finely chopped

Sea salt and black pepper, to taste

2 T olive oil for cooking
For Jicama Mango Slaw:
2 cups green cabbage, shredded

1 cup jicama, julienned

1 cup mango, diced

1/2 cup red onion, thinly sliced

1/4 cup fresh lime juice

2 T olive oil

1/3 cup cilantro, minced

Sea salt to taste
Instructions
Begin by finely chopping the salmon filets and add to a large mixing bowl. Add the rest of the burger ingredients and stir to combine.

Form mixture into patties. Set onto a plate.

Heat olive oil in a large pan over medium heat. Allow pan to become very hot. Place salmon burgers on pan. Use spatula to reform patties if they become loose. Cook 5 minutes. Flip and cook 5 minutes on other side.

While burgers cook, make the slaw by combining cabbage, red onion, mango, jicama and cilantro in a large bowl. Pour in lime juice and olive oil. Season with sea salt. Toss to coat. Refrigerate until serving.

Serve salmon patties with slaw.
You'll Also Love: 17 Meatless Veggie Burger Recipes