Whip up dairy-free Cannoli Dip in under 10 minutes for a decadent, dairy-free treat.
Love cannoli, but avoid it because of its high sugar content? Try making this Paleo alternative instead! Filled with natural flavor, this recipe uses cashews and raw honey for a creamy texture that's perfect for dipping! Keep this crowd-pleasing recipe handy for parties and serve with fresh fruit or grain-free cookies.
Cashews are a Paleo stand-in for traditional ricotta cheese. They add a nutty, mild flavor that can be used in sweet or savory recipes. Its cheesy texture is the result of cashews being soaked in water for two hours and then blended down into a thick cream. Use it in other dessert recipes (like this Paleo cheesecake) or as a dairy-free alternative for lasagna!
Love Paleo Desserts? Then you'll love our FREE Paleo Dessert Cookbook.
Click here to get your FREE copy of our delicious Dessert Recipes!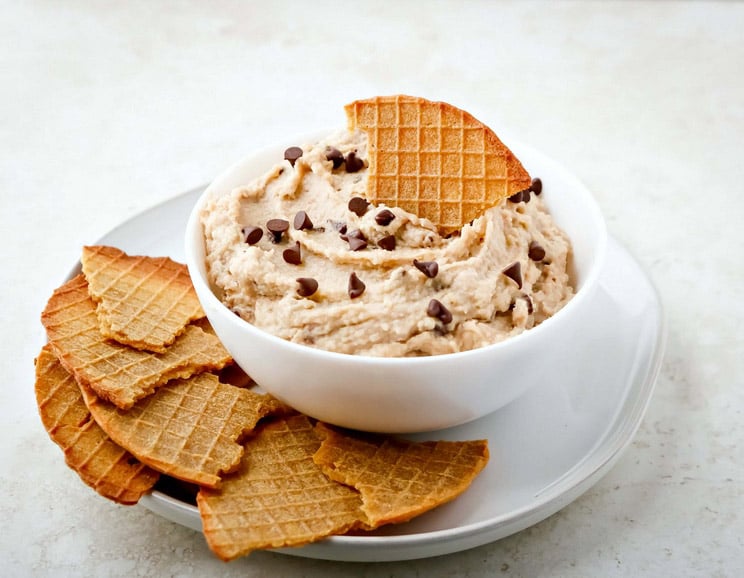 Raw honey imparts sweetness and helps achieve a velvety smooth texture without dairy or refined sugars. It loads tons of health benefits as a sweetener and retains essential minerals and enzymes in its uncooked state. Pure maple syrup works just as well and can be swapped in for honey in equal amounts. Add a dose of mood-boosting antioxidants with dark chocolate chips to help regulate insulin levels. Look for chocolate chips with a high percentage of cacao for best results.
To get started, combine drained cashews and honey in a food processor. Blend until smooth and keep the processor running. Gradually add in almond milk through the funnel until you achieve a desired consistency. Note: Depending on the desired thickness, you may not need to use the entire amount of almond milk. Then, scoop the dip into a small mixing bowl and stir in the chocolate chips. Serve dip immediately or enjoy chilled!
Jennafer Ashley
Divinely Delicious Cannoli Dip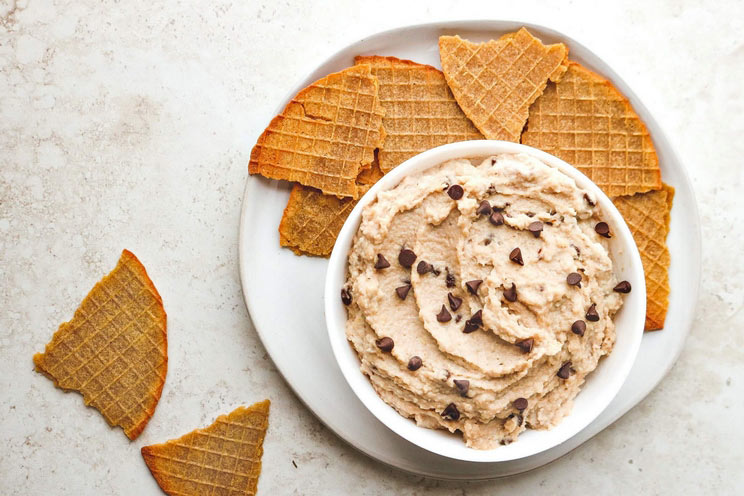 Prep Time:
10 mins
10 minutes
Divinely Delicious Cannoli Dip
Whip up dairy-free Cannoli Dip in under 10 minutes for a decadent, dairy-free treat.
Tools
Food processor

Small mixing bowl
Ingredients
3 cups raw cashews, soaked in water overnight

1/2 cup unsweetened almond milk

1/4 cup honey

1/4 cup dark chocolate chips
Instructions
Drain cashews and add to food processor with honey. Blend until smooth, scraping the sides as needed.

With food processor running, gradually pour almond milk in through the funnel to thin out the mixture.

Transfer to a bowl and stir in dark chocolate chips.

Serve immediately or refrigerate leftovers in a covered container for up to two days.
Looking for Paleo ingredients? Here are a few we'd recommend:
Raw honey (Bee Farms)
Dairy-free chocolate chips (Enjoy Life)

(You'll Also Love: 3-Ingredient Velvety Chocolate Fruit Dip
)