When it comes to overall health, astragalus may be your new adaptogenic herb of choice.
Astragalus is a fundamental herb used in traditional Chinese medicine for its immune-boosting benefits. Modern science recently discovered its healing properties, highlighting its benefits for diabetics and athletes.
Discover the top 10 amazing benefits of astragalus below, how to supplement with it – and who should avoid it.
Want to train your brain to be happier and healthier?
Click here to receive our FREE 7-Day Meditation Challenge!
What Is Astragalus?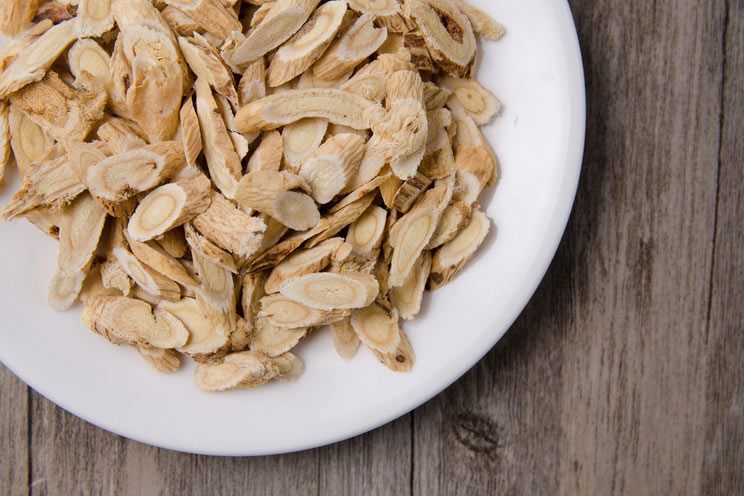 Astragalus, also called milkvetch root and Huang-qi, is a flowering plant native to Korea and the eastern regions of China. It's also an adaptogen – meaning it helps your body handle stress.
Stress can have a serious impact on your immune system and mental health, which is why finding natural ways to combat stress is so important. (1, 2, 3) Astragalus's adaptogenic properties essentially help your nervous system process stress in a more efficient way, which can improve your energy levels, immunity, and even your mood.
Astragalus is rich in antioxidants that help fight DNA damage and aging caused by free radicals. (4) It also contains beneficial polysaccharides, or sugar molecules, that contain antimicrobial properties and can even help fight cancer. (5, 6)
---
10 Benefits of Astragalus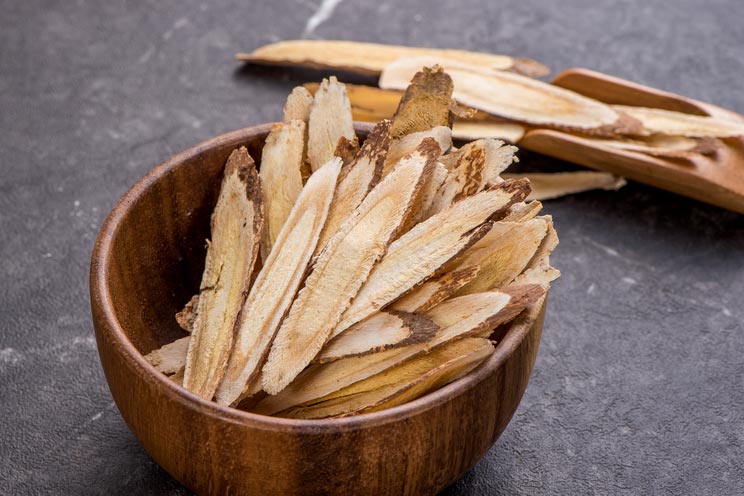 This powerful adaptogen offers a whole host of ways to boost your health. Below, we dive into the top 10 benefits of this potent herb.
1. Boosts Immunity
Astragalus could be your next go-to immune booster during cold and flu season. It helps to strengthen your immunity while also tempering the inflammation that can worsen things. (7)
How it Works: Astragalus stimulates our natural "killer T cells" that fight foreign invaders like bacteria and viruses. One study found that astragalus can even boost immunity on a cellular level by balancing our killer T cell levels in response to stress or physical trauma. This makes our immune system more resilient when it comes to fighting off illness or healing from a cold or infection. (8)
2. Heals Wounds
If you've got stubborn cuts, scrapes, and other wounds that just won't go away, astragalus can help speed up the healing process. That's because astragalus can increase the synthesis of collagen, the major protein that makes up our skin. (9)
A recent study on rats showed that topical application of astragalus accelerated skin healing while another found that it can help repair and strengthen skin with minimal scarring. (10, 11)
3. Calms Inflammation
Your immune system and inflammation are closely linked, with your immune cells acting as regulators for any type of swelling in your body. When you take astragalus, it helps control inflammation by regulating immune cells called cytokines, which are released whenever your body's inflammatory response is triggered. (12)
Colitis, in particular, can be soothed with astragalus. It works to calm the swelling that can cause lesions and damage in the colon. (13)
4. Fights Aging
If you're worried about the effects of aging on your skin, astragalus may help you retain that youthful glow.
Similar to green tea, astragalus contains antioxidants that fight free radical damage. This is a key action in keeping the skin looking young since free radicals are molecules that damage DNA and cause wrinkles and sagging. (14)
On top of that, astragalus can help synthesize collagen, the major component making up our skin. (15) Collagen tends to decrease as we age, and strengthening it can result in more supple, youthful-looking skin.
5. Enhances Workouts
Feeling exhausted mid-workout is anything but motivating. If your energy is lagging at the gym, try astragalus – it can improve endurance during exercise, as well as help maintain muscle mass. (16, 17)
You'll also be less likely to experience soreness the day after a tough session at the gym. The polysaccharides in astragalus reduce the buildup of lactate in your blood after workouts, which is a major cause of day-after muscle soreness. (18)
6. Fights Diabetes
The blood sugar swings that come with diabetes are a roller coaster you definitely don't want to be on.
Astragalus can help these side effects by improving insulin sensitivity and resistance while protecting the pancreatic cells that produce insulin. Studies also show that the polysaccharides and other antioxidants in astragalus can help reduce blood glucose levels and improve lipid profiles. (19) For diabetics, this can help keep blood sugar levels balanced without using excess insulin, and can also help maintain healthy cholesterol levels.
7. Improves Cardiovascular Health
To keep your heart pumping strong for years to come, you may want to consider supplementing with astragalus. It has promising potential when it comes to improving heart health, with one study showing that injecting congestive heart failure patients with astragalus increased their total heart function by more than 73 percent. (20)
Another study showed that astragalus can ease chest pain and shortness of breath in people with congestive heart failure. (21)
8. Reduces Chemotherapy Side Effects
A major side effect of chemotherapy is a weakened immune system. This can leave your body susceptible to other infections and diseases that can worsen your overall condition and also reduce the effectiveness of chemotherapy itself.
Astragalus can actually improve the effectiveness of chemotherapy while also reducing its toxic effects. (22)
9. Prevents Infections
You'll want to keep some astragalus in your natural medicine cabinet for the next time you're fighting infections and viruses. Astragalus can boost immunity, making it a great, natural way to combat colds and infections. (23)
Studies show that astragalus can also reduce the occurrence and duration of upper respiratory tract infections as well as help stop some viruses from spreading. (24, 25)
10. Supports Brain Health
Astragalus works to keep your brain sharp, protecting you against brain issues like memory loss.
Researchers found that it can enhance recovery in hemorrhagic stroke patients, as well as protect against neuron injury – an important aspect in neurological diseases that involve memory loss, like Alzheimer's. (26, 27)
Studies also show that astragalus protects against learning and memory issues by helping to keep those important neuron cells alive. The death of these cells is a common occurrence in diseases affecting memory. (28)
---
Where to Find Astragalus Root (And How to Use It)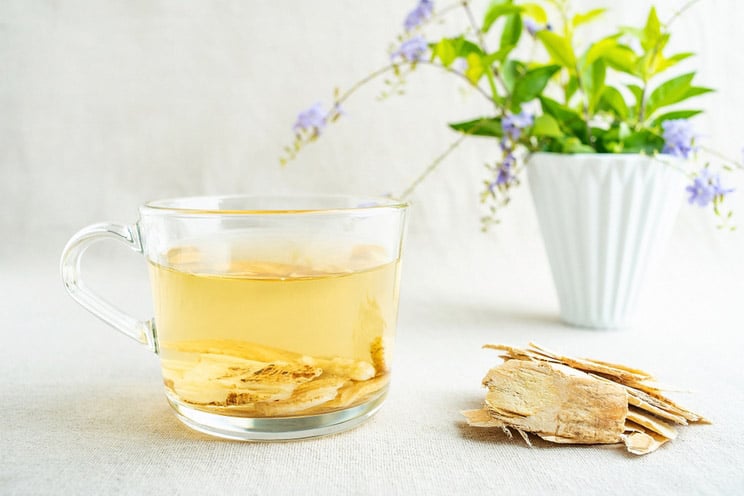 You can find astragalus root in health food stores, in vitamin shops, and in some Chinese markets. Below are variations of how you can take it:
Tincture (as a liquid in an alcohol extract)
Tea
Capsules or tablets
Topically as a cream
Since there is no standard dosage for astragalus, either follow the dosage instructions on the brand label you purchased, or work with a naturopath to determine the right dosage for you.
Side Effects
Although astragalus has very few serious side effects, the two most common are:
Diarrhea
Mild gastrointestinal upset
It is important to note that astragalus can have interactions with prescription medications and certain conditions. Be cautious if you:
Are pregnant or nursing.
Suffer from an autoimmune disease like multiple sclerosis.
Are taking immunosuppressants or similar drugs.
In these cases, talk with your doctor before using astragalus. It may interact with drugs that affect your immune system.
---
The Bottom Line
The Ancient Chinese traditionally used astragalus to treat many disorders; modern science backs its claims to boost immunity, reduce stress, and improve heart health.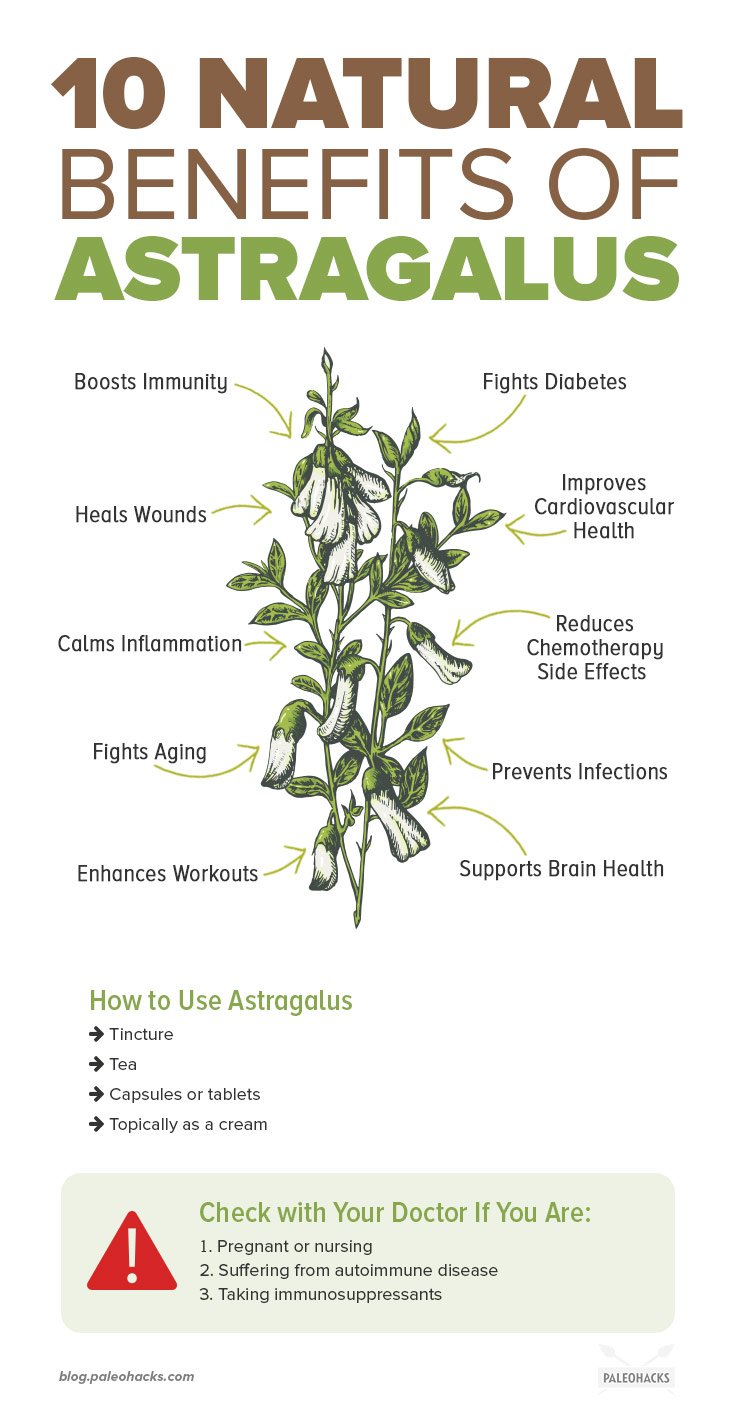 (Read This Next: The Natural Benefits of Adaptogens and How to Use Them)