Combine garlic and honey with roasted cauliflower for a sweet and savory five-ingredient recipe!
Roasting cauliflower is a simple way to level-up your veggie intake any day of the week. When you pair it with the right flavor combos (like honey and garlic), it's a quick way to add cancer-fighting vitamins and minerals.
Easy to prep, this recipe only requires a handful of ingredients to get started. Garlic and avocado oil help tenderize the cauliflower, while high-heat temperatures from roasting let it crisp around the edges.
Add power-packed superfood veggies to every meal with these easy cauliflower recipes.
Click here to get your FREE copy of our Cauliflower Recipe Guide!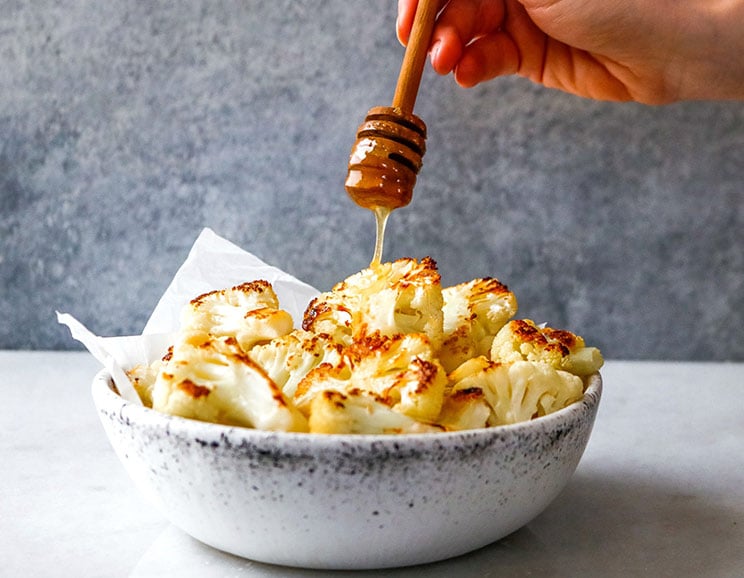 Once the cauliflower is ready to come out of the oven, you'll want to immediately top it with salt and honey. This will allow the cauliflower to easily bind with the other ingredients and create a thick, luscious coating with a perfect hint of sweetness.
Helpful Tips For The Perfect Roast:
Adjust the garlic level to your preference. While this recipe calls for 20 cloves of garlic, feel free to reduce the amount to your liking.
Swap in any high-heat Paleo cooking fat. We like the way avocado oil blends with the garlic, but you can also try ghee for a more buttery flavor.
Experiment with additional toppings. Try garnishing with sesame seeds for extra crunch or sprinkle with red pepper flakes to bump up the heat.
Kelsey Ale
Roasted Honey Garlic Cauliflower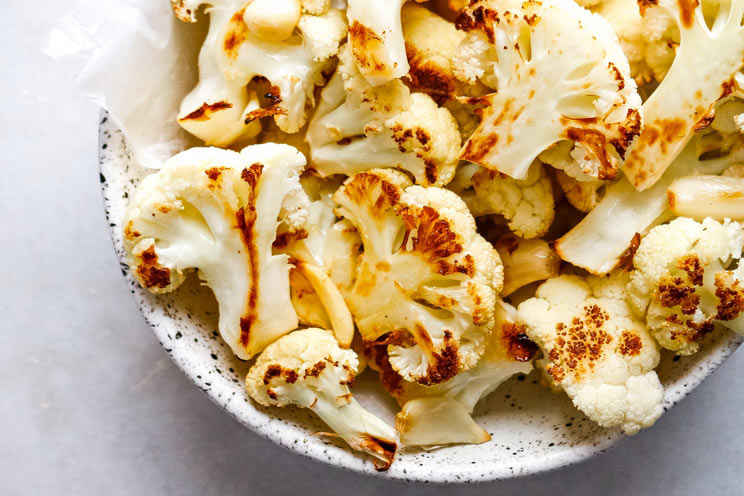 Cook Time:
30 mins
30 minutes
Prep Time:
10 mins
10 minutes
Roasted Honey Garlic Cauliflower
Combine garlic and honey with roasted cauliflower for a sweet and savory five-ingredient recipe.
Ingredients
4 cups cauliflower florets

20 cloves garlic, peeled

¼ cup avocado oil

1-2 T honey

Salt, to taste
Instructions
Preheat the oven to 400°F.

In a glass baking dish, toss the cauliflower florets with the garlic cloves and avocado oil.

Transfer it to the oven and let it roast for 30 minutes.

When complete, drizzle the honey over the dish and toss to coat.

Season with salt to taste and enjoy warm.
Looking for Paleo ingredients? Here are a few we'd recommend:
Avocado oil (Bella Vado)
Raw honey (Bee Farms)
Sea salt (REDMOND)

Finding the right balance between indulgent and low carb is easy to do with our handy Keto Sweets Cookbook. Inside you'll find over 80 recipes ranging from brownies and cookies to ice cream and candy – all without using any refined sugars or gluten. Order your free copy today to see how simple it is to have your cake and eat it too!
(You'll Also Love: Garlic Roasted Artichokes)