Getting ready to host a holiday party? Then you'll love this bacon-wrapped Brussel sprouts recipe. It's perfect for Paleo party trays or as a savory appetizer before dinner.
The saltiness of the bacon pairs perfectly with the earthiness of Brussels sprouts for an irresistible combo guests will love. Additionally, this dish is simple to make and easy to clean afterwards.
Plus, you won't need to worry about complicated ingredients here. All you need is a fresh bunch of sprouts, grass-fed bacon, and some salt and pepper for taste.
Add power-packed superfood veggies to every meal with these easy cauliflower recipes.
Click here to get your FREE copy of our Cauliflower Recipe Guide!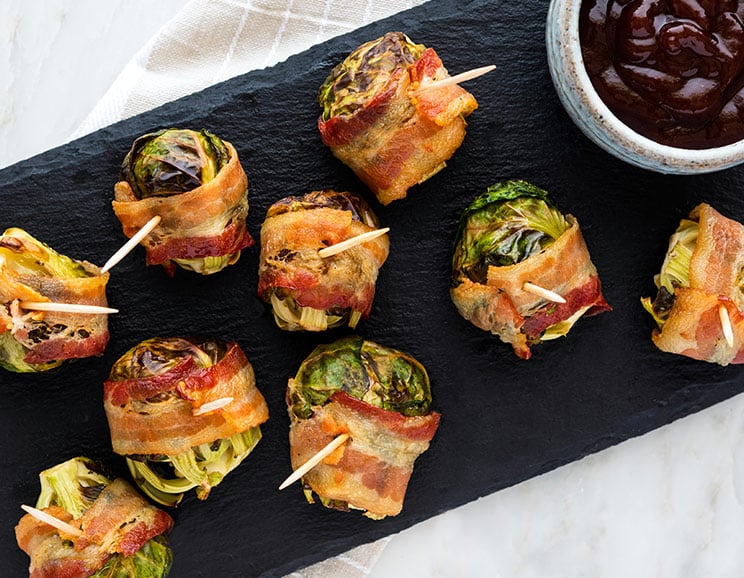 Additionally, Brussel sprouts are a great source of riboflavin, magnesium, and phosphorus – great for people looking to amp up their vitamin game. Try pairing it with entrées rich in protein or alongside other dishes like cauliflower rice or spaghetti squash. Whichever way you choose, these bacon-wrapped Brussel sprouts are sure to be the life of the party.
First, start by preheating the oven to 375°F and line a baking sheet with aluminum foil for easy cleanup. Next, use half a bacon slice to wrap each Brussel sprout and pin it with a toothpick. Finally, place them on a baking sheet, set them in the oven, and in 30-35 minutes you'll have crispy little nuggets of savory goodness.
Serve your bacon-wrapped Brussel sprouts with dipping sauces like cauliflower "cheese dip" or BBQ sauce for extra fun!
Deanna Dorman
Bacon-Wrapped Brussels Sprouts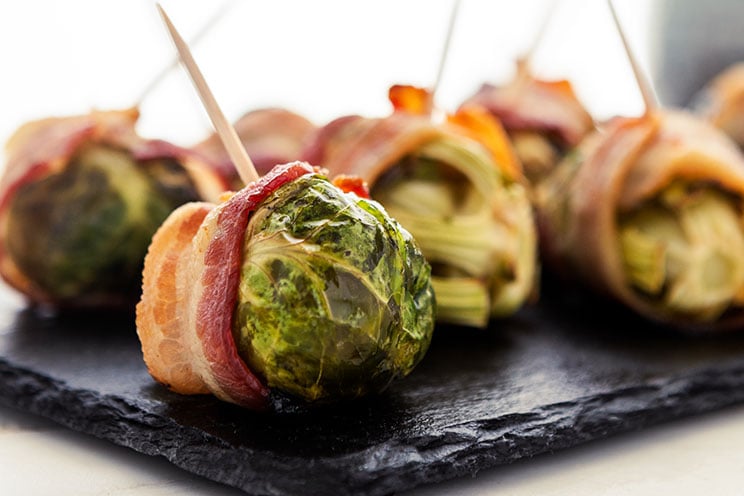 Cook Time:
30 mins
30 minutes
Prep Time:
5 mins
5 minutes
Nutrition facts:
7 grams of protein
4 grams of carbohydrates
14 grams of fat
Bacon-Wrapped Brussels Sprouts
This simple bacon-wrapped Brussel sprout recipe makes the perfect appetizer for any party or family dinner.
Tools
Toothpicks

Baking Sheet

Aluminum Foil
Ingredients
8 large Brussels sprouts

4 slices of pastured bacon

Salt & pepper taste
Instructions
Preheat oven to 375°F and line a baking sheet with aluminum foil for easy clean up.

Roll each Brussels sprout in half a slice of bacon. Secure the bacon with a toothpick and place on the baking sheet.

Bake for 30-35 minutes or until the bacon reaches the desired crispiness. Enjoy with Paleo BBQ sauce.
*4 sprouts per serving
Watch the Recipe Video Below!

You'll Also Love: Roasted Vegetables: 31 Easy, Healthy Recipes