Cruciferous green vegetables and bacon are a dynamic duo that works for any meal of the day. Add almonds, and you have a one-pan Brussels sprouts dish ideal for any time of day!
This smoky, crunchy meal combines the mild cabbage-like flavor of Brussels sprouts with nutty almonds and crispy bacon.
Cajun seasoning rounds off the warm flavor profile of this dish. Serve this up as a side, or as an amazing brunch with an oozing poached egg on top.
Love Paleo breakfast recipes? Get our free breakfast recipe cookbook here!
Courtney Hamilton
One-Pan Brussels Sprouts with Bacon and Almonds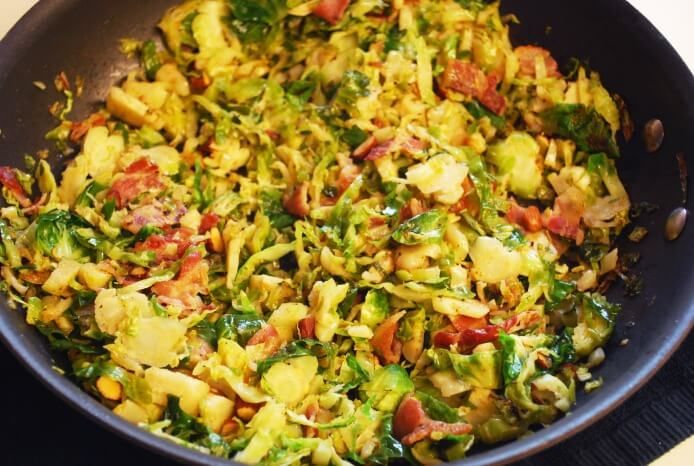 Cook Time:
15 mins
15 minutes
Prep Time:
10 mins
10 minutes
One-Pan Brussels Sprouts with Bacon and Almonds
Ingredients
2 lbs Brussels sprouts, shredded or sliced thin

5 slices bacon

1/3 cup almonds, chopped

2 t Cajun Seasoning (a blend of salt, red pepper spice, paprika, garlic and onion powder)

Salt and pepper to taste
How To Make It:
1. Fry bacon in a skillet.
2. While the bacon cooks, shred or slice Brussels sprouts into thin slivers. Chop almonds. 
3. Remove bacon from pan when crispy. Let cool, then chop and set aside. 
4. Toast almonds in bacon grease. Add Brussels sprouts and cook over medium heat until tender, about 7-10 minutes. 
5. Mix in chopped bacon and serve.
(You'll Also Love: Eggs with Fried Bacon Tomato Sauce)