This fluffy coconut flour vanilla cake is light and spongy, perfect for celebrations! Frost with coconut buttercream icing, and top with fresh fruit for a dessert that rivals any bakery.
What's the secret ingredient behind this moist and airy cake? Think meringue! Beating egg whites until fluffy, and carefully folding them into the cake batter, is a common technique used in sponge and angel food cake recipes. PS: Make sure to use pasture-raised eggs for a protein-rich cake with a boost of vitamin D!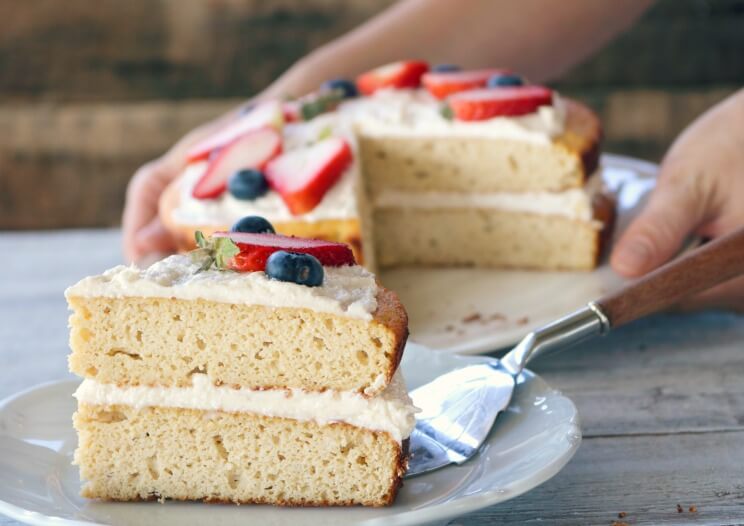 Using just a small amount of coconut flour is also responsible for this cake's fluffiness. Because coconut flour is highly absorbent, a little goes a very long way. Melted coconut oil also adds a little extra moisture.
Start by lining an 8-inch round baking pan with parchment paper, and grease with coconut oil. This will make removing the vanilla cake from the pan a breeze. Mix the dry ingredients in one bowl and beat the wet ingredients together. Gently add the wet ingredients into the dry ingredients to combine.
Love Paleo Desserts? Then you'll love our FREE Paleo Dessert Cookbook. Click here to get it!
Next, beat the egg whites in a clean bowl until soft, thick peaks form. Carefully fold the beaten egg whites into the cake batter using a spatula, gently lifting from the bottom of the bowl as you turn your wrist. Once the egg whites disappear into the batter, pour into the prepared baking pan and bake until the center is cooked and the edges are golden brown. Use a sharp knife to loosen the edges of the cake from the pan, and carefully flip it onto a cooling rack. Let the cake cool at least one hour before icing with coconut buttercream frosting, and decorating with dark chocolate or fruit. Store the cake covered at room temperature or refrigerate.
Jennafer Ashley
Fluffy Coconut Flour Vanilla Cake Recipe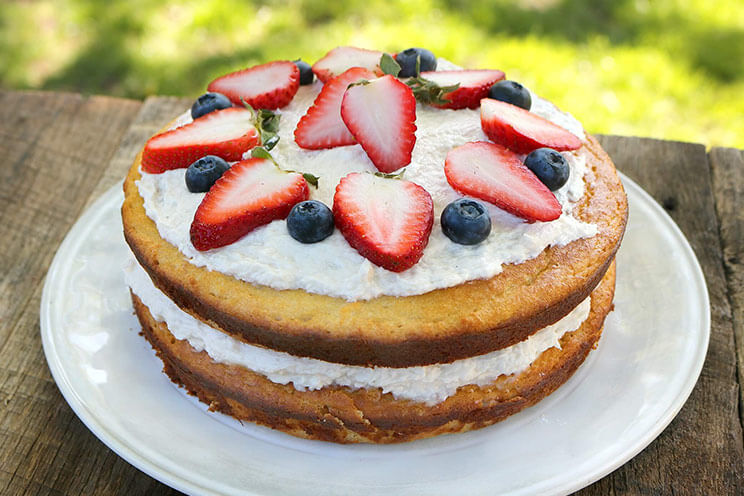 Cook Time:
30 mins
30 minutes
Prep Time:
15 mins
15 minutes
Fluffy Coconut Flour Vanilla Cake Recipe
This light and fluffy coconut flour cake is just begging to be frosted with coconut cream icing!
Tools
8-inch round cake pan

Parchment paper

3 medium mixing bowls

Hand mixer

Spatula

Cooling rack
Ingredients
1/2 cup coconut flour

3 pasture-raised eggs + 2 egg whites

1/2 cup melted coconut oil

1/2 cup full fat coconut milk

1 T pure maple syrup

1 t vanilla extract

1 t baking powder

1/4 t pink Himalayan sea salt
Instructions
Preheat oven to 350ºF and line an 8-inch round cake pan with parchment paper cut into a circle. Grease the sides with coconut oil.

In a medium mixing bowl, whisk together the coconut flour, baking powder and sea salt. In a separate mixing bowl, use a hand mixer to beat together 3 eggs, coconut milk, coconut oil, vanilla extract and maple syrup until smooth. Pour the wet ingredients into the dry and mix on low speed to combine.

In a clean mixing bowl, beat the egg whites until soft peaks form. Use a spatula to gently fold the egg whites into the batter.

Pour into the prepared cake pan and bake 25-30 minutes or until a toothpick inserted into center comes out clean.

Gently lift the cake from the pan and place on cooling rack 20 minutes (or until cake is no longer warm) before frosting. Decorate with berries, shaved chocolate, or unsweetened coconut flakes.
Looking for Paleo ingredients? Here are a few we'd recommend:


(You'll Also Love: Naked Paleo Chocolate Cake)