Brighten and tone your skin with this Paleo-friendly, moisturizing peel-off face mask.
This recipe was inspired by a simple collagen mask I use weekly, but we use gelatin instead to create a natural, peelable face mask. This gelatin mask is infused with roses, and can be applied to your face with your hands or with an applicator.
This peel-off face mask is super simple to make, produces little to no waste, and is much cheaper than some of the store-bought versions I've seen in stores.
Want naturally radiant skin? We've created a FREE guide to give you the best tips & tricks for natural skincare.
Click here to get your FREE copy of our Skincare Guide!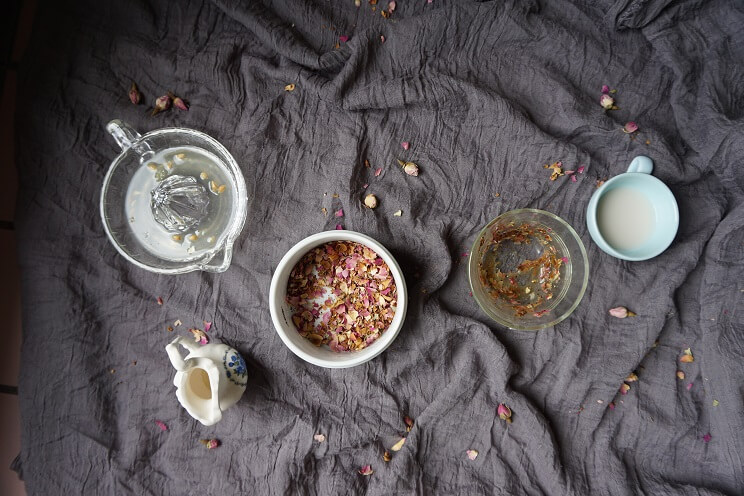 Just a heads up, this mask doesn't smell the greatest when it comes out of the oven, but the lemon and rose covers the harsh scent while the mask is drying on your face.
That being said, once you've heated up this mixture, you have to be prepared to act fast and quickly spread this mixture on your face. If you're afraid of dropping this on your clothes during the application process, wear an old T-shirt.
If you have sensitive skin, I recommend using collagen in place of gelatin. This won't give you the same peel effect, but when used with a washcloth or face sponge, you'll receive the same toning, moisturizing, and exfoliating effects.
For this natural face mask, you'll be using:
Gelatin: A protein that helps skin cells renew and replenish themselves. It even helps protect your skin from UV light exposure. (1)
Almond milk: Great for the skin and is commonly found in natural remedies for maintaining bright and clean skin. It also helps moisturize your skin and enhances your natural glow.
Lemon: Known to help brighten and tone the skin. It also helps hide the smell of the gelatin when on your face.
Rose buds: When applied topically, rose has a toning effect on the skin, helps tighten pores, balances pH, and leaves you feeling silky smooth.
Destiny Lalane
DIY Rose Gelatin Peel-Off Face Mask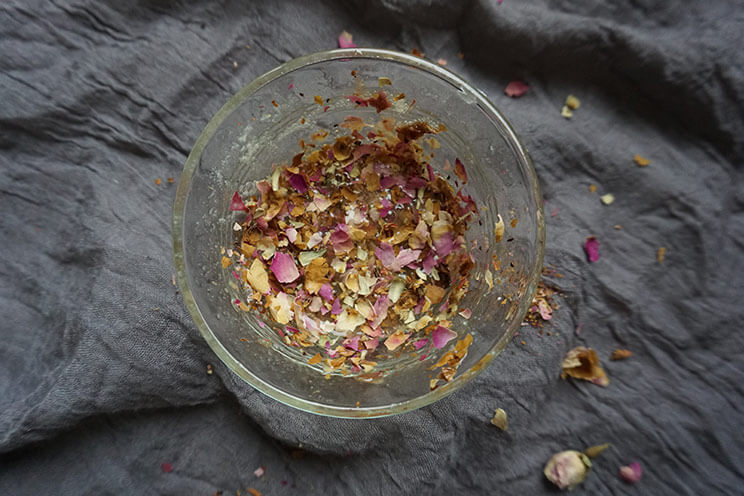 Cook Time:
2 mins
2 minutes
Prep Time:
3 mins
3 minutes
DIY Rose Gelatin Peel-Off Face Mask
Brighten and tone your skin with this Paleo-friendly, moisturizing rose peel.
Tools
Glass dish

Popsicle stick to apply
Ingredients
1 T unflavored gelatin (if you have sensitive skin, use collagen instead)

1 T almond milk

1 small lemon

2 T dried rose petals
Instructions
Cut, juice, and strain lemon into a glass bowl.

Pour collagen and almond milk into the bowl. Mix until a chunky consistency forms.

Heat on a stove until the mixture melts.

Let cool.

Apply the face mask onto your skin using your hands or a wood applicator.

The mask will take about 10 minutes to dry.

Once the mask is dry, carefully peel the mask off in sections in front of a mirror.
Tips:
Due to the nature of gelatin, please dispose of your strips in the garbage and not down the drain to prevent clogs.
I recommend using a clear glass jar to make this recipe as in my experience, it's easy to clean with water and a paper towel. Alternatively, you can use a disposable cup to prevent a messy clean-up.
When applying, tie your hair back and start applying the mask from the bottom of your face, working your way up. Avoid applying the mask to your eyebrows, under eyes and upper lip.
Alternatively, you can remove the mask with warm water and a washcloth for the same effects.


(You'll Also Love: 3-Ingredient Berry Body Antioxidant Scrub)