Like biting into Thanksgiving dinner in one cozy, crunchy bite.
Made simple and gluten-free, this recipe includes all the aromas and tastes of a traditional Thanksgiving dinner. Packed with plenty of fiber and protein, it's a great way to use up holiday leftovers or to make as a savory snack.
The center of these Thanksgiving croquettes includes a stovetop stuffing with shredded turkey, veggies, and savory herbs. Added raisins give it a subtle sweetness while Paleo breadcrumbs keep things soft and moist. You can make the bread ahead of time (we love this Paleo bread recipe) or find a trusted brand at your local health food store.
Mashed sweet potatoes encase the outside of the croquettes before getting coated in crispy pork rind "breadcrumbs". When baked, they become golden in color and can be served with a rich turkey gravy for dipping. You can make your own homemade gravy in just 15 minutes using this simple recipe.
Want to go Paleo? Not sure where to start?
Start with this FREE Paleo For Beginners Guide Today!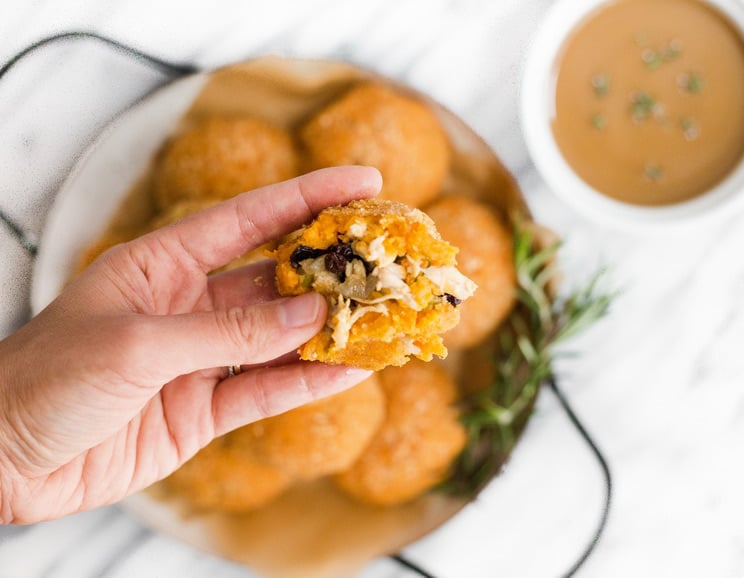 To get started, prepare the stuffing by sautéing the vegetables in a large skillet. Stir for about 10 minutes, or until the onions are translucent and the garlic is fragrant. Add in the raisins, Paleo bread cubes, herbs, salt, and water. Mix until the liquid is absorbed, then remove from the stove and mix with the shredded turkey.
Next, shape the stuffing mixture into 12 small balls (using one tablespoon for each one). Create 12 more larger balls with the mashed sweet potatoes, equaling about three tablespoons each. Flatten each of the sweet potato balls between your palms and into a tortilla-shaped "dough". Place one stuffing ball in the middle of the sweet potato dough and fold it around the stuffing. Repeat with the remaining mixture and dough, then set aside.
When complete, prepare two separate bowls containing the beaten egg in one and the pork rinds in the other. Dredge each ball in the egg wash first and finish with the pork rind coating. Then, place the balls on a baking sheet and bake for 30 minutes, or until the exterior is golden. Serve warm with turkey gravy and enjoy immediately!
Jennafer Ashley
Turkey and Mashed Sweet Potato Balls

Cook Time:
45 mins
45 minutes
Prep Time:
25 mins
25 minutes
Turkey and Mashed Sweet Potato Balls
Serve up Thanksgiving dinner in a bite-sized ball using sweet potatoes, turkey stuffing, and crispy pork rinds.
Tools
Large skillet

Large baking sheet

Blender
Ingredients
For the Stuffing:
1 T coconut oil, for greasing

1 T olive oil

¼ cup celery, chopped

¼ cup onions, chopped

¼ cup baby bella mushrooms, chopped

3 garlic cloves, minced

¼ cup raisins

¼ cup Paleo bread cubes

1 t fresh thyme

1 T fresh rosemary

1 t salt

¼ cup water
For the Sweet Potato Balls:
4 cups pork rinds

1 cup finely shredded turkey meat

1 cup stuffing (see recipe below)

1 large egg, beaten

4 cups mashed sweet potatoes

Turkey gravy, for dipping
Instructions
Preheat the oven to 350°F and grease a large baking pan with coconut oil.

To Make the Stuffing: Heat up the olive oil in a large skillet over medium heat.

Sauté the celery, onions, mushrooms, and garlic, stirring occasionally for 10 minutes.

Add raisins, cubed Paleo bread, thyme, rosemary, and salt. Mix well and then add the water. Stir until the bread absorbs most of the liquid (approximately 1 minute).

To Make the Sweet Potato Balls: Process the pork rinds in a blender until you get a crumb-like texture, then set aside.

Mix the stuffing with the shredded turkey in a large bowl. Shape the mixture into 12 small balls, scooping out 1 tablespoon at a time. Roll between the palms of your hands to make the balls as compact as possible, then set them onto a plate.

Shape the mashed sweet potatoes into 12 balls, equaling about 3 tablespoons each. Flatten each sweet potato ball like a tortilla and place the turkey mixture into the center of each one. Fold the sweet potato "dough" around the stuffing mixture until it is fully covered.

In two separate bowls, add the beaten egg in one and the pork rinds in another.

Roll one ball in the beaten egg and then coat with the pork rind crumbs. Place it on the prepared baking sheet and repeat with the remaining mixture and dough.

Bake in the oven for 30 minutes, or until the pork rinds turn crispy and golden. Serve with turkey gravy and enjoy immediately!
Tip: If you already have leftover stuffing on hand, you can skip the stovetop step altogether.
Looking for Paleo ingredients? Here's what we recommend:
Cold pressed coconut oil (Viva Naturals)

(You'll Also Love: These Baked Salmon Croquettes are Little Pieces of Healthy Heaven
)