The perfect protein shake requires minimal ingredients with maximum flavor that will start your day with a healthy boost of nutrition and energy. Whether you enjoy a thick creamy sweet drink, need something simple and convenient for a busy morning or want a meal that packs a mighty amount of nutrition in one go, then a perfect protein shake is for you.
Forget the store-bought protein shakes that can be packed with artificial sweeteners. Those can be hard to digest. Instead, choose to make your own healthy shake that tastes delicious, is great for digestion, and leaves you feeling satisfied and energized.
(Make: 'Caramel' Protein Smoothie)
Love Paleo Breakfasts? Then you'll love our FREE Paleo Breakfast Recipes.
Click here to get your FREE copy of our delicious Breakfast Recipes!
A key benefit of a protein shake is that it combines carbohydrates, fat and protein that will help you to have energy, feel good, support health, aid body composition and keep you feeling satiated until the next main meal. For better digestion, still chew the smoothie a little to help break down the ingredients without shoving too much into your stomach all at once.
Let's take a look at how to get started with creating your own perfect protein shake.
Use a Good Blender
This first point is absolutely essential in order to get the right consistency. Without a good blender, you will be left with big chunks, and it won't be appealing to drink. You will need a powerful blender that has a good quality blade to ensure all of the ingredients, whether hard or soft, break down to create the ideal texture.
Perfect Protein Shake Steps: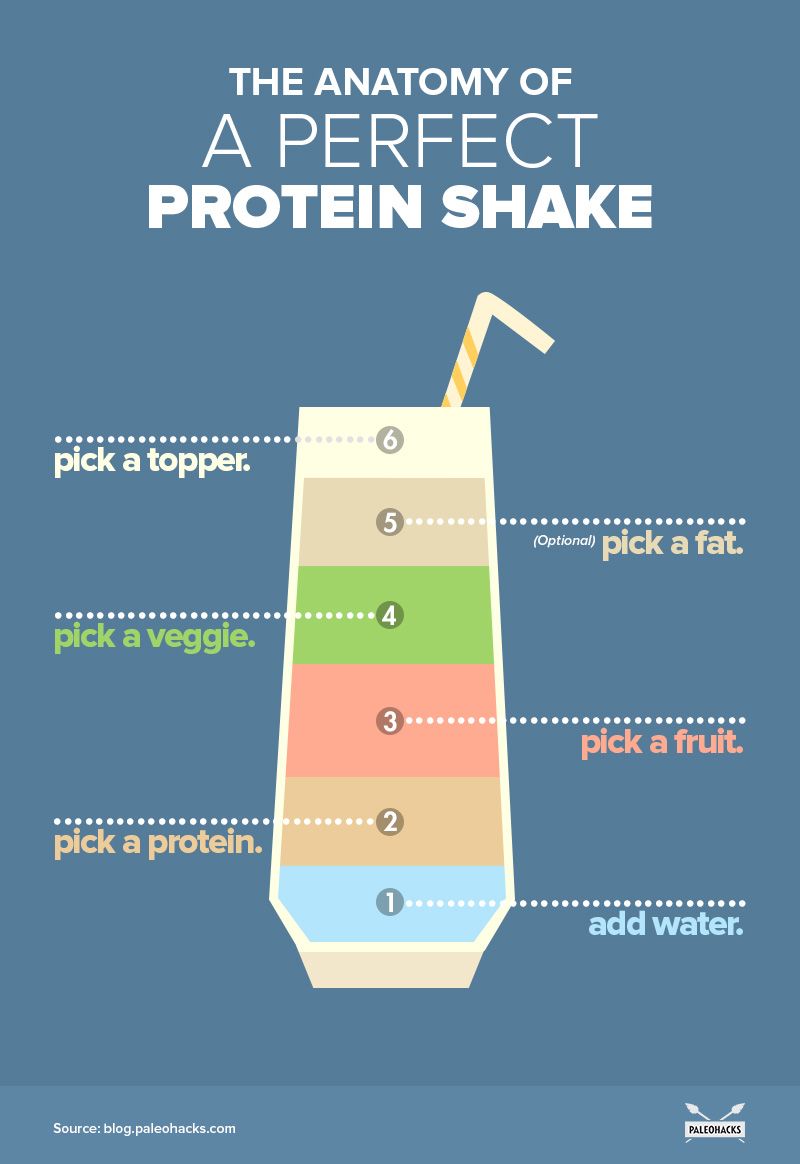 1. Add water. 
The amount will vary depending on the consistency that you prefer. For some shakes, you won't need to add any water, as the other ingredients will blend together perfectly. Prefer a thick shake? Add no water or just a little. Prefer a more liquid-based shake? Add more water.
2. Pick a protein. 
All fruits, vegetables, nuts and seeds contain protein, so you will have a protein shake no matter which ingredient you choose. Of course, some have more protein than others, and it all comes down to personal preference to suit your taste buds. You can add a protein powder, but it is not essential, as there is more than enough protein from the fruits, vegetables, nuts and seeds to meet the demands of the body. Add about 1 tbsp to a blender. Here are some examples of protein foods for a shake:
Flaxseed
Chia seeds
Hemp seeds
Pumpkin seeds
Tahini
Almonds/almond butter
3. Pick a fruit. 
Fruits are packed with nutrition from the incredible dose of vitamins and minerals that do the body good for all manners of health and fitness. Don't be afraid to use any types of fruit, pick your preferred fruit for a delicious sweet-tasting shake. Use fresh or frozen fruit. Add at least 2 handfuls of fruit to a blender. Example fruits:
Banana
Mango
Pineapple
Berries
Pitted dates
Apple
4. Pick a veggie.
Vegetables are loaded with nutrients, and some work wonders in a shake, as they pair perfectly alongside sweet fruit. Tender leafy greens work best for a shake. Feel free to experiment with a variety of vegetables, but bear in mind that some taste stronger than others. Example veggies:
Spinach
Kale

Lettuce

Celery
Collard greens
1 to 2 tbsp barley grass juice powder
5. Optional: Pick a fat. 
Some fats don't digest well alongside fruit, so it is best to experiment to see what suits your taste buds and digestion. It is not essential to add a fat to a shake, but if you need the extra calories or simply enjoy certain fats for the extra creaminess, then add about 1 tbsp to the blender. If you have already added one of these foods as a source of protein, then there is no need to add more. Example fats:
Chia seeds
Ground flaxseeds
Hemp seeds
Tahini
Almond butter
½ to 1 avocado (add at the end so it doesn't turn the shake fluffy)
1 cup coconut milk
1 cup almond milk
6. Pick a topper. 
To finish the shake with a delicious bite, add a few nutritious foods on top of the shake once it has been served in a glass. Example toppers:
Unsweetened coconut, shredded or flaked
Blueberries
Goji berries
Chopped fresh fruit such as figs, mango, banana or pineapple
Seeds
Nuts
Portion Size
The first few times you make a shake, you will be experimenting. Take note of your level of satiation after the shake, how long is it until you feel hungry again, how your digestion is, and what your energy is like. You can add more fruit, more veggies, less water, less fat, etc. — make it your own to suit your health and fitness goals.
(Make: 20 Amazing Paleo Smoothies)