Hello, weekend comfort food: Crispy sweet potato bowls get loaded with tender ground beef and creamy tomato sauce for an amazing take on Sloppy Joe. You'll definitely want seconds on this one.
Simple ingredients pack big flavor in this cozy Sloppy Joe recipe. Baked sweet potatoes transform into the perfect vessel for saucy meat tossed with bell peppers, crunchy carrots and your favorite taco seasonings. It's comfort food done healthy.
Start by chopping the ends of the sweet potatoes so that the bases of the bowls are at least 1-inch round. Then cut the sweet potato in half widthwise and bake with large side down for 30 minutes, flip and bake for another 10 minutes. You'll know when the Sloppy Joe bowls are ready when the outside starts to caramelize. When the sweet potatoes are ready, take them out of the oven to cool. When they're safe to handle, scoop their centers out to create the bowls.
Love slow cooker recipes?
Click here to get your FREE copy of our delicious Slow-Cooker Recipes!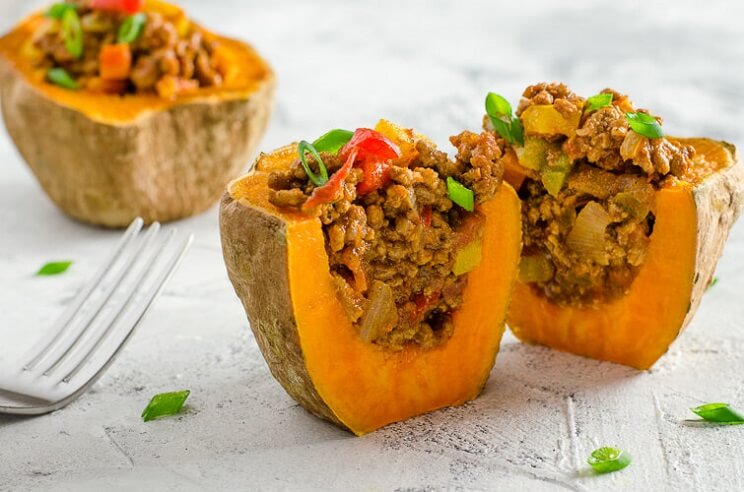 You can make the Sloppy Joe filling while the sweet potatoes are baking. First sauté the onion and the veggies in a large skillet. When the onion is translucent and the veggies are tender, add the grass-fed ground beef, breaking it up as it cooks and browns. Next, pour in the diced tomatoes and add the spices. Note: for the taco spices, you can use your favorite blend, but I included mine in the recipe below.
After letting the flavors simmer together for a few minutes, remove the skillet from the heat. When the sweet potato cups ready, spoon in the meat filling and enjoy.
This dinner is a great crowd pleaser and a fun dish to serve the kids. You can even set up a "toppings station" with different garnishes the kiddos can add themselves, like shredded cashew cheese and Paleo hot sauce!
Dina Hassan
Amazing Sweet Potato Sloppy Joe Bowls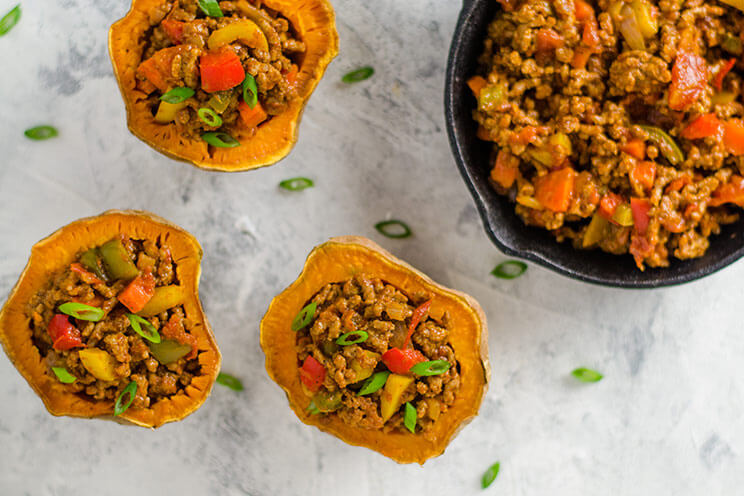 Cook Time:
40 mins
40 minutes
Prep Time:
10 mins
10 minutes
Amazing Sweet Potato Sloppy Joe Bowls
Hello, weekend comfort food: Crispy sweet potato bowls get loaded with tender ground beef and creamy tomato sauce.
Tools
Chef's knife

Baking tray

Large skillet
Ingredients
For the Sloppy Joe:
2 large sweet potatoes

1 T olive oil

1 medium onion, finely chopped

1 medium carrot, chopped

1 cup mixed bell peppers, diced

1 lb grass-fed ground beef

15oz can of diced tomatoes

1 t of your favorite taco spice mix (see my personal favorite below)

Salt and pepper, to taste

Fresh coriander, chopped to garnish
My Go-To Taco Mix:
1 t chili

1/4 t garlic powder

1/4 t onion powder

1/4 t crushed red pepper flakes

1/4 t oregano

1/2 t paprika

1 1/2 t cumin
Instructions
Preheat the oven to 425°F. Line a baking tray with parchment paper.

For the Sweet Potato Bowls: Wash the sweet potatoes and pat dry. Chop the ends off so that the base is about 1-inch in diameter, then slice it in half widthwise. Place on the prepared baking tray with the large side down; bake for 30 minutes, then flip and bake for an additional 10 minutes. Remove from the oven. When cooled enough to handle, scoop the center out, leaving about 1/4 inch of flesh on the skin.

For the Sloppy Joe Filling: In a large skillet over medium heat, sauté the onion, carrot, and bell pepper for 3-5 minutes until the veggies are tender and the onion is translucent.

Add the grass-fed ground beef to the skillet. Stir for 5-7 minutes, breaking meat up as you cook. Once the meat is cooked through, add tomatoes and taco spices. Season with salt and pepper and simmer for an additional few minutes.

Spoon the sloppy joe mixture into the sweet potato bowls. Top with fresh chopped cilantro and serve warm.
Tip: This recipe makes about 4 servings, but you can double or triple the ingredients for a crowd. It's also a great meal prep for the week. Just store them in portion-sized containers and keep it in the fridge or the freezer until ready to eat.

(You'll Also Love: Taco-Stuffed Zucchini Boats)