Ease into a restful sleep with these DIY natural fizzy bath bombs made from calming chamomile and lavender.
Trouble sleeping? Drift into a restful sleep with these all-natural chamomile and lavender bath bombs you can make at home. Enjoy zero artificial ingredients as you zen out to aromatic oils and herbs in the tub.
Both chamomile and lavender contain potent aromatherapy properties and are useful for reducing anxiety and promoting sleep when inhaled (1). These properties are especially beneficial for anyone who has a difficult time relaxing at bedtime or experiences symptoms of stress. The calming effect of these herbs is a gentle and toxin-free way to slip into a serene state without the use of medications.
Do you wake up feeling fatigued, depressed, and restless? Break the cycle of bad sleep with our FREE Sleep Guide.
Click here to get your FREE copy of our Sleep Guide!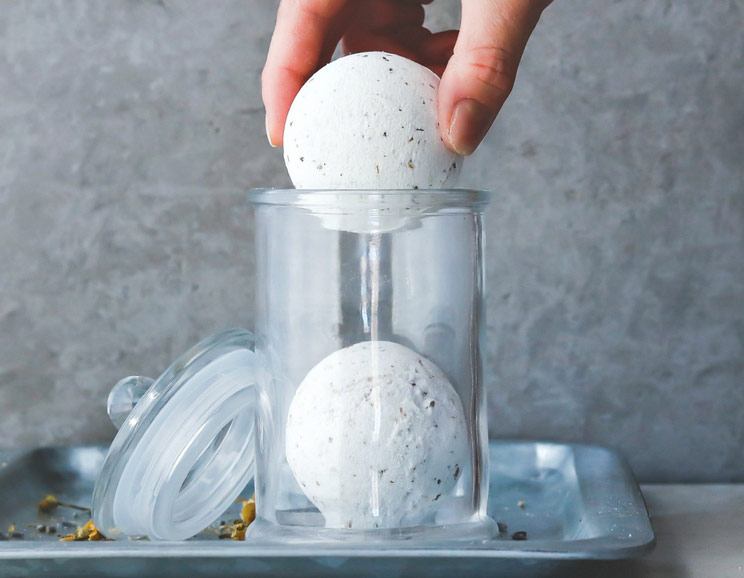 Lavender is commonly found in many apothecary products, from pillow sprays to candles, and for good reason. Studies show that components within this purple bud–particularly one called linalool–trigger a sense of relaxation in the nervous system (2).
To make these bath bombs, combine dry ingredients in a mixing bowl, including dried herbs. Tip: I like to crush the chamomile buds between my fingers as I add them to create a fine powder. This releases more of the sweet chamomile scent for a better aromatherapy experience. You can also use chamomile tea in a pinch if you can't find the dried buds. Next, mist the dried mixture with water. You don't want to activate the citric acid and baking soda, so spray just enough water to get the mixture to stick when squeezed.
Spoon the mixture into both sides of the molds, letting it slightly overflow. Place one mold on top of the other and squeeze both together. Set your molds someplace dry to set for two hours. Then, loosen the molds and store in your bathroom for later. When ready to use, place one bomb into a hot bath and inhale as you soak.
Jennafer Ashley
SleepyTime Bath Bomb Recipe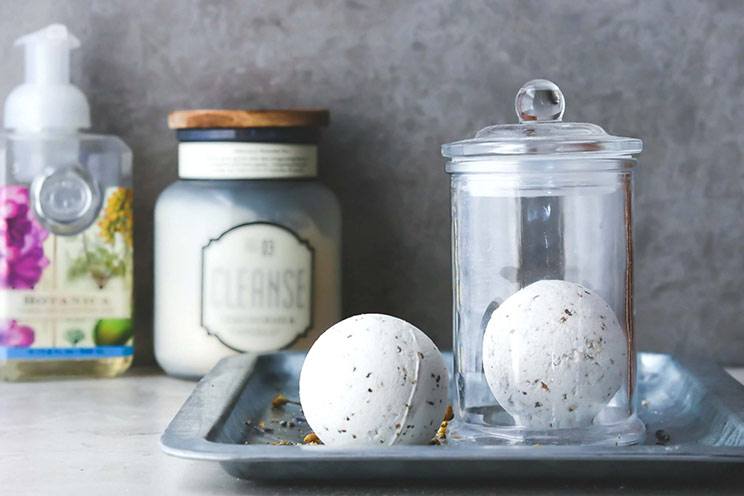 Prep Time:
10 mins
10 minutes
SleepyTime Bath Bomb Recipe
Ease into a restful sleep with these DIY natural fizzy bath bombs made from calming chamomile and lavender.
Tools
2 bath bomb molds

Medium mixing bowl

Spray bottle filled with water
Ingredients
1/2 cup baking soda

1/3 cup Epsom salts

2 T cream of tartar

1/4 t dried chamomile buds or tea

1/8 t dried lavender buds

5 drops lavender essential oil

Coconut oil for greasing pods
Instructions
Combine dry ingredients in a medium mixing bowl. Whisk to blend and stir in lavender oil.

Using a spray bottle, spritz water to moisten mixture as you stir. The mixture should be crumbly, but hold when squeezed.

Lightly grease molds with coconut oil. Use a spoon to scoop mixture into molds (ice cube trays will work too) and press down firmly. If using a bomb mold, overfill each side slightly before putting together.

Allow to set in a dry area for at least two hours.

Loosen bombs from molds and place in warm bath water to dissolve.
Looking for Paleo ingredients? Here's what we recommend:
Cold pressed coconut oil (Viva Naturals)

(You'll Also Love: Muscle Relief Bath Bomb Recipe)