A sweet and tart shrimp ceviche recipe that makes for a light and healthy meal. If you have friends coming over, turn it into a party dish and serve with plantain chips!
This dish reminds me of a trip I took to Colombia (where I have family roots) a couple of years ago. I had the chance to visit Bogota, Cali, Medellin and Jardin, but it was in Santa Marta, a coastal city, where I experienced some of the best ceviche I've ever had.
There I learned that there are two main types of ceviche: the creamy kind and the citrusy kind.
Want to go Paleo? Not sure where to start?
Start with this FREE Paleo For Beginners Guide Today!
The creamy kind is usually a mixture of mayonnaise, ketchup, raw shrimp, onion, garlic, and sometimes cilantro. However, of the two, my favorite is the citrusy kind, which is made of raw shrimp, cilantro, red onion, garlic, lime, and sometimes avocado. The ingredients are marinated in the lime juice for hours as a simple process that makes the raw shrimp (or fish) safe to eat.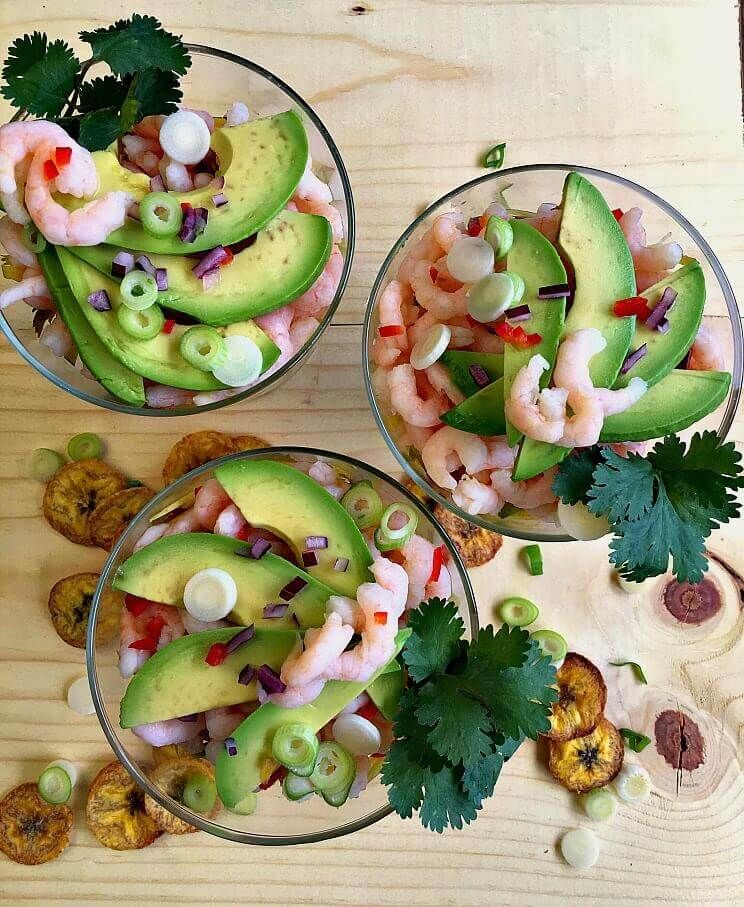 As much as I love the original recipe, I decided to put my own spin on this dish to make it a full meal in and of itself that cooks up even faster. My secret? Using cooked salad shrimp (I find them easily at Whole Foods) instead of raw shrimp to speed up the process! You can totally let these marinate for a few hours (to let the flavor really soak in), but this recipe is ready in as little as 20 minutes if you're on the go.
What I love most about this recipe is how the pink salt and lime juice cut through the sweetness of the mango beautifully, making it a healthy, light dish you can enjoy by itself or with plantain chips (a personal favorite)!
Delfina Bonilla Lopez
Mango Shrimp Ceviche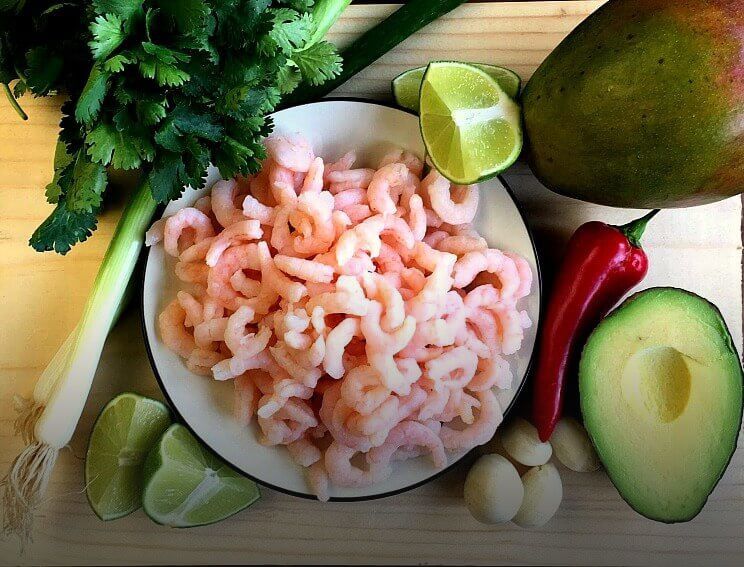 Prep Time:
20 mins
20 minutes
Mango Shrimp Ceviche
Ingredients
16 oz wild-caught cooked salad shrimp

1 small red chili pepper, diced

Juice of 10 limes

2 green mangos

1 small handful cilantro

1/2 red onion

1 avocado, sliced thin

2 scallions

1 T Himalayan pink salt or Celtic sea salt

1 t pepper
Instructions
Wash your shrimp and transfer to a large bowl.

Juice the limes over the bowl of shrimp and let the shrimp marinate for 15 minutes.

In the meantime, use a vegetable peeler to peel the mangoes into thin, noodle-like strips. Add mango strips to the bowl with the lime juice and shrimp.

Chop the scallions, red onions, spicy red pepper and cilantro. Add to bowl.

Sprinkle with salt and pepper and toss.

Top with thin slices of avocado and enjoy!
Pro Tip: If you want to use raw shrimp, you can still follow this recipe. The main difference is that you have to make sure the raw shrimp are marinated in the lime juice for at least 4 hours so that the lime can "cook" the shrimp and make it safe for raw consumption. Once you've done that, you can follow the rest of the directions written here and serve.


(You'll Also Love: Protein-Packed Mango Shrimp Hand Rolls)