Drizzle coconut butter icing all over these pumpkin spice blondies for a cozy, gluten-free treat perfect for fall!
If you're a pumpkin spice lover, you need to make these blondies your number one baking priority. This sweet dessert combines all the warm flavors of fall with the soft chewiness of a brownie-cookie combo.
Plus, you only need one ingredient for the decadent icing you'll drizzle right on top!
Love Almond Flour Recipes? Then you'll love our FREE Almond Flour Recipes.
Click here to get your FREE copy of our delicious Almond Flour Recipes!
What's In The Batter?
The base of these blondies is made from pumpkin purée, gluten-free flours, pasture-raised eggs, and coconut oil for moisture. We also mix in pumpkin spice, maple syrup, and dark chocolate chips to lightly sweeten without refined sugars.
To make these pumpkin spice blondies even better, we sneak in a bit of grass-fed collagen to boost your protein. Because it's flavorless in taste, you can easily add it into the dough without anyone noticing. Plus, it's rich in vital nutrients that'll help benefit your joints, skin, and gut health.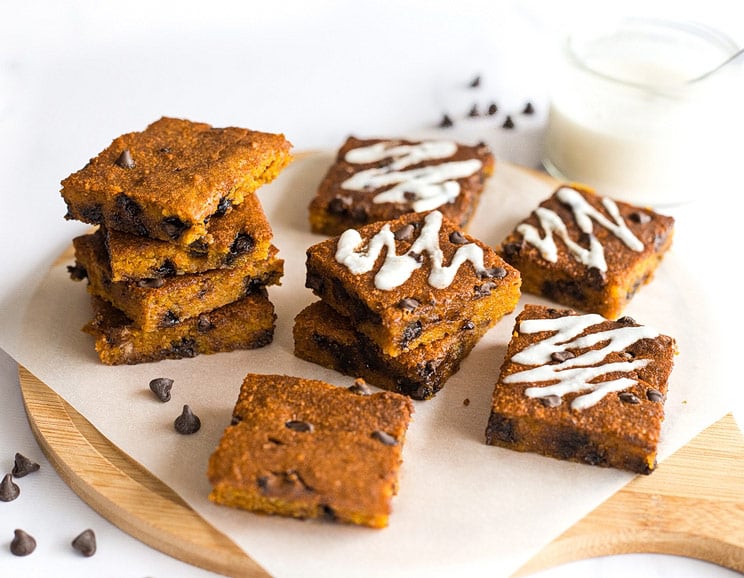 A Quick Note On Pumpkin Purée
Using a store-bought pumpkin purée will save you time on prep, but you'll need to check the labels to ensure there are no added sugars.
If you want to make your own purée at home (which we highly suggest), it's easy to do and adds much more depth to the overall taste. All you need to do is place a whole pumpkin into the oven and bake it at 350°F for an hour, or until fork-tender.
When ready, cut the pumpkin in half, remove the seeds, and scoop out the purée!
Helpful Tips For Getting Started:
Opt for 75% cacao or higher. When shopping for dark chocolate chips, look for a high cacao percentage to ensure you're getting plenty of heart-healthy antioxidants.
Save leftovers for later. You can store them in the fridge for up to five days in an airtight container.
Felicia Lim
Pumpkin Spice Blondies Have More Fun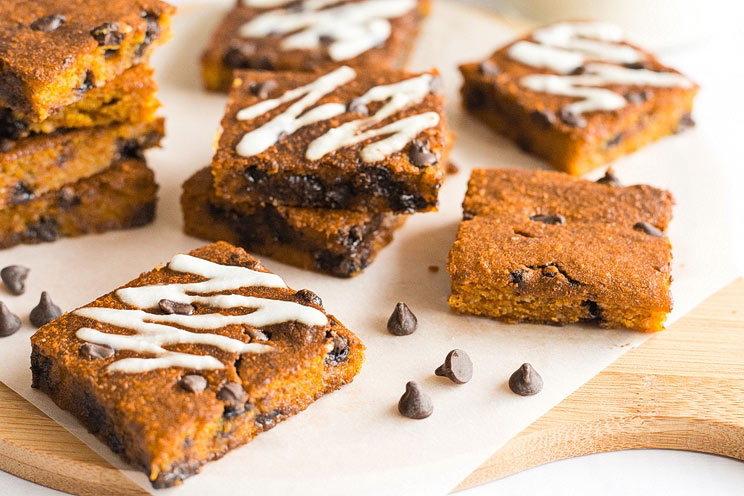 Cook Time:
25 mins
25 minutes
Prep Time:
10 mins
10 minutes
Nutrition facts:
7 grams of protein
38 grams of carbohydrates
33 grams of fat
Pumpkin Spice Blondies Have More Fun
Drizzle coconut butter icing all over these pumpkin spice blondies for a cozy, gluten-free treat perfect for fall.
Tools
9-by-13-inch baking pan

Parchment paper

Large mixing bowl

Medium mixing bowl
Ingredients
½ cup pumpkin purée

¾ cup melted coconut oil

½ cup maple syrup

1 large egg

1 egg yolk

2 cups almond flour

½ cup tapioca starch

2 t pumpkin spice

2 T collagen powder

1½ cups dark chocolate chips, divided

2 T melted coconut butter, for drizzling
Instructions
Preheat the oven to 350°F and line a baking pan with parchment paper.

In a large bowl, whisk the pumpkin purée, melted coconut oil, maple syrup, egg, and egg yolk until smooth.

In a medium mixing bowl, whisk the almond flour, tapioca starch, pumpkin spice, and collagen together. Sift the dry ingredients in with the wet ingredients and mix until you get a homogeneous dough.

Fold in 1 cup of chocolate chips and mix until the chips are evenly distributed.

Transfer the dough onto the prepared baking pan and spread it in an even layer.

Sprinkle the remaining chocolate chips on top and press them slightly into the dough.

Bake for 25 minutes, or until the top is golden brown. Allow the blondies to cool for 10 minutes in the pan at room temperature.

Slice into 3-inch squares and drizzle melted coconut butter on top. Serve warm and enjoy!
Looking for Paleo ingredients? Here are a few we'd recommend:
Cold-pressed coconut oil (Viva Naturals)
Almond flour (Anthony's)
Tapioca flour (Authentic Foods)
Collagen (Bright Naturals)
Keto & Paleo chocolate chips (sugar-free) (Lily's Stevia Sweetened)
Coconut butter (Artisana)