Cool off with a nourishing strawberry lemonade made with gut-healing fennel seeds!
Function meets flavor in this refreshing strawberry lemonade that will give your gut health a boost.
Plus, it's super easy to make. We recommend brewing up a big batch to stash in the fridge for the week. Forget plain water – it makes staying hydrated easy!
It's not just a sweetener -- it's medicine, too! Discover The Benefits of Nature's Superfood: Honey
Click here to get your FREE copy of our Honey Guide!
The Debloating Power of Fennel Seeds
We use fennel seeds in this recipe for their powerful ability to heal the gut. The seeds may be small, but they pack an impressive amount of essential vitamins and minerals (like vitamin C and magnesium) to help support digestion. They'll even help curb your appetite to help you lose weight. (1, 2)
Fennel seeds are also rich in antioxidants, which can protect your digestive tract and regulate movement in your gut – reducing excess gas and bloating. (3, 4)
In addition to its gut-healing benefits, fennel seeds have a sweet, mellow flavor that pairs nicely with fresh strawberries.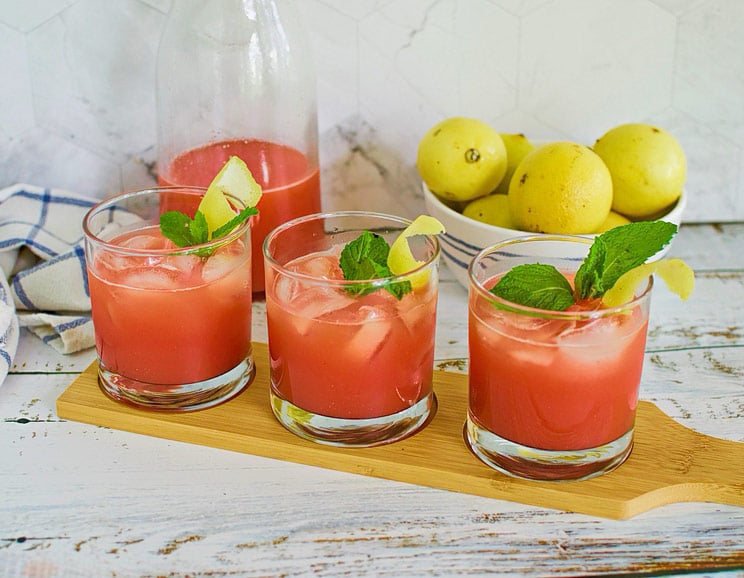 Mixing Fennel Tea with Strawberry Lemonade
We start this strawberry lemonade recipe by brewing up a tea made with fennel seeds and raw honey. After it steeps for 10 minutes, we strain and chill the tea to get it the right temperature for mixing with our strawberries.
Next, we infuse the fennel tea with puréed strawberries and fresh lemon juice to create a refreshing lemonade. It's naturally sweet, tangy, and caffeine-free!
Keep it Pulp-Free
Be sure to strain the strawberry purée through a fine mesh sieve before combining it with the fennel tea. This will help remove any extra pulp and seeds while making your strawberry lemonade velvety smooth.
Helpful Tips To Get Started:
Steep for at least 10 minutes. The longer the fennel seeds sit in the hot water, the more flavor and beneficial nutrients you'll get in your lemonade.
Go for the bubbles. Try adding a bit of seltzer water right before serving to make it a spritzer.
Danielle Moore
The Strawberry Lemonade That Beats Belly Bloat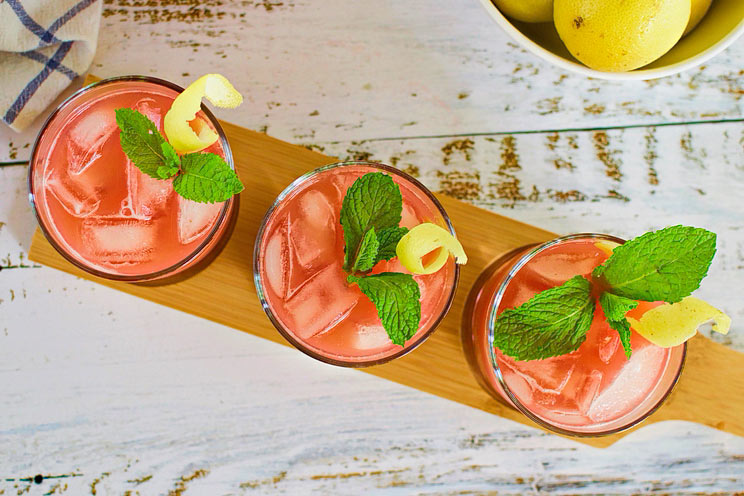 Inactive Time:
30 mins
30 minutes
Cook Time:
2 mins
2 minutes
Prep Time:
10 mins
10 minutes
Nutrition facts:
1 grams of protein
12 grams of carbohydrates
1 grams of fat
The Strawberry Lemonade That Beats Belly Bloat
Cool off with a nourishing strawberry lemonade made with gut-healing fennel seeds.
Tools
Small pot

Fine mesh strainer

Blender
Ingredients
2 cups filtered water, divided

3 T fennel seeds

2 T honey

1 cup hulled strawberries

1 cup lemon juice

¼ cup mint leaves, for garnishing
Instructions
In a small pot, bring 1 cup of water to a boil. Remove from the heat and add in the fennel seeds with the honey. Stir to combine, then allow it to steep for 10 minutes.

Pour the mixture through a fine mesh sieve and into a pitcher. Discard the fennel seeds and transfer them to the refrigerator to chill for 30 minutes.

In a blender, combine the strawberries with the remaining cup of water and purée until completely smooth.

Strain the mixture through a fine mesh sieve into the pitcher. Discard the pulp and add the lemon juice. Stir well to combine.

Pour into glasses filled with ice, and garnish with fresh mint!
Looking for Paleo ingredients? Here's what we recommend:
Raw honey (Bee Farms)
Ready for more digestifs? Bone broth is one of the best concoctions you can sip for gut health. Get fresh new recipes and ideas with our Paleo Bone Broth cookbook HERE.