Grab a spoon and eat these mini Paleo Pumpkin Custards right out of the jar!
Everyone loves a thick, creamy custard. These nourishing mini custards are pumpkin spiced and packed with healthy fats, protein and good-for-you carbs.
Collagen and tapioca are the key ingredients to getting the custard super thick and creamy. With a little raw honey for sweetener and pumpkin spice for a seasonal kick, it's the perfect balance of taste, texture and sweetness!
It's not just a sweetener -- it's medicine, too! Discover The Benefits of Nature's Superfood: Honey
Click here to get your FREE copy of our Honey Guide!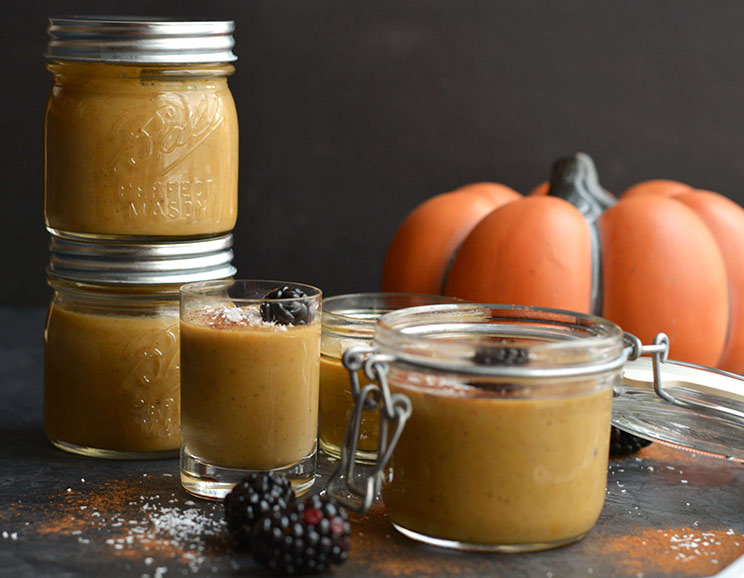 Custards have a reputation for being difficult, but this recipe makes it easy. The trick is to make sure the eggs are cooked through. When your custard reaches a boil, immediately reduce the heat to a simmer. If the mixture stays too hot, the eggs will scramble! Letting the mixture simmer on low to cool off for a few minutes before adding the eggs is key to getting a velvety custard.
Store your custard in small glass jars in the fridge. This way they're perfectly portioned, ready for you to grab anytime for a healthy snack. Top it with shredded coconut, raw nuts, seeds or fruit. Eat it out of the jar, spread it over apples or slather on your favorite Paleo-friendly cake!
Tip: You can easily swap the pumpkin for puréed sweet potatoes. Just be sure to add the pumpkin spice for the same cozy flavor!
Megan Olson
Easy Pumpkin Custard in a Jar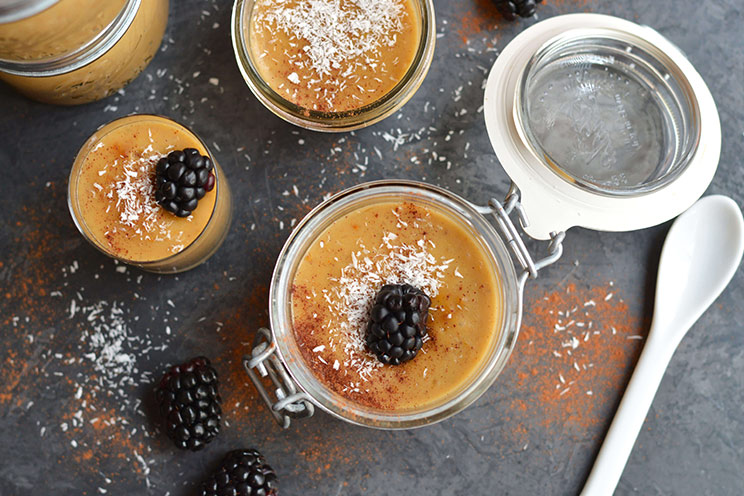 Cook Time:
15 mins
15 minutes
Prep Time:
5 mins
5 minutes
Easy Pumpkin Custard in a Jar
Grab a spoon and eat these mini Paleo Pumpkin Custards right out of the jar.
Tools
Saucepan

Small glass jars
Ingredients
1 15 oz. jar coconut cream

1 t vanilla extract

3 T raw honey

1/3 cup tapioca flour

1 cup pumpkin purée

4 egg yolks

2 T collagen

1/2 T coconut oil

1 t pumpkin spice

1/8 t sea salt
Instructions
Bring a saucepan to medium heat-low. Add coconut cream, vanilla extract, honey, tapioca flour and pumpkin purée and whisk for 5 minutes or until the mixture thickens and gets bubbly.

Reduce the heat to low temperature and let the sauce cool 2 minutes before whisking in the egg yolks to thicken.

Turn off the heat and stir in remaining ingredients.

Transfer to glass jars and store in the refrigerator. Serve chilled, warm or on top of your favorite cake!
Looking for Paleo ingredients? Here are a few we'd recommend:
Coconut cream (Native Forest)
Raw honey (Bee Farms)
Tapioca flour (Authentic Foods)
Collagen (Vital Proteins)
Cold pressed coconut oil (Viva Naturals)

(You'll Also Love: 11 Surprising Ways to Use a Can of Pumpkin Purée)