Top creamy, dairy-free coconut custard with warm stewed apples for a light and healthy dessert.
While dinner is in the oven, you can prep this sweet treat on the stovetop using ingredients you already have in your pantry!
Most custards are made with refined sugar and heavy whipping cream. Instead, this custard is made thick and decadent using dairy-free coconut cream, egg yolks, tapioca flour and maple syrup. When cooled, the custard will thicken even more.
Love Paleo Desserts? Then you'll love our FREE Paleo Dessert Cookbook.
Click here to get your FREE copy of our delicious Dessert Recipes!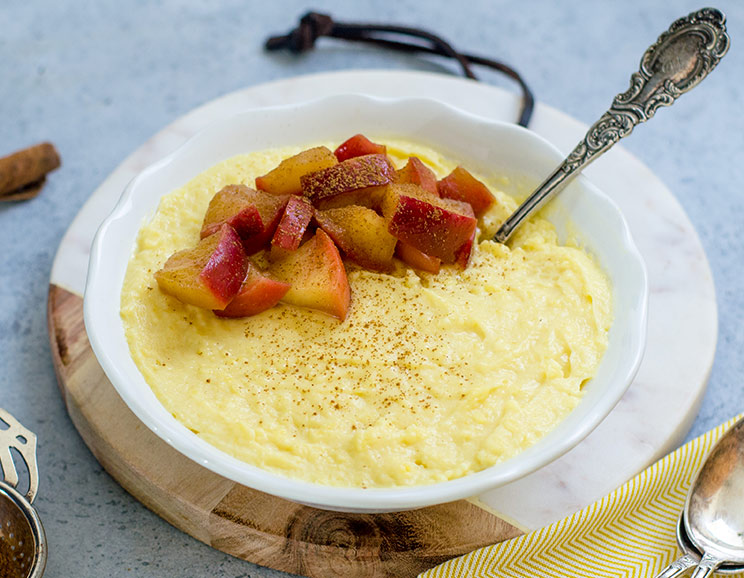 Start by making the stewed apples. Pour boiling water over apple slices seasoned with maple syrup, cinnamon, ginger and nutmeg. Let everything sit, covered, for about 10 minutes or until softened. Remove from the heat and set aside.
To make the coconut custard, heat coconut milk with vanilla and maple syrup on the stovetop. In a separate bowl, whisk together the egg yolks and tapioca flour. Slowly temper the eggs by adding the hot milk a little at a time, whisking continuously. Note: If you add the hot milk too quickly, you'll end up with scrambled eggs! Once all the coconut milk has been incorporated, set the custard back on the stovetop over medium heat to thicken. Don't forget to keep whisking!
Serve the coconut custard topped with the stewed apples, grab a spoon and enjoy!
Dina Hassan
Spiced Stewed Apples with Coconut Custard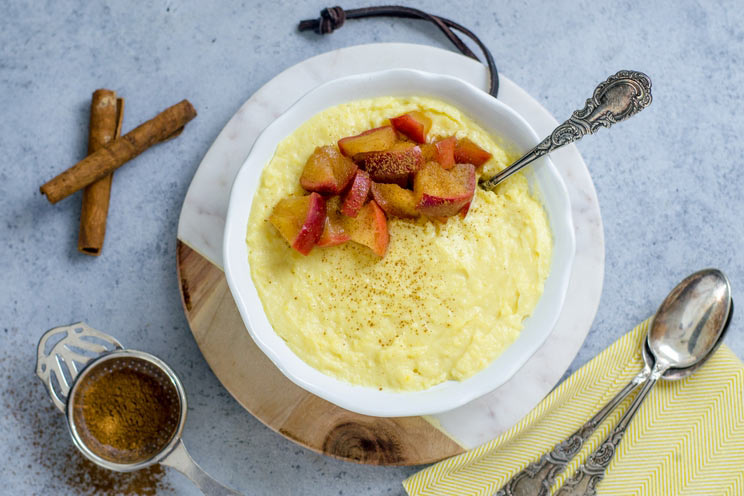 Cook Time:
15 mins
15 minutes
Prep Time:
10 mins
10 minutes
Spiced Stewed Apples with Coconut Custard
Creamy, dairy-free coconut custard is topped with warm stewed apple slices for a light and healthy dessert.
Tools
Large pan

Medium saucepan

Medium bowl

Hand whisk
Ingredients
For the Apples:
3 medium apples, cored and sliced

2 T maple syrup

1 t cinnamon

¼ t nutmeg

¼ t ginger

½ cup boiling water
For the Coconut Custard:
1 can full-fat coconut milk

1 t vanilla extract

¼ cup maple syrup

4 egg yolks

¼ cup tapioca flour
Instructions
In a large pan over medium heat, mix together ingredients for the apples. Carefully add the boiling water, cover, and simmer for 10-15 minutes. Once soft, remove from the heat and set aside.

While the apples are cooking, add the coconut milk, vanilla and maple syrup to a saucepan over medium heat. Whisk occasionally, making sure not to let the mixture boil.

In a medium bowl, whisk the egg yolks and tapioca flour.

Remove the milk from the heat, and slowly pour ½ cup into the egg yolk mixture, whisking continuously.

Slowly pour the remaining milk into the egg mixture. Stir well, then pour back into the saucepan.

Heat the mixture over medium heat, whisking constantly, until it starts to get thick and takes on a pudding-like consistency, about 2-3 minutes.

Remove from the heat and pour the coconut custard into small serving bowls. Top with the sautéed apples and serve.
Tip: If you like a thinner custard consistency, just omit the tapioca flour.
Looking for Paleo ingredients? Here are a few we'd recommend:
Maple syrup (Hidden Springs Maple)
Coconut milk (Native Forest)
Tapioca flour (Authentic Foods)

(You'll Also Love: These Healthy Baked Apples Taste Just Like Apple Pie, Without the Crust)