Make a hearty pot roast just like mama used to with fork-tender beef, hearty veggies, and savory herbs!
Pot roast is a traditional dish that doesn't require a whole lot of substitutions to make it Paleo-friendly. With grass-fed beef and anti-inflammatory veggies, it's a one-pot recipe that's quick to prep and hassle-free. Serve it on cozy, chilly nights or whenever you need a hearty dinner to satisfy big appetites.
The key to making a good pot roast starts with browning the chuck in buttery ghee. This allows the natural sugars and amino acids to caramelize on the surface of the meat. Known as the maillard reaction, this process is essential for creating a rich, mouthwatering flavor. The end result produces a fork-tender meat you can't achieve by cooking in broth alone.
Fight inflammation and create easy, healthy meals! We've created a FREE 7-Day AIP Meal Plan
Get Your FREE 7-Day AIP Meal Plan here.
Ghee is also key during the cooking process because of its high smoking point. Unlike dairy butter or olive oil, it won't burn on the pan when heated at high temperatures. It includes all the decadent flavors of traditional butter without the lactose that causes digestive upset.
Once the meat is browned on both sides, you can then add in the beef broth, coconut aminos, garlic, and rosemary sprig. If you're looking for a bit more depth, you can also include fresh thyme or oregano for added flavor. Then, cover with a lid and roast for 1 ½ hours.
Next, carefully remove the lid and add your vegetables to the pot. Place the cover back on the pot and roast for an additional hour. When finished, use a pair of tongs to place the chuck roast on a cutting board and slice into chunks or shred using two forks. Serve hot with roasted veggies or alongside a cauliflower mashed potatoes.
Other vegetables that can be added to this Paleo pot roast include:
Parsnips
Sweet potatoes
Mushrooms
Cauliflower
Bell pepper
Kale
Jennafer Ashley
Mama's Perfect Paleo Pot Roast Recipe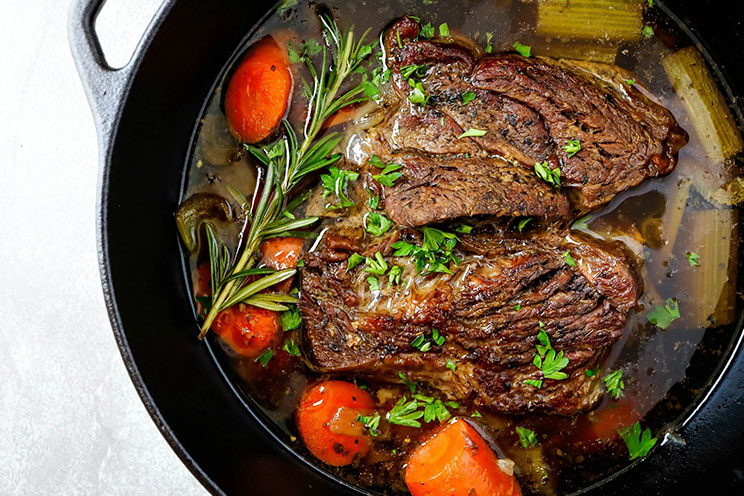 Cook Time:
2 hrs 40 mins
2 hours 40 minutes
Prep Time:
10 mins
10 minutes
Mama's Perfect Paleo Pot Roast Recipe
Make a hearty pot roast just like mama used to with fork-tender beef, veggies, and savory herbs.
Ingredients
3 lb beef chuck roast

1 t dried oregano

1/2 t sea salt

1/4 t black pepper

1 T grass-fed ghee

3 cups beef broth

2 T coconut aminos

1 t minced garlic

1 sprig fresh rosemary

4 large, coarsely chopped carrots

6 coarsely chopped celery stalks

1 small, chopped sweet white onion
Instructions
Preheat the oven to 300ºF.

Blot the chuck roast with a paper towel to remove any excess moisture. Season with oregano, sea salt, and pepper on both sides.

Heat ghee in a Dutch oven over medium heat for 1 minute. Place the chuck roast into the Dutch oven and brown for 3 minutes on each side.

Add the beef broth, coconut aminos, garlic, and rosemary sprig to the pot. Cover with a lid and transfer to the oven to roast for 1½ hours.

When finished, remove from oven and add carrots, celery, and onion. Cover and roast for one additional hour.

Once roasting is complete, remove the meat from the Dutch oven, using a pair of tongs to place onto a cutting board. Slice chuck roast and serve with vegetables.
Looking for Paleo ingredients? Here are a few we'd recommend:
Coarse sea salt (AztecSeaSalt)
Black pepper (Frontier)
Ghee (Pure Indian Foods)
(You'll Also Love: 20 Easy Paleo Crock Pot Recipes)
Warm yourself up on a cold day with rich fire chili… chicken bacon soup… ham & broth stir fry… all while providing your gut essential nutrients and collagen for optimal gut health.
Enjoy over 80 bone broth
recipes that clear your skin,
heal your joints, and support
your digestion all in 1 cookbook
Enjoy over 80 bone broth
recipes that clear your
skin, heal your joints, and
support your digestion
all in 1 cookbook