The classic PB&J sandwich gets a Paleo twist in this deliciously healthy smoothie.
Peanut butter and jelly sandwiches get a healthy makeover with this Paleo-approved smoothie that's a hit with the kids (and adults too!). Naturally sweetened with bananas and strawberries, this creamy drink will satisfy all your cravings and takes just one minute to make! Plus, it makes for a great breakfast or post-workout drink on-the-go.
Strawberries, bananas and almond butter are the perfect combination of salty and sweet. Instead of using non-Paleo peanuts, almonds are swapped in for a Paleo-friendly alternative.
Love Paleo Breakfasts? Then you'll love our FREE Paleo Breakfast Recipes.
Click here to get your FREE copy of our delicious Breakfast Recipes!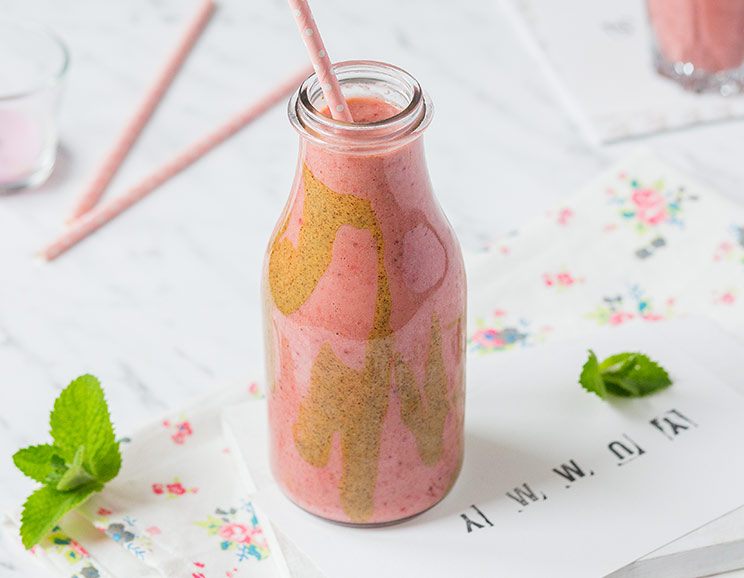 For the best flavor, use a natural, homemade almond butter. If you are using store-bought, be sure to use best quality butters without any added sugars or preservatives. And if you want to decorate the sides of your glass, make sure you get creamy almond butter – it's easier to drizzle.
Tips:
If it's warm weather season, pour the smoothie into ice pop molds and freeze for creamy almond popsicles!
You can use fresh strawberries instead of frozen, but the smoothie won't be as creamy. You can fix this by adding a few more ice cubes before blending.
Try experimenting with other berries like blueberries, raspberries, or blackberries!
Natalia Mantur
'Peanut' Butter and Jelly Smoothie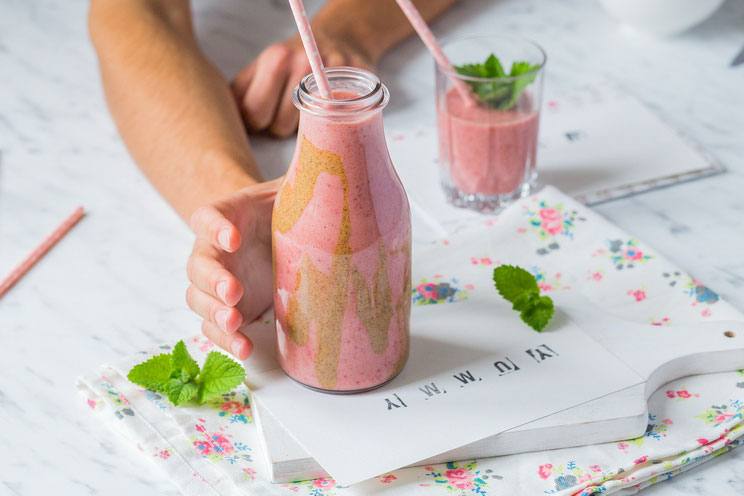 Prep Time:
1 min
1 minutes
'Peanut' Butter and Jelly Smoothie
The classic PB&J sandwich gets a Paleo twist in this deliciously healthy smoothie.
Tools
Large mixing bowl

Blender or food processor
Ingredients
½ cup almond butter

¾ cup unsweetened almond milk

3 medium bananas, sliced

2 cups strawberries, frozen

1 cup ice cubes
Instructions
Combine all the ingredients, and blend until perfectly smooth in a food processor or a blender.

Divide the smoothie between two glasses or jars. Optional: Drizzle extra almond butter on the sides of the glasses before pouring or on top of your smoothies for garnish. Enjoy!
Looking for Paleo ingredients? Here's what we recommend:
Almond butter (Barney)

Try these other PB&J-inspired Paleo recipes:
Eat cinnamon apple-crusted doughnuts… zesty lemon scones… and even breakfast chili all while staying healthy with the Paleo diet!
Enjoy 101 delicious Paleo
Breakfast recipes that melt fat, fight inflammation, and keep
you healthy
Enjoy 101 delicious Paleo
Breakfast recipes that melt
fat, fight inflammation, and
keep you healthy