Do you travel often? If so, you might have some trouble finding high quality Paleo protein bars to take on the road with you. But have no fear – today we will review the nutrition of all sorts of Paleo bars available on the market.
Now, there is certainly truth in the notion that a processed food bar wouldn't be strictly Paleo – but there is also a need in today's world to have some sort of portable option. And ultimately, these bars are a great alternative to stopping at a fast food restaurant. Paleo protein bars are great for traveling, as an emergency
snack
– or at any other time when you may not have extra minutes to prepare a whole meal!
Benefits of Paleo Protein Bars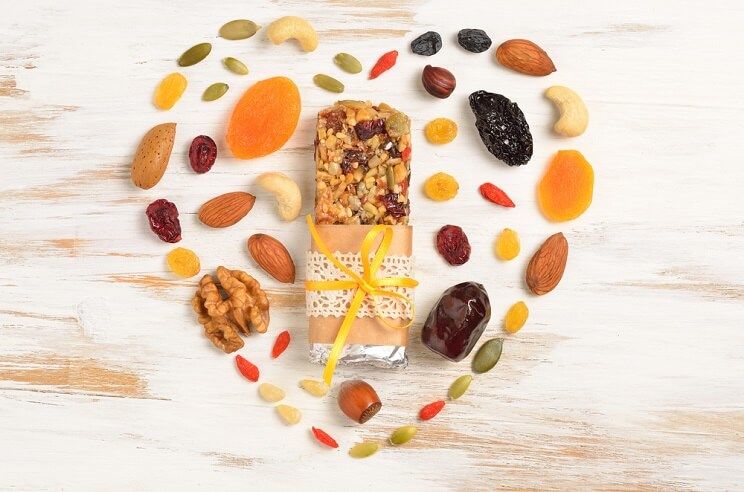 In general, there are some serious advantages to not having to cart around a chicken leg or grass-fed steak in order to eat healthier. No doubt we all have times in life (traveling, meetings, running late, etc.) when we simply cannot get to a hearty homecooked meal. These bars help you to stay Paleo – even when stuck on an airplane for 10 hours, or in a hotel room in the middle of nowhere. All-too-often I have found myself stuck between the choices of a fast food hamburger, or a greasy slice of pizza. Not ideal.
Want to snack smarter and curb cravings? Get your FREE 25 Healthy Paleo Snacks Cookbook here.
Click here to get your FREE copy of our Snack Recipes Cookbook!
Paleo bars are have a richer nutritional profile than most of the other processed food bars out there. Being gluten-free and dairy-free, these bars won't push you off the healthy path you've carved out for yourself. And as the Paleo movement moves more into the mainstream – these bars are becoming much more widely available.
Protein Bar Products
Now, we move on to the individual brands. Remember – you can also make your own Paleo protein bars (or
Muscle-Building Cocoa Balls
). In fact, this may be more cost effective, if you are really looking to consume protein bars on a regular basis. Having the occasional Paleo bar is great when you're in a rush but shouldn't start replacing real, whole food on a regular basis. Remember – that's ultimately why these products are here – to help you when you don't have time to bake or cook. So without further ado, here are some of the best Paleo protein bars!
RXBars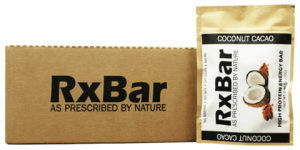 Arguably the most well-known of the "Paleo" bars, RXBars are a staple among the CrossFit community. With minimal ingredients, "no BS", and a delicious taste, these bars are hard to beat. There are no GMOs, no dairy, no gluten, and no soy – in any of the RXBar flavors. Packed with 12 grams of protein in each bar, RXBars are a great way to get quality protein on the run. For those that want a sweeter taste than beef jerky, RXBars should be your go-to traveling choice. My personal favorite is the blueberry flavor. Dig in!
NoGii

NoGii has a wide variety of protein bars, but their Paleo choice is truly best. With a huge amount of flavor, and large availability at many different chain stores, these are a great choice – no matter where you find yourself. Another added benefit of these bars, is the complete lack of high fructose corn syrup. Most comparable bars of these quality, are loaded with tons of artificial ingredients and sweeteners. Yuck. Don't fall into that trap. NoGii Paleo bars are ultimately a perfect gluten-free, dairy-free and soy-free choice. Find some, and then buy them in bulk!
The Paleo Diet Bar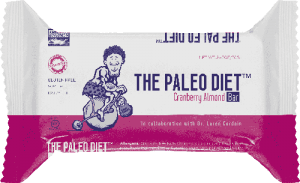 Relatively newer on the marketplace, is The Paleo Diet Bar. These bars are even officially endorsed by Dr. Loren Cordain himself. With no gluten, dairy, soy or preservatives, they fit the exact mold of a perfect Paleo choice. They are, however, a little bit harder to find. So if you're looking to purchase these bars, it's best to order them online. These bars are also a little bit higher in calories and sugar, so they should be consumed in 2 servings, if you're looking to keep these elements of your diet in check. I personally like the cranberry almond flavor best, but there is also the tasty cinnamon raisin flavor. Best of all, the newest formulation of The Paleo Diet Bar has 17 grams of protein – not too shabby!
Rise's Almond Honey Protein Bar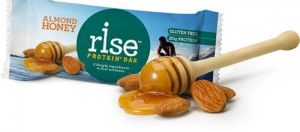 Even though it is less well known, Rise's Almond Honey Protein Bar has only 3 ingredients: almonds, honey and whey protein isolate. Hard to argue with simplicity! Whey makes these bars extremely rich for muscle-building, with 20 grams of protein. If you're okay with the whey protein, you'll find that this hidden gem is one of the top bar choices in terms of protein to sugar ratio. With only 3 ingredients, and coming in at just under 300 calories – these bars are also great for buying in bulk. If you're extra sensitive to dairy, you may want to pass on these. And if you're not extra sensitive to dairy? It's definitely hard to beat the simplicity of just three ingredients. Even some of the best Paleo bars have way more than 3 simple ingredients. So make sure you give these bars a try.
AMRAP's Refuel Bar

AMRAP's Refuel Bar is another newer entry into the marketplace, and possesses a slightly different formula than most Paleo bars. With 15 grams of protein, these are definitely a great choice for a healthy snack on the go. These bars also offer a solid dose of healthy fat in the form of coconut. Yum. And as the name suggests, it may be best to consume these bars right around your post-workout window. While I'm personally a fan of the almond and honey flavor, there are also 2 other flavors to choose from, so try all three, to decide which one you like best.
EPIC Bars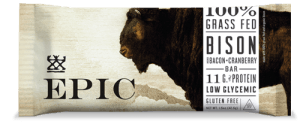 This brings us to our last item to review today, EPIC Bars. These fan favorites offer a completely different take on the classic protein bar formula. They contain grass-fed beef – making them much closer to a portable steak than a protein bar! In terms of taste, these bars are similar to beef jerky, only softer. The bacon flavor is by far my personal favorite. Recently, EPIC has come out with EPIC bites, EPIC bits and a 'hunt and harvest' mix – giving you even more delicious options when traveling. If you're looking for a protein bar that's lower in sugar – and a little more strict Paleo – EPIC Bar is definitely the right choice for you.
Check out their nutrition facts below!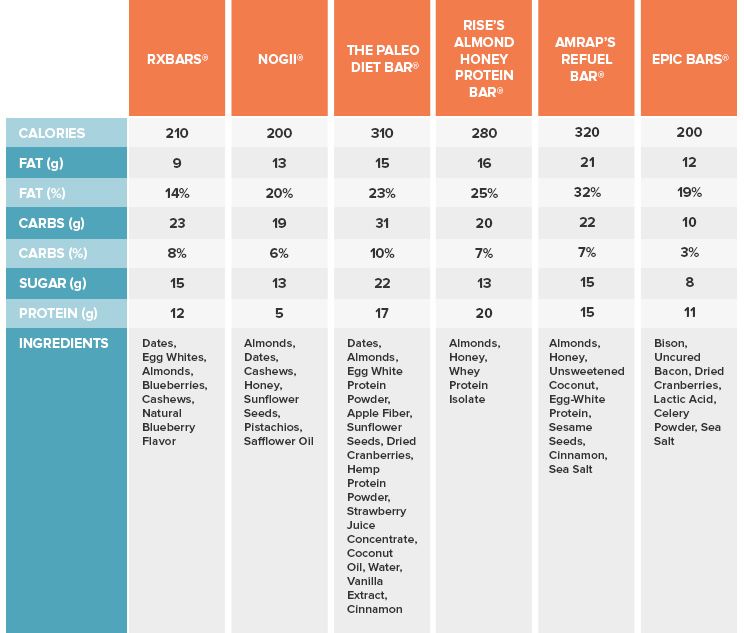 The Bottom Line
While real food is always best, no one is perfectly Paleo, all of the time. The bars listed in this article are great for airplanes, long road trips – or even crunch times when you don't have a snack or meal ready. But none of these bars contain a substantial amount of vegetables, either – so make sure they do not become the sole backbone of your diet. In practice, I keep a good selection of different bars in my pantry, so – in case of emergencies – I'm always prepared.
(Read This Next: The Truth Behind Paleo Protein Powders)