Bake up pint-sized meatloaf muffins with seasoned veggies and a sugar-free tomato sauce!
These meatloaf muffins deliver all the flavor you'd expect from a traditional meatloaf, in convenient, pre-portioned muffin form! Twice-baked for even browning, these muffins seal in Italian spices with plenty of protein, veggies, and more!
How To Achieve Twice-Baked Perfection
Since the muffins release a lot of moisture during the baking process, it's important we use ingredients that won't cause them to dry out. Lean ground beef combines with grated onion and carrots to lock in that much-needed moisture, while egg and almond flour help to bind the muffins together.
Love Almond Flour Recipes? Then you'll love our FREE Almond Flour Recipes.
Click here to get your FREE copy of our delicious Almond Flour Recipes!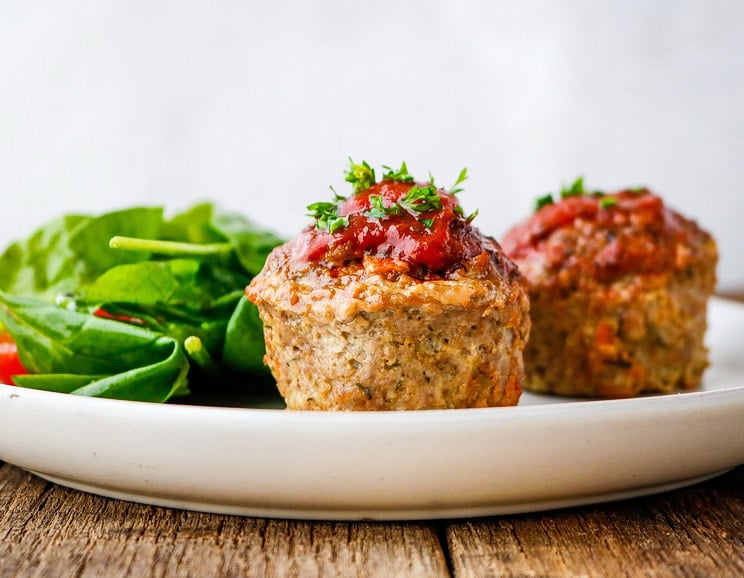 Once the muffins are finished taking on their shape, we remove them from their tins and return them back to the oven for a second time. This technique helps to brown the outside while allowing us to caramelize the tops with a sweet and tangy tomato sauce (sans the refined sugars).
Helpful Tips To Get You Started:
Overfill the tins just a bit. When pressing the meat mixture into each cavity, slightly overfill and shape them into a dome. As they cook, the muffins will start to shrink in size.
Mix up the meat or change up the veggies. Ground turkey or bison can replace the ground beef, while grated zucchini or parsnips can replace the onions and carrots.
Be careful with other flours. You can replace the almond flour with cashew or macadamia flour. However, avoid arrowroot or cassava since they tend to create more of a gummy feel.
Enjoy it again. To reheat, place the muffins in a casserole dish and tent with aluminum foil. Bake for 15 minutes at 300ºF and serve immediately!
Jennafer Ashley
Paleo Meatloaf Muffins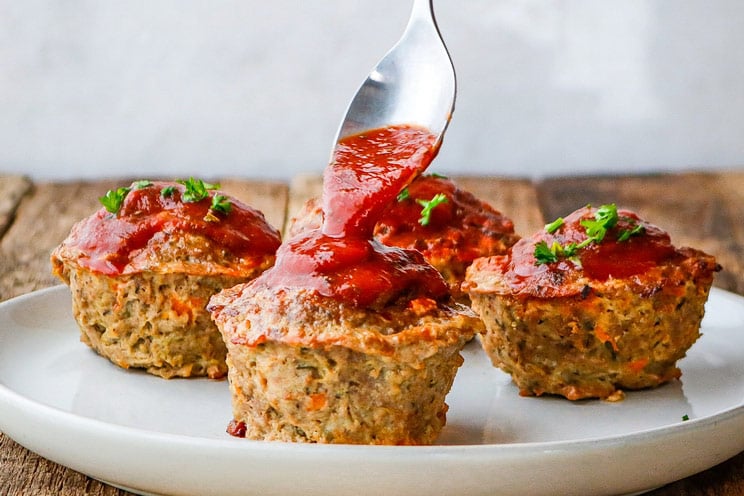 Cook Time:
40 mins
40 minutes
Prep Time:
10 mins
10 minutes
Nutrition facts:
23 grams of protein
12 grams of carbohydrates
15 grams of fat
Paleo Meatloaf Muffins
Bake up pint-sized meatloaf muffins with seasoned veggies and a sugar-free tomato sauce.
Tools
6-cup muffin tin

Medium mixing bowl

Parchment paper

10-by-15-inch baking sheet

Medium saucepan
Ingredients
For the Meatloaf Muffins:
1 t avocado oil

1 lb 93% lean grass-fed ground beef

2 large pasture-raised eggs

½ cup blanched almond flour

¼ cup grated white onion

¼ cup grated carrot

1 t minced garlic

1 t dried thyme

½ t dried oregano

½ t sea salt

¼ t black pepper

2 T chopped parsley, plus more for garnishing
For the Tomato Sauce:
1 cup tomato sauce

2 T coconut aminos

1 t dried basil

½ t dried oregano

¼ t sea salt
Instructions
Preheat the oven to 350ºF and lightly grease the muffin tin with avocado oil.

To Make the Meatloaf Muffins: In a medium mixing bowl, combine the ingredients for the meatloaf. Mix thoroughly with your hands.

Divide the mixture evenly among each cavity of the muffin tin and gently press to shape.

Place the muffin tin onto the baking sheet (to catch the drippings) and bake for 20 to 25 minutes, or until browned on top.

To Make the Tomato Sauce: While the muffins bake, heat the sauce ingredients in a medium saucepan over medium heat for about 5 minutes. When bubbling, turn the heat off and cover to keep warm.

Remove the muffins from the oven and let them cool for 5 minutes.

Increase the oven temperature to 400ºF and use a sharp knife to remove the muffins from their cavities. Set them onto a baking sheet lined with parchment paper and top each muffin with a teaspoon of tomato sauce.

Return the muffins back to the oven for 10 minutes, then garnish with the remaining sauce and fresh parsley. Serve immediately and enjoy!
Looking for Paleo ingredients? Here are a few we'd recommend:
Avocado oil (Bella Vado)
Almond flour (Hodgson Mill)
Sea salt (REDMOND)
Black pepper (Frontier)
If you liked this recipe, you'll love the delicious, simple, and gourmet creations from Paleo Eats! Enjoy tasty Bacon Bars, Mongolian Red Pepper Beef, Pulled Pork, and over 75 healthy and fun recipes. Get the book shipped to your door for FREE – just pay for shipping!