Can life get any sweeter than this (and still be guilt-free)?
Crêpes may not seem Paleo-friendly, but with a few simple tweaks you can make them completely guilt-free! Made with four simple ingredients, these coconut-based crêpes are easy to make and loaded with healthy fats. Guaranteed to keep you full, it's a great dish to serve for a light breakfast or yummy dessert!
The dreamy part of this recipe is the homemade Nutella spread made with dark chocolate chips and oven-roasted hazelnuts. The roasting releases oils within the hazelnuts to easily blend into a chocolaty spread. It can be enjoyed straight out of the jar or served with toasted Paleo bread.
Love Paleo Breakfasts? Then you'll love our FREE Paleo Breakfast Recipes.
Click here to get your FREE copy of our delicious Breakfast Recipes!
To get started, place the hazelnuts on a sheet pan and roast for 10 minutes. Toss the roasted hazelnuts into a food processor and blend until crumbly. Make sure not to over-process, or you'll end up with hazelnut butter.
Next, set the hazelnuts aside and melt your dark chocolate chips with coconut oil in a double boiler. Once it's melted, stir in the remaining vanilla and maple syrup. Add in the blended hazelnuts and transfer to a glass jar immediately.
Begin making the crêpes by whisking the coconut flour, egg, coconut oil, and water together in a medium bowl. Mix until fully combined and pour the batter into a skillet on medium heat, measuring ⅓ cup for each crêpe. Cook for four minutes, flipping halfway through.
To serve, fill the inside of your crêpes with the homemade "Nutella" and stuff with sliced strawberries. You can also sub out the strawberries for blueberries or raspberries, if you want to switch things up. Serve immediately and enjoy!
Megan Olson
Paleo Crêpes Drizzled with "Nutella"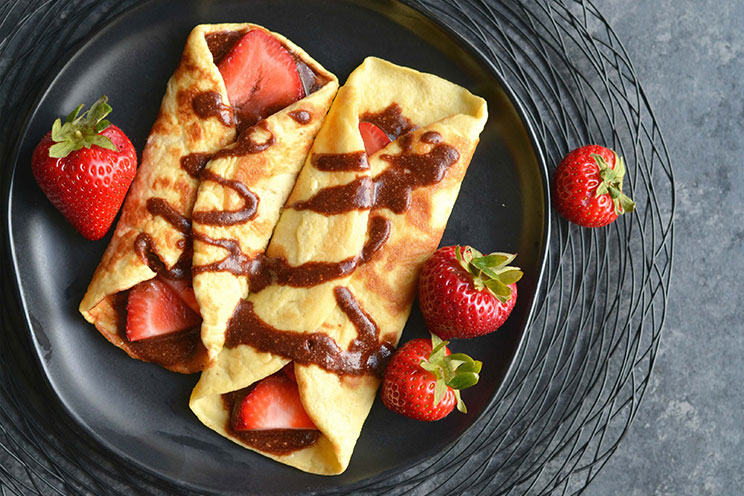 Cook Time:
20 mins
20 minutes
Prep Time:
10 mins
10 minutes
Paleo Crêpes Drizzled with "Nutella"
Create a chocolate lover's dream with Paleo Nutella, gluten-free crepes, and fresh strawberries.
Tools
Baking sheet

Food processor

Double boiler

Glass jar

Medium mixing bowl

Skillet
Ingredients
For the Hazelnut Filling:
1 cup hazelnuts

2/3 cup dark chocolate chips

1 T coconut oil, melted

½ t vanilla extract

2 T maple syrup
For the Crêpes:
2 T coconut flour

4 large pasture-raised eggs

1 T coconut oil, melted + more for greasing

½ cup water
Instructions
Preheat the oven to 350°F.

To Make the Hazelnut Filling: Place the hazelnuts on a baking sheet and bake for 10 minutes. When ready, remove from the oven and let them cool for 5 minutes. Transfer to a clean dish towel and rub the hazelnuts together to remove the skins. (It's okay if some skins remain).

Transfer the hazelnuts to a food processor and pulse until broken down. The texture should be similar to crumbs.

Melt the chocolate chips and coconut oil using a double boiler. Heat for 4 minutes until melted, stirring occasionally.

Add the vanilla extract, maple syrup, and crumbled hazelnuts to the melted chocolate. Transfer to a glass jar and set aside.

To Make the Crêpes: In a mixing bowl, whisk together the ingredients for the crêpes until smooth.

Heat a skillet over medium heat and grease with coconut oil. Scoop 1/3 cup of the crêpe mixture into the skillet and cook for 4 minutes, flipping halfway through. Remove the first crêpe from the skillet and repeat with remaining batter.

Assemble the crêpes by adding 2 tablespoons of the hazelnut filling in each crepe. Add the sliced strawberries and roll up the crêpe. Drizzle the top with another tablespoon of hazelnut filling and serve immediately!
Looking for Paleo ingredients? Here are a few we'd recommend:
Semi-sweet chocolate chips (Enjoy Life)
Cold pressed coconut oil (Viva Naturals)
Vanilla extract (Frontier)
Coconut flour (Nutiva)
(You'll Also Love: Paleo Grilled 'Nutella' Sandwich
)