For a fun twist on taco night, bite into these roasted stuffed poblano peppers filled with spiced ground beef.
Poblano peppers come to life when they are roasted. A light char is all you need to bring out their rich, spicy scent!
Take these roasted veggies to the next level, and stuff them with a taco-seasoned, grass-fed ground beef filling, plumped up with tomatoes, onions, or whatever you please. Whether you enjoy these taco-stuffed peppers with a knife and fork, or eat them with your hands caveman style, is up to you!
Love slow cooker recipes?
Click here to get your FREE copy of our delicious Slow-Cooker Recipes!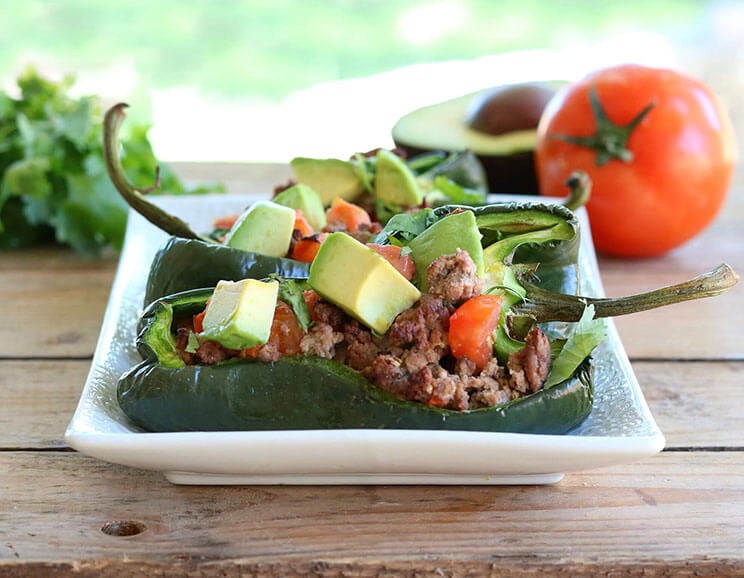 Start by lightly browning the ground beef in a skillet over medium heat. I like to use a ground beef with a bit of fat in it – it keeps the meat juicy, and also helps steam the peppers while roasting. If you prefer ground turkey or chicken, simply add that instead of the beef. Sautée the meat for about five to seven minutes, keeping in mind that it does not have to be fully cooked through, it will finish cooking in the oven. Next, stir in fresh diced tomatoes, cumin, sea salt and any of your other favorite taco seasonings. Diced onions, chili powder, and fresh garlic would all be great additions!
Slice the poblanos in half lengthwise to create a boat-like vessel for stuffing. Tip: Try to use peppers that aren't too skinny or oddly shaped, otherwise they can be difficult to fill. Spoon the meat filling into the poblanos and roast for 20 minutes. If you like your peppers extra charred, turn the oven to broil for the last 5 minutes. Finish the peppers off with diced avocado and cilantro just before serving.
Jennafer Ashley
Easy, Meaty Stuffed Poblano Peppers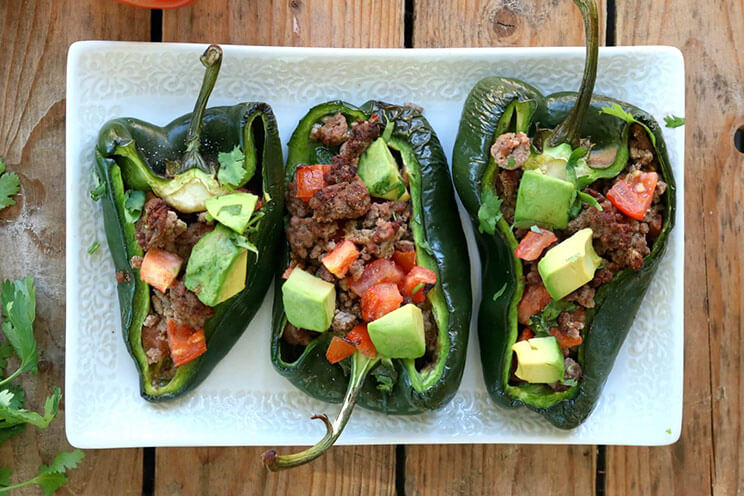 Cook Time:
25 mins
25 minutes
Prep Time:
10 mins
10 minutes
Easy, Meaty Stuffed Poblano Peppers
For a fun twist on taco night, bite into these roasted poblano peppers stuffed with spiced ground beef.
Tools
Baking sheet

Parchment paper

Skillet
Ingredients
1 lb. grass-fed ground beef (93% lean)

1 cup fresh tomatoes, diced

2 T ground cumin

¼ t sea salt

4 poblano peppers, cut in half lengthwise and remove the seeds

1 avocado, diced

1 handful cilantro leaves, chopped
Instructions
Preheat oven to 400ºF. Line a baking sheet with parchment paper.

Lightly brown the ground beef in a skillet, over medium heat, for 5-7 minutes. Stir in the tomatoes, cumin and sea salt.

Spoon the beef mixture into the pepper halves, and place on the baking sheet. Bake for 20 minutes. Top each pepper with cilantro and avocado. Serve hot.

(You'll Also Love: Taco-Stuffed Zucchini Boats)