Stuffed cabbage wraps get an Asian-inspired twist in this recipe full of fresh ingredients. This recipe makes a large batch for a Paleo-friendly crowd pleaser.
I have been enjoying Golumpki – a traditional Polish recipe for stuffed cabbage – for many years, courtesy of my boyfriend's mother. She makes large batches of them and shares them with us. They are also a mainstay during the holiday season.
They are stuffed with rice, meat, and sometimes vegetables. Since cabbage is so versatile, I thought, why not make an Asian-inspired Paleo version?
Trying to figure out exactly what to eat on Paleo? Look no further than our FREE 21 Day Paleo Meal Plan.
Grab Our FREE Paleo Meal Plan By Clicking Here!
Cabbage is the perfect vessel for stuffing full of chopped veggies and meat for a savory oven-baked recipe. The leaves of this cruciferous vegetable tenderize yet stay strong enough to hold the ingredients inside.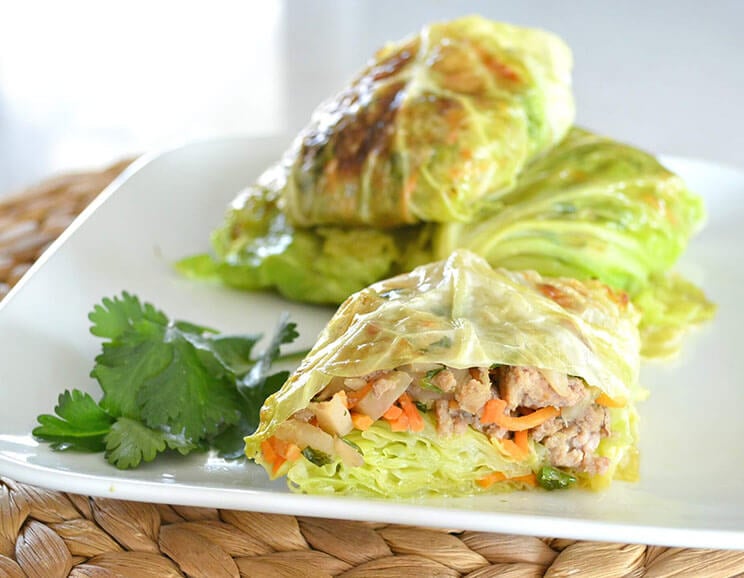 I like to leave the cabbage wraps in the oven until the top of the cabbage is a nice light brown color. You can get creative with your ingredients and use any Paleo vegetables you prefer.
I have a love for water chestnuts and enjoy the crunch they add to recipes, so I had to make them a part of this dish. Bell pepper, bamboo shoots, and jalapeno would all be delicious as well.
Coconut aminos are the Paleo answer to soy sauce. Made from the sap of the coconut tree, coconut aminos are abundant in 17 amino acids. The aminos are a terrific base for the sauce, which will combine with toasted sesame seed oil, garlic, ginger, and cilantro to make a rich and aromatic sauce.
The most important part of the cooking process is being sure to remove any tough stems from the bottom of the leaves, as they are difficult to tenderize.
Tip: Line the bottom of the baking pan with extra cabbage leaves to prevent the wraps from sticking to the bottom of the pan during baking. I like to use any pieces of leaves that don't make the cut for using as wraps.
Jennafer Ashley
Asian-Style Cabbage Wraps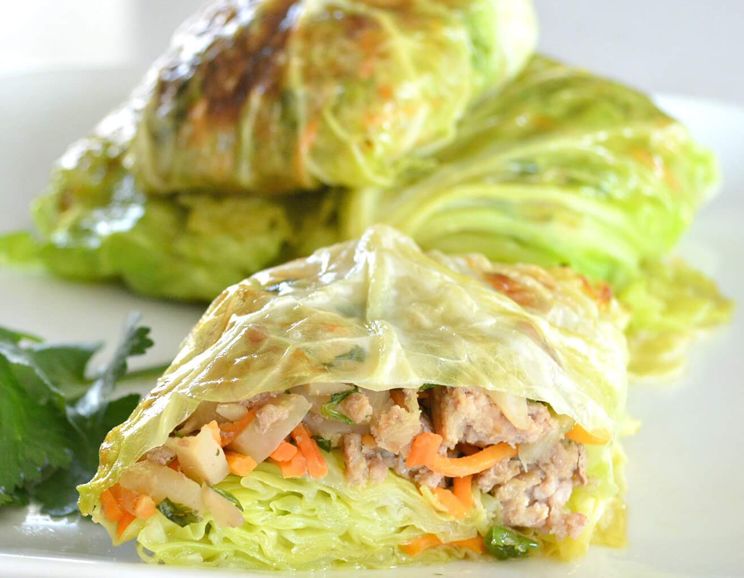 Cook Time:
50 mins
50 minutes
Prep Time:
15 mins
15 minutes
Asian-Style Cabbage Wraps
This grab-and-go meal includes lean turkey, crunchy veggies, and a cilantro sauce mixed with ginger and garlic.
Tools
Medium Pan

Large Pot

2 Mixing Bowls

9×13 Baking Pan
Ingredients
For Cabbage Wraps:
12-14 savoy cabbage leaves

1/2 lb. ground turkey

1 C water chestnuts, chopped

1/2 c green onion, thinly sliced

1 C shredded carrots

1 T olive oil, for brushing
For Sauce:
3 T coconut aminos

2 T sesame oil

1/3 C cilantro, chopped

1 garlic clove, minced

1 inch piece of ginger, peeled and grated
Instructions
In a medium pan, begin to brown ground turkey.

While turkey cooks, bring a large pot of water to boil and place cabbage leaves in water to tenderize, for about 5 minutes. Remove from pot and set aside on paper towel.

Once turkey is browned, pour into a mixing bowl. Add carrots, onion, and water chestnuts. Mix.

In a separate small bowl, whisk together sauce ingredients. Pour over vegetable and turkey mixture. Stir to coat.

Preheat oven to 350℉. Line a 9×13 baking pan with 6 cabbage leaves.

Place 1/3 cup filling in the center of cabbage leaves. Fold in the sides and roll up from the bottom.

Place in pan seam side-down. Brush cabbage with olive oil. Bake 35-40 minutes. Cabbage rolls should be lightly browned on top.

(You'll Also Love: Tortilla-Free Paleo Steak Wraps)